Please note: this page will be updated regularly as we receive new information.
LAST UPDATE: 10 May 2022
Exceptional times call for exceptional safety measures. That is why we have been working to create a multi-layered safety approach for this event.
Please rest assured that EASL is working closely with the congress centre to make sure that we have in place the best possible health & safety measures so that you feel comfortable during your participation.
We strongly encourage the congress participants to check the government website for the latest and most accurate information about travelling to UK and current quarantine exceptions.
Smooth and speedy access in London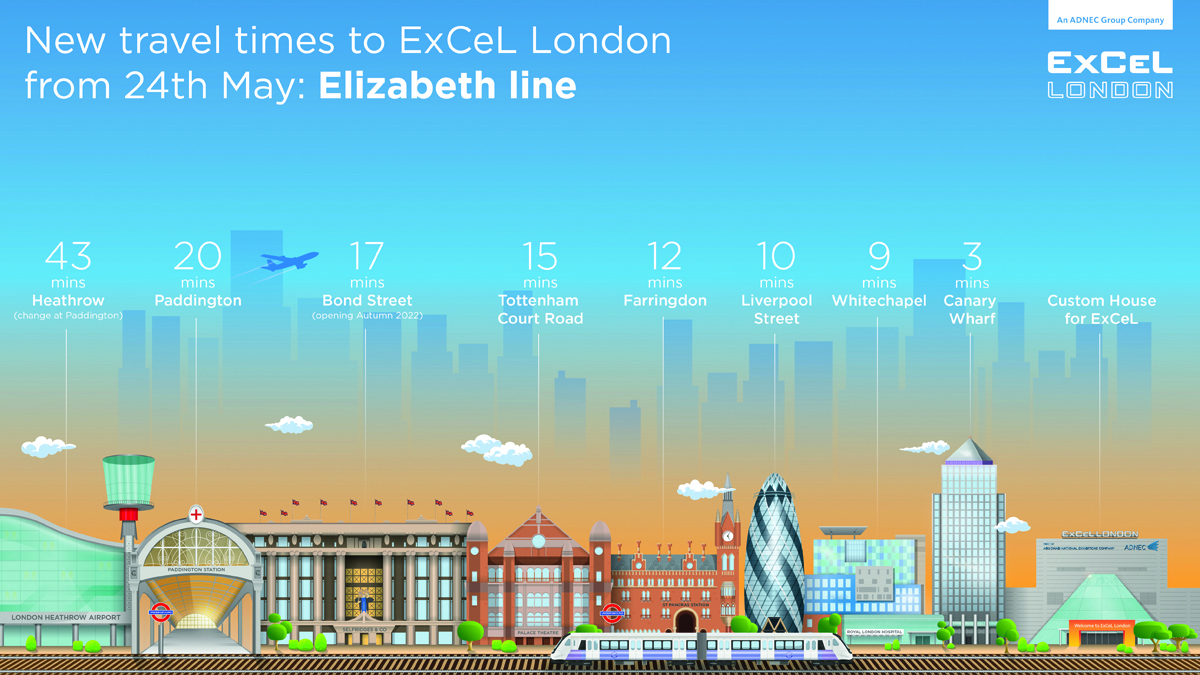 Everything in London is up and running and COVID restrictions have relaxed. There is exciting news for ILC delegates: The new high-speed Elizabeth train-line, is opening end-May in London.
This speedy new route is a game-changer, offering better-than-ever access, for getting around London and to ILC 2022. Soon the congress venue will boast a dedicated station: Custom House (ExCeL London). The Elizabeth line, running every 5 minutes till 23:00 BST, will halve your travel time. It gets you from ExCeL to central London – with ample hotels and restaurants – in 12 minutes, and to Heathrow airport in 43 minutes. The line is named after Her Majesty Queen Elizabeth, recently honoured for her Platinum Jubilee.
For those of you who are new to London, the Citymapper.com app is recommended for exploring routes and buying tickets.
We have no affiliation to the new Elizabeth Line or TfL services.
The city
London is the capital of and the largest city in England and the United Kingdom, with the largest municipal population in the European Union.
2,000 years of dazzling history, royal palaces, four UNESCO World heritage sites, parks, and world-class galleries sit comfortably alongside cutting-edge industry clusters, sky-high hotels, and Michelin-star restaurants.
To find out what's on in London, book theatre and attraction tickets, tours, and for other general information on what to do, please visit the Official London Visitor website - www.visitlondon.com
Currency & ATM
In the United Kingdom, the currency is the GBP pound sterling (£). Foreign currencies can be exchanged for GBP at banks, travel agencies and Post Offices, as well as at London's airports and major train stations. For currency converter please click here.
Credit cards – especially Visa and Mastercard – are widely accepted in London's restaurants, bars, cafés and shops. American Express and Diners Club cards are less commonly accepted.
Read more here.
There are two Note ATMs near the west entrance of the venue by Costa and Panini Pronto, and another Note ATM in the centre of the boulevard between entrances S6 and N6. There are a Barclays and a Note ATM located on level 0 between N4 and S4. There is a Travelex ATM by the S11 entrance on the boulevard.
Language
The language spoken in London is English. The official language of the ILC is English. Simultaneous translation will not be provided.
Weather
London and the South East have one of the mildest climates in the UK, but the weather can be unpredictable. Londoners get used to carrying both an umbrella and sunglasses to be prepared for all eventualities!
Check the latest weather forecast here.
Plug, Socket and Voltage in the UK
UK appliances are fitted with three-pin plugs that can be connected to the UK mains supply through wall sockets. UK power sockets deliver an average voltage of 230v. Unlike the sockets in many other countries, these have a switch to turn the power supply on and off – make sure you've turned it on if you're trying to charge your appliance.
Time Zone
London uses Greenwich Mean Time (GMT) during standard time and British Summer Time (BST) during Daylight Saving Time (DST), or summer time.
ILC takes place in June during British Summer Time.
More information about time zones.