Education is a priority for EASL and the association provides educational opportunities at every level. Traditionally, EASL Schools have been held in person, face to face. As the COVID-19 pandemic evolves, EASL may adapt to holding Schools online.
About EASL Schools
Discover the 2022 EASL Schools:
Do you want to organise an EASL School?
Each year a call to organise an EASL School of Hepatology opens at the end of summer. The call to organise a school in 2024 is now open. Please access the Member Zone and select "Host an EASL School in 2024" under Applications. Deadline: 30 September 2022.
The current format, designed to host 20–30 students, is based on a "flipped-classroom model" that is learner-centric and problem-oriented. Students receive the learning material prepared and provided by the organisers, beforehand, as homework to prepare. Once in the classroom, they work in small teams under the guidance of experienced tutors with an emphasis on teamwork and cooperation.
More information on the flipped-classroom model can be found here.
Locations for the EASL Schools must be recognised European centres of excellence with all aspects of the competence in that domain covered by local experts. The meeting will take place in the institution which should be able to accommodate a plenary session, as well as breakout groups.
To apply to organise an EASL school you will need to complete the application form and include a draft programme of the school.
The draft programme:
The maximum duration of the school is 2 full days.
The draft programme should include topics, speakers and schedule.
The programme should include enough time for workshops and hands-on practicing.
Clinical cases should be discussed (for clinical schools only).
The participants will get together in groups to discuss a case/technique to be presented to the group.
Once the programme is approved the final version should be ready at least 4 months in advance for CME accreditation.
The majority of the speakers should come from the hosting institution. The number of speakers, not belonging to the hosting institution, should not exceed 2 to 3 for the overall programme.
EASL cannot fund the travel costs for non-European speakers.
If approved, the EASL Governing Board and staff will assist you with its development and presentation.
The scientific programme is subject to evaluation and approval by the EASL Educational Committee.
The Schools of Hepatology programmes are financially covered by EASL. No local fundraising is allowed.
For any question about organising an EASL School, please contact: schools@easloffice.eu
Host an EASL School in 2024 (via the Member Zone)
Do you want to attend an EASL School?
Application to the clinical and basic EASL Schools of Hepatology is free and open to young fellows under the age of 35 (born after 17 June 1987) and/or still in training. The age limit is extended for those candidates with children (time allowed for parental leave in line with EU standards – 1.5 years per child for mothers and respective time taken off for fathers).
Students can only get accepted in 1 school per year. They may apply up to 2 schools per year.
Approximately 30 places are available for each school. Please make sure your EASL membership is active before submitting your application. Become an EASL member.
EASL Schools help train the next generation of hepatologists and are aimed at Young Investigators enrolled in hepatology-oriented departments, or more experienced clinicians who want to learn about the latest trends in hepatology.
EASL Schools work on a flipped-classroom model, whereby all participants receive reading materials / handouts and are expected to prepare different assignments in advance.
For those applicants selected, EASL will cover transportation costs to attend the school and accommodation during the event. (Details will be provided individually once the selection process is completed.)
Applicants should provide the following information:
Full name of applicant
Full contact details of applicant: address, telephone, fax, email
EASL membership number (Course places will be attributed in priority to EASL registered members)
Participation in previous EASL Schools of Hepatology
Training, Positions
Research/Clinical Research interest
List of publications/abstracts (including abstracts presented to EASL)
1 letter of motivation per school
A copy of ID with birth date clearly marked (BMP or GIF or JPEG)
Any pre-requisite defined by the organisers
For any question about attending an EASL School, please contact: schools@easloffice.eu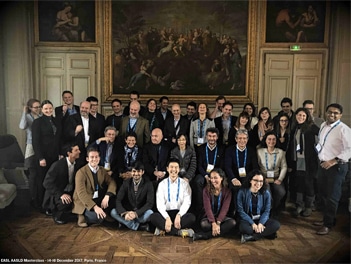 Selected participants will attend a two-day intensive training session with a curriculum designed for future leaders in academic hepatology. The programme consists of academic lectures, interactive break-out sessions, individual meetings with tutors, abstract presentations, a poster session, and social events to give early-stage investigators (MD, PhD, or MD/PhD, or equivalent) the opportunity to network with world leaders in hepatology.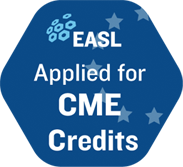 EASL applies for accreditation from the European Accreditation Council for Continuing Medical Education (EACCME) for all its educational activities.
The EACCME is an institution of the European Union of Medical Specialists (UEMS) and EACCME credits are recognised by the American Medical Association towards the Physician's Recognition Award (PRA).
Details of the number of CME's accredited per event are available on the event web pages.