To encourage professional development and to boost engagement among peers across Europe, EASL's Nurses and AHPs Task Force has created this liver disease learning centre providing the latest educational resources and a series of interactive development activities. Our aims include:
offering education in an alternative format that reflects current challenges for education provision

encouraging engagement and fostering links within the community

serving as a vehicle for inter-country discussion of practice and learning from one another
Join us on this new educational project. Bookmark this page, check it for updates frequently, and share it with your colleagues so that we can grow together. Create your My EASL profile to receive the latest news. 
Stay tuned for our series of inter-professional open-access webinars. 
EASL Nurses & AHPs webinar series

New webinar
Topic: NAFLD
Time: 3 November 2021, from 20:00
Registration: free of charge
Learning objectives:
To gain an understanding of the pathophysiology of NAFLD
To review methods to treat NAFLD, the evidence for these and their clinical usefulness
To review the effectiveness of exercise, nutrition and lifestyle adjustments in the management of NAFLD and the barriers to implementing strategies
To consider the implications of living with NAFLD and its impact on management and care
A Certificate of Attendance is provided. Participants can add this certificate to their Continuing Professional Development Portfolio.
Digital ILC 2020 Takeaways – Nurses and AHPs

This episode sets the spotlight on the Nurses' and Allied Health Professionals Forum at Digital ILC 2020. We are joined by three members of the EASL Nurse and AHPs Task Force – Neus Llarch, Palle Bager, and Felicity Williams – for a discussion of the nursing and allied health profession's response to the COVID-19 pandemic and the Task Force's achievements this year.
The panel gave their personal highlights from the congress, with a particular focus on the well-received symposium on behaviour change. They also reviewed important contributions from the posters, oral presentations, and meet-the-expert sessions, with topics including a home-based care pathway for the stratified treatment of HCV infection, the impact of oral health on liver cirrhosis, the impact of patient empowerment on the management of post-embolisation syndrome, and how the addition of a palliative care nurse to the liver care team can improve outcomes.
Nurses & AHPs during ILC

Hepatology nurses and AHPs play an important role before and during the International Liver Congress™.  They have an entire day dedicated to them, including the Nurses & AHPs Forum, poster tours, and oral presentations. EASL's Nurses and AHPs Task Force will be chairing a large part of the events on this day, so it will be an excellent opportunity for you to meet and interact with them.
Keep an eye on this page, the dedicated programme for ILC 2021 will be announced soon.
ILC 2021
Discover the educational resources and the presentations from Nurses and AHPs at ILC 2021.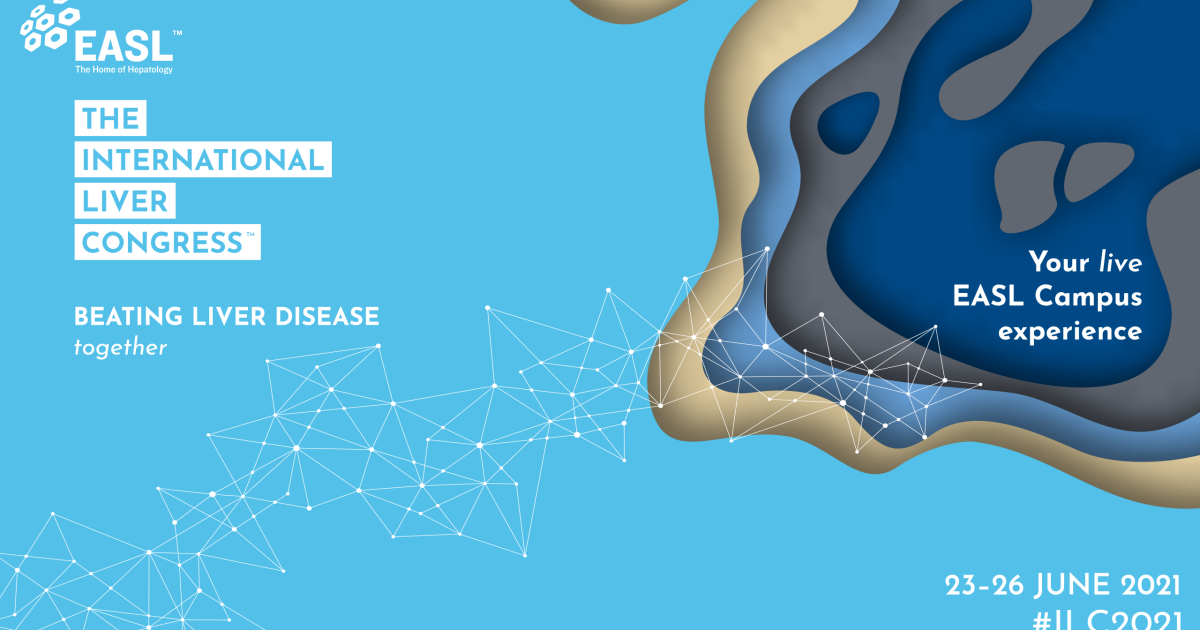 Digital ILC 2020
Discover the educational resources and the presentations from the Nurses and AHPs day at Digital ILC 2020.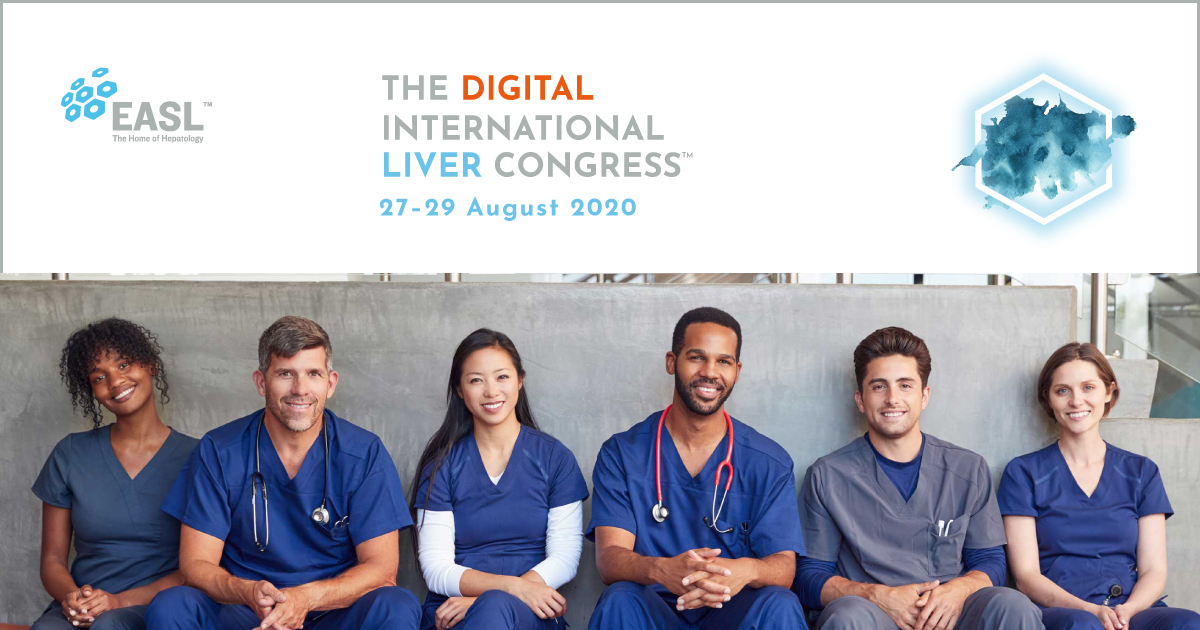 2020: Year of the Nurse

The World Health Organization declared 2020 the Year of the Nurse and the Midwife in recognition of the contributions they make, and the risks associated with nursing shortages. Through 2020, nurses will be honoured worldwide. In addition, every year we celebrate International Nurses' Day on 12 May, the anniversary of the birth of Florence Nightingale (1820-1910). She was a British nurse, social reformer, and statistician, and is known as the founder of modern nursing.
Meet the dynamic, versatile, and dedicated members of the EASL Nurses and Allied Health Professionals Task Force. Hear their views on what this commemorative year brings us and means to them.
Meet the Nurses & AHPs Task Force

EASL recognises the role of nurses and Allied Health Professionals (AHPs) in leading initiatives to improve education, standards and ultimately the care for patients with liver disease. In early 2016, a special Nurse membership was initiated. The Nurses and AHPs Task Force met for the first time during ILC 2016 has continued to actively work on several initiatives.
EASL Viewpoints - Nurses testimonials

EASL Viewpoints are testimonials, interviews, and videos from healthcare professionals sharing what life is like on the frontlines. In their testimonials, liver nurses tell how their working life is affected by COVID-19 and what might be to come.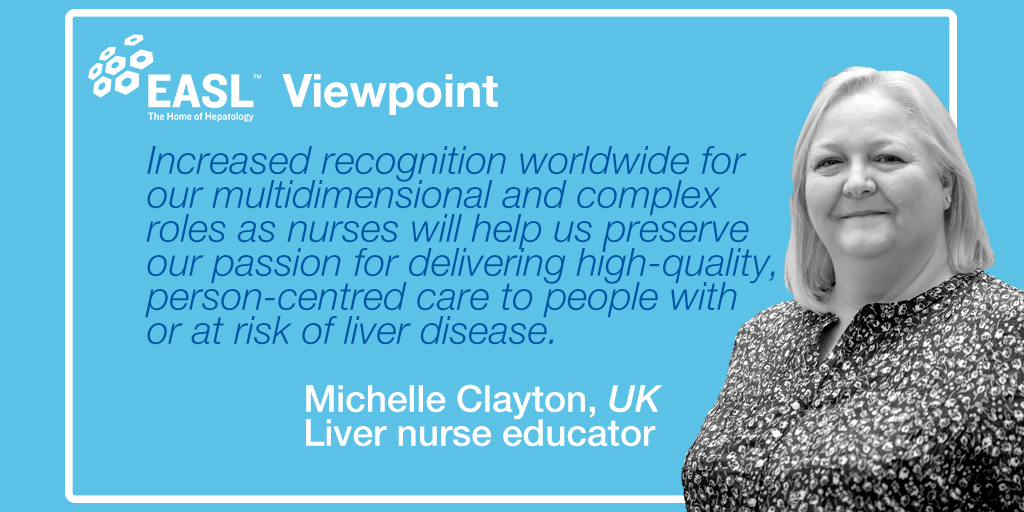 To honour International Nurses' Day, we interviewed Liver Nurse Educator at the Leeds Liver Unit and Lecturer in Adult Nursing at the University of Leeds, Michelle Clayton. Additionally, Miss Clayton is a pioneer leader in hepatology nursing, and is the chair of EASL's Nurses and Allied Health Professionals Task Force.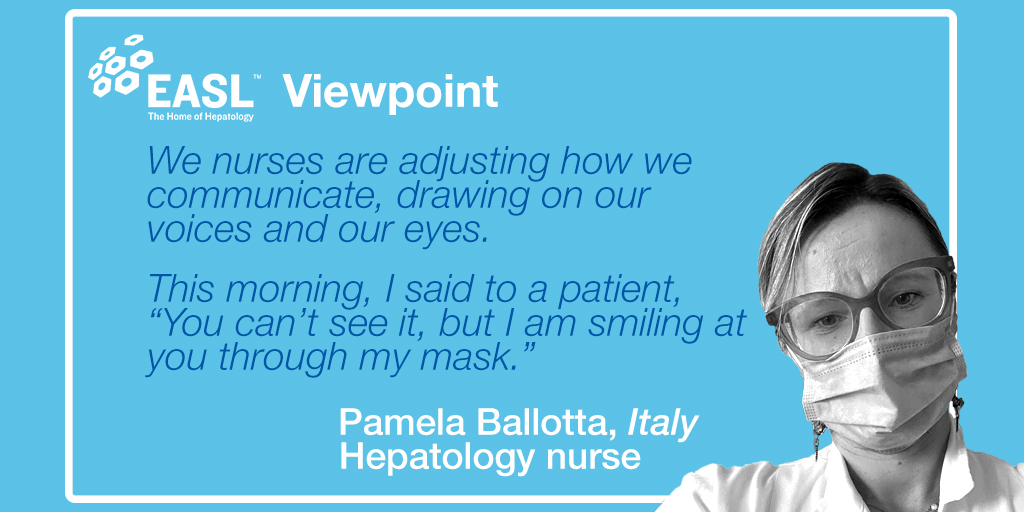 At the height of the COVID-19 pandemic, Hepatology nurse Pamela Ballotta, from the Multivisceral Transplant Unit and Unit of Gastroenterology, Azienda Ospedaliera di Padova, Italy, describes how she and her nursing peers are adopting rigorous practices to carry forward.