Quick access
Spearheading collaboration between EASL and patient organisations to fight liver disease together
Our collaborations

Goals
At EASL, we are boosting partnerships with umbrella patient organisations engaged in liver diseases. Our joint goals include increasingly to:
take into account the patient experience
consult on patient views on quality of life
better understand what patients need from healthcare professionals
promote the prevention of liver conditions
Building new synergies
EASL is building new opportunities to engage with umbrella patient organisations, aiming to:
share best practices
inspire joint initiatives and activities
coordinate and convey relevant messages
Calling for umbrella patient associations to partner with EASL
We are keen to join forces with umbrella organisations that are Europe-based and representing people affected by issues related to the liver. We want to share expertise with patient organisations that are patient-focused, patient-driven, established, and transparent.
Please contact EASL's Advocacy, Policy and Public Health Coordinator, Morgane Guex, to find out how we can partner with you.
Potential benefits to patient organisations
participating in the Patient Forum at EASL Congress
one EASL Congress registration, at no cost
relationships with leading EU hepatology associations
accessing leadership of member societies
requesting EASL endorsement
sharing relevant resources via the EASL website and news channels, including during the flagship congress
EASL Patient Forums

Every year, EASL holds a Patient Forum to allow patient organisations' representatives and healthcare specialists to meet and exchange their views and experiences on various topics, such as stigma around liver diseases and health literacy.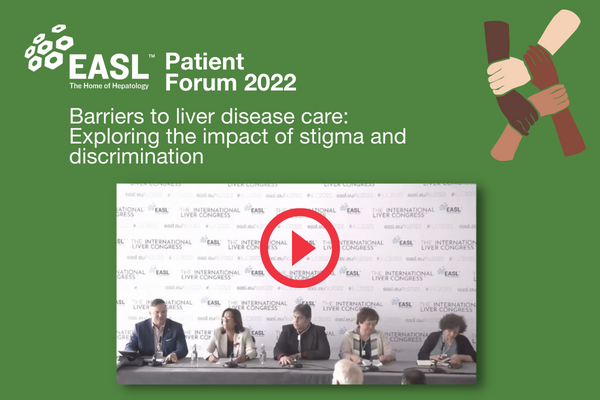 On 24 June 2022, and as part of the International Liver CongressTM (ILC) in London, the European Association for the Study of the Liver (EASL) held its annual Patient Forum on the topic: barriers to liver disease care: exploring the impact of stigma and discrimination. Patient advocates delivered inspiring and, sometimes, harrowing testimonies of their experience as people living with liver diseases. They exchanged their views on the different facets of stigma and its impact on patients.
Discover the event's pictures, watch it on demand, and download the report.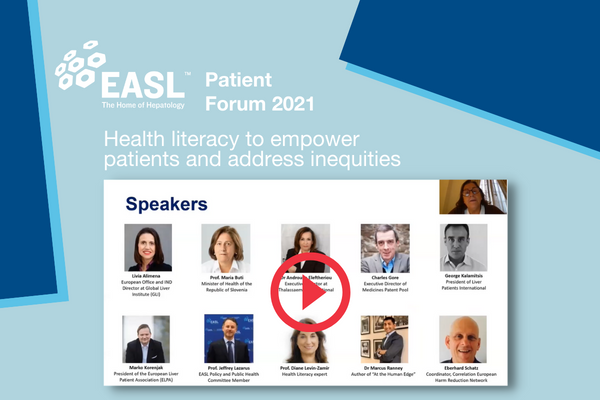 On 22 November 2021, EASL held its annual Patient Forum on the topic: health literacy to empower patients and address inequities. We collaborated with five members of our Patient Synergies network to bring together the expertise of patient advocates and healthcare specialists and hold an engaging discussion around the status of health literacy, with a special focus on literacy related to liver health.
Read more about the event, watch it on reply, and download the report
Useful resources for patients organisations and patients

View resources of relevance to patient organisations: lay summaries, toolkits, webinars, Clinical Practice Guidelines, Policy Statements, videos, and more.
Reducing the burden of alcohol-related liver disease (ARLD)
About obesity and non-alcohol related fatty liver disease (NAFLD)
A Right to Know: Alcohol Labelling Across Europe
Past activities

EASL Patient Synergies Roundtable on Liver Cancer
On 4 February 2021, a day before the start of our Digital Liver Cancer Summit, we held our EASL Patient Synergies Roundtable on Liver Cancer. It was organised by EASL and our EASL-affiliated patient associations.  A full range of the community attended the open interaction: liver patients from all liver disease areas including rare diseases, representatives from national liver associations, and experts. The Roundtable Discussion was organised around three topics identified by the EASL-affiliated patient associations. Watch recordings of the three key presentations here.
Thank you to all the wonderful artists who joined the contest Love Your Liver and shared their great artworks with EASL! Studies show that creative activities can help people living with cancer, stress, and other disorders, such as depression. Keep up the good work!
Art is a wound turned into light – Georges Braque
Discover the winners