Are you a young scientist on a dynamic career path in hepatology? Are you exploring the next challenge, as you develop as a Young Investigator? Do you have novel, forward-looking research ideas that you are eager to implement?
EASL provides scientists, women and men, with many opportunities throughout their careers as they climb to the top, step by step. Starting with a selection of EASL Fellowships offering you opportunities to excel, advance, network, and become a key member of the vibrant global hepatology community.
At EASL, you can find just the right fellowship for you: whether for your PhD or your post-doctoral qualifications, for short-term or longer-term goals.
Explore the fellowship categories and key benefits: types, funding amounts, deadlines, and conditions. Draw inspiration from the testimonials of former fellows and learn more about the research of current fellows. Apply now and join the community.
Testimonials - EASL hepatology fellowships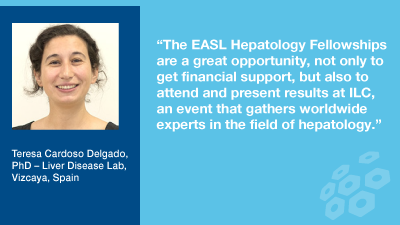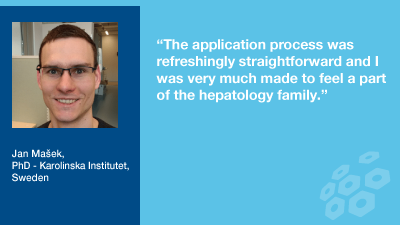 Choose the hepatology fellowship you are interested in:
Learn more from our current fellows
---
EASL's mission is supported by an unrestricted education grant from Bristol-Myers Squibb. Bristol-Myers Squibb has had no input into EASL content.
---
EASL hepatology fellowships – General conditions for applicants
Interested candidates may apply to more than one programme, but each applicant can obtain only one hepatology fellowship
If you are an unsuccessful applicant from previous years, we encourage you to apply again
EASL fellows who received funding under the previous fellowship scheme (Physician Scientist Fellowships, Post-Doc Research Fellowship, Entry-level Research Fellowship until 2017 and the Daniel Alagille Award) are not eligible to apply for the same fellowship under the current fellowship scheme.  If you have obtained the Short-Term fellowship within the past two years this condition also applies to you
Successful applicants shall be active members for the full duration of the programme. Also they will need to provide testimonial and feedback on the fellowship experience
No restriction on the applicant's nationality
The Hosting Institution must be different from the Home Institution and preferably located in a different European country
The research supervisor(s) in the hosting institution must be EASL member(s) and must not be member(s) of the EASL Governing Board
Candidates must be active EASL members or have applied for membership at the time of the application
Applications are submitted online in English at easl.eu
The hepatology fellowship should begin at the latest by the end of the year of the awarded grant
Any presentation or publication of the data should mention the support of the work by the European Association for the Study of the Liver (EASL)