Join the Nurses & AHPs Task Force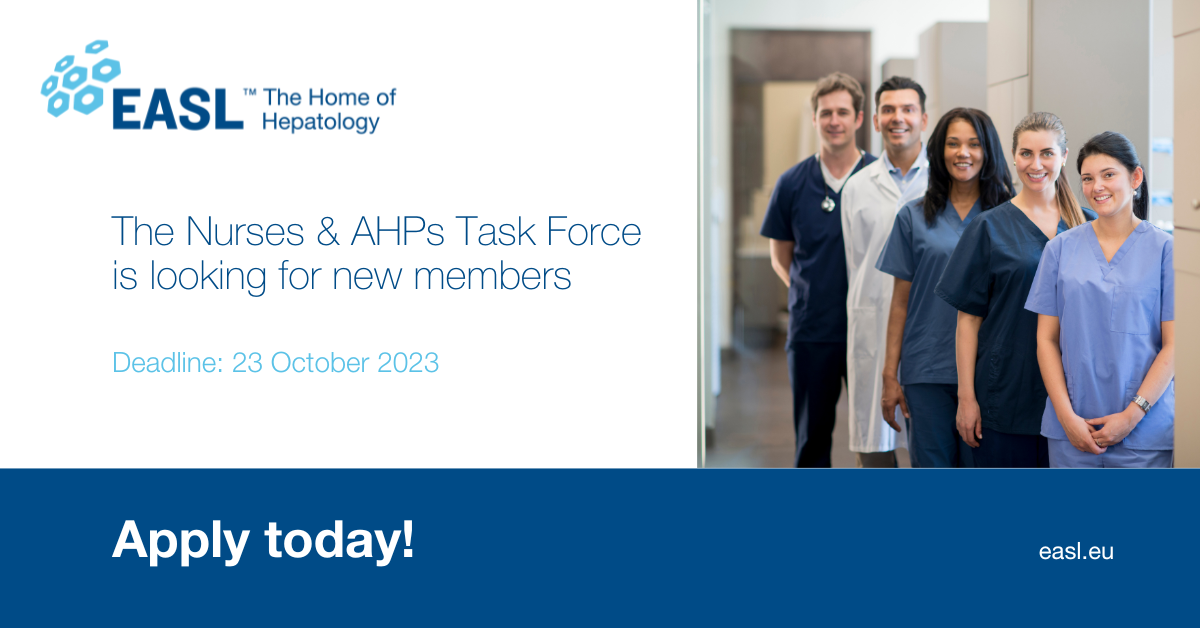 To reach improved treatment and support, nurses and allied health professionals are increasingly working at the forefront of healthcare. They play a key role in supporting patients in many countries, while greatly improving the lives of the patients living with liver diseases. 
The Nurses and Allied Health Professionals Task Force, which started in 2016, is growing. EASL is looking for two new members (Nurses or AHPs).
The terms are as follows:
One position with immediate start to end of EASL Congress 2026 (July)
One position with start on January 24 2024 to end of EASL Congress 2027 (July)
If you are interested in being part of the effort to improve patient care and want to be at the core of promoting the value of your specialty, this is your chance. Joining the task force not only lets you advance your career and meet a global network of like-minded peers, but also contribute to shaping the future of EASL.
Deadline: 23 October 2023
Eligibility
The candidate must be an EASL member when applying.
The candidate must be professionally active in a European country, as defined by the World Health Organization. 
EASL embraces diversity. To maintain gender balance in the Task Force male applicants are strongly preferred.
EASL welcomes candidates from under-represented ethnic groups to apply.
Your application should include
a letter of motivation and your aspirations for joining the EASL Nurses and Allied Health professionals Task Force
an updated CV
a summary of your scientific and/or clinical achievements
To apply, please access and log into the Memberzone
Review process:
All submitted applications will be reviewed for eligibility by the EASL office.
Shortlisted candidates might be invited for an interview with the current Task Force.
The interview will consist of a five-minute presentation by the candidate, covering their qualifications and motivation for joining the EASL Nurses and Allied Health professionals Task Force, followed by a Q&A session with the Task Force.
You are welcome to consult the EASL equality, diversity, and inclusion policy statement.
Member criteria
Criteria

(five pillars of practice)

Main criteria for assessment
Secondary Criteria
Clinical Experience
Experience in looking after patients with liver disease in an inpatient ward or outpatient clinic (fundamental care), or research delivery role
Experience in working at advanced practice level and independently assessing, delivering interventions including extended roles, prescribing, case management, and discharging when treatment is complete
Academic Experience

Masters' degree (or equivalent according to country of origin)
Evidence of a peer-reviewed publication
Able to speak, read, and write in English at a level that enables clear communication with members of the EASL community
Able to access healthcare literature and read critically.
Understand the difference between research audit, and service evaluations

PhD
Experience in reviewing abstracts
Experience in peer reviewing manuscripts for publication

Teaching Experience
Experience presenting / teaching groups of healthcare staff (nurses and AHPs)

Experience in presenting to a wide range of interprofessional disciplines including medical colleagues
Formal postgraduate teaching qualification
Experience in study day/conference organisation

Local / Organisational Leadership Experience

Junior specialist/advanced nurse, or equivalent for AHPs
Able to meet deadlines

Clinical role as a deputy ward or department leader
Senior clinical role as a ward or department leader, or specialist/advanced practice role, or equivalent for AHP
Experience in organising meetings

Regional, National Leadership Experience
 
Experience in liver related healthcare committee/ group membership and contribution to activities outside of the usual workplace, either regionally, nationally, or internationally.
Member tasks
Activity
Requirement
Overview

Two assignments including travel will be required:

 one for the EASL congress (attendance to the full event is expected) and one face to face meeting, generally in Geneva. Travelling might be needed on weekends.
Online meetings first Monday in each month
Attend meetings (min one monthly call with the full Task Force). Give apologies if unable to attend. Undertake pre-reading and other preparation as required. On occasion meetings or calls can occur in the evening.
In person planning meeting at EASL HQ, Geneva, Switzerland.
Attend planning meeting with a minimum of one night stay depending on travel arrangements. This will require travelling to Geneva the day before the meeting,

and potentially travelling during hours including early morning, late evening or during weekends

.
Webinars
Contribute to planning and delivering educational webinars that are held on a weekday evening. This will involve working with another Task Force member or taking the lead for identifying speakers, presenting, or chairing the webinar.
EASL Studio
EASL Studio is a weekly video podcast organised by the main EASL committee but there will be at least one episode per year dedicated to the Nurses & AHPs Task Force. This will involve contributing to choosing a topic for discussion, identifying any guest speakers, and participating as a speaker.
Planning the EASL Congress:

1. Identifying topics for presentations

2. Reviewing abstracts submitted and scoring as per EASL criteria

3. Selecting abstracts for posters, oral presentations

All Task Force members are expected to actively contribute to ideas for the topics to be presented at the EASL Congress. The activity includes:

Being aware of the current literature, current liver care issues, and who are key leaders and speakers who could present
Contacting by email other potential speakers and collaborators
Engaging and promoting EASL membership in own local, regional, and national communities

Delivering the EASL Congress:

 

Participating by chairing, presenting, liaising with speakers and the organising committee, supporting novice presenters, asking questions following presentations, speaking to delegates who are presenting their posters, observing posters on display to identify content and authors who could support future Task Force activity.
Succession planning
Identifying new members to join both EASL, and as future Task Force members.
Future Activity
Contribute to plans to increase educational provision to nurses and AHPs in Europe. This will include an option to join an informal ex-Task Force member network who contribute to presenting, identifying speakers, reviewing abstracts, constructing further educational material.
Communication
Active promotion of TF activities within network.
Activity Timeline
2023
 
July 2023
August 2023
September 2023
October 2023
November 2023
December 2023
General info
 
 
 
17 Oct: abstract opens
Abstract submission
Abstract submission
Chair role

Attend monthly call

Coordinate session building
Summarise input on general congress sessions
Task Force Members role

Attend monthly call

Congress debrief
Topics for next year
Finalise forum session

Input on general congress sessions

In person meeting, Geneva

Abstract submission promotion

EASL Office role

Support on monthly call

Support on session building
Support on session building
Session invitations
Abstract submission management
2024
 
January 2024
February 2024
March 2024
April 2024
May 2024
June 2024
General info
16 Jan: Abstract closing

TF member call (TBD)

 
 
Congress

5-8 June

Milan

Chair role

Attend monthly call

Coordinate abstract review and TF call review
Interview for TF
Opening ceremony
Task Force Members role

Attend monthly call

New TF call promotion
Abstract review

TF call review and interview

New TF member decision

Congress travel arrangements

Session briefings
Session briefings
Session Chair/ presentations

TF meeting

Networking

EASL Office role

Support on monthly call

New TF call management
Abstract notification and follow up
Coordinate call for session briefing
Coordinate call for session briefing