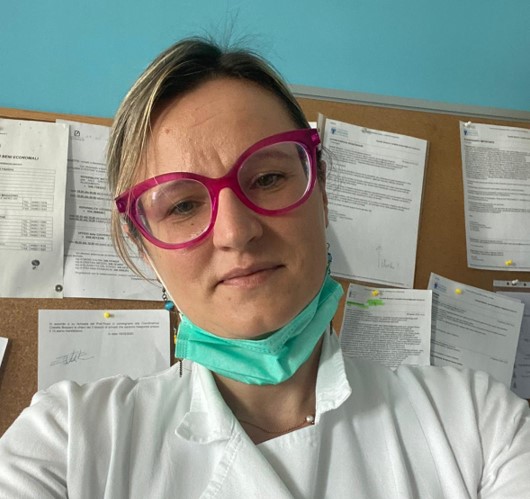 14 April 2020
Hepatology nurse, Pamela Ballotta, from the Multivisceral Transplant Unit and Unit of Gastroenterology, Azienda Ospedaliera di Padova, Italy, describes how she and her nursing peers are adopting rigorous practices to carry forward.
How is your daily working life affected by coronavirus, right now?
Over the past five weeks, we've implemented numerous changes in how we work. These have become a new routine: always wearing masks and gloves, rigorous hygiene, keeping a distance of 1.5 m from others, and arranging phone or web consultations when possible. We're giving every patient a mask to wear, at all times. Strictly speaking, in our transplant unit, we're not on the frontline. We're dealing with transplant and gastroenterology patients, but we need to be almost more careful than frontline healthcare workers, because our patients are vulnerable.
We must allocate patients to wards very carefully, to one-bed, two-bed or four-bed rooms, which are our options. If one of our patients has COVID symptoms and even if their virus status is not yet confirmed, they must be isolated. But it can take four or five days for the patient's COVID test results to come in. During this period of uncertainty, we must treat them as if they are infected, providing maximum protection and care. To care for a single patient in isolation requires significant resources: a doctor, nurse, and an auxiliary nurse.
We're striving to keep the "clean" and "dirty" sections of the hospital separate. This calls for many extra hands. For now, we have these hands, thankfully. But our staff are working extremely hard, asking for no leave or rest days.
Will these changes in your working practices continue?
Certainly. In Padova, we are going to implement these changes systematically and at least for the next year or two. It takes some getting used to it, but we will manage.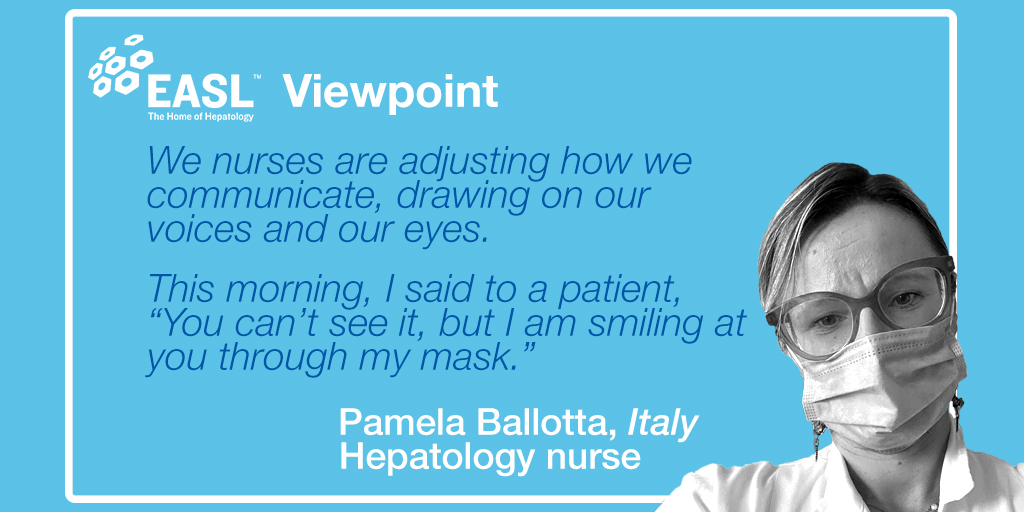 How is your daily interaction with patients affected by the pandemic?
The fact that we are wearing masks all the time makes interacting with patients challenging. This hampered communication is felt on both sides. They can't see our full faces, our emotions, and we can perceive their confusion. So we nurses are adjusting how we communicate, drawing on our voices and our eyes, to make them feel welcome and cared for. We use a reassuring tone of voice.
This morning, I said to a patient,
You can't see it, but I am smiling at you through my mask.
To protect our patients from risk of COVID infection, we are obliged to reduce the visits they can have from friends and family. They can have only one brief visit per day (10-20 minutes, at the most) and all visitors must wear masks. Such restrictions are tough, on both patients and their loved ones. Our liver patients are often hospitalised for many weeks in a row, too. So we help them set up video calls, to get them as much support as possible.
Those patients who have already been in hospital for a long time may struggle to grasp what the current lockdown really means. We're preparing those patients soon to be discharged to face the new COVID "outside" and self-isolation at home.
What advice can you offer your nursing peers in other countries, still at earlier stages of the pandemic?
I want to encourage my fellow nurses to take early action. Even before you have any COVID-19 cases, start using protective measures, wearing gloves, masks, and keeping a distance from others. Set up phone or web meetings, instead of face-to-face ones. Preventative measure like these will pay off. If we had all done all that, we'd be in a better situation now. It is also crucial to help patients feel calm and to give them hope through the pandemic, especially patients like ours who have existing difficulties.
Healthcare workers must take extra special care when leaving the hospital and going back home, like washing their work uniforms separately. While these are several big changes for us and difficult at first, they can be done. Take heart! We can apply ourselves and manage these new practices, as my colleagues have shown. With these rigorous measures in place, we can help patients, even better than we did before.
Disclaimer: As the COVID-19 pandemic unfolds, treatment strategies are being developed and adjusted accordingly. EASL Viewpoints serve as snapshot interviews from the frontline and are intended to reflect the experiences at the time of the interview only.
Resources
The European Operating Room Nurses Association (EORNA) has set up an online COVID-19 Forum to create a moderated space for discussion, questions, points of view, exchange of practices, and support.