Discover the Scientific Programme
Explore the two day conference and its 8 sessions addressing current knowledge and future directions on the study and management of biliary fibrosis and cholangiopathies.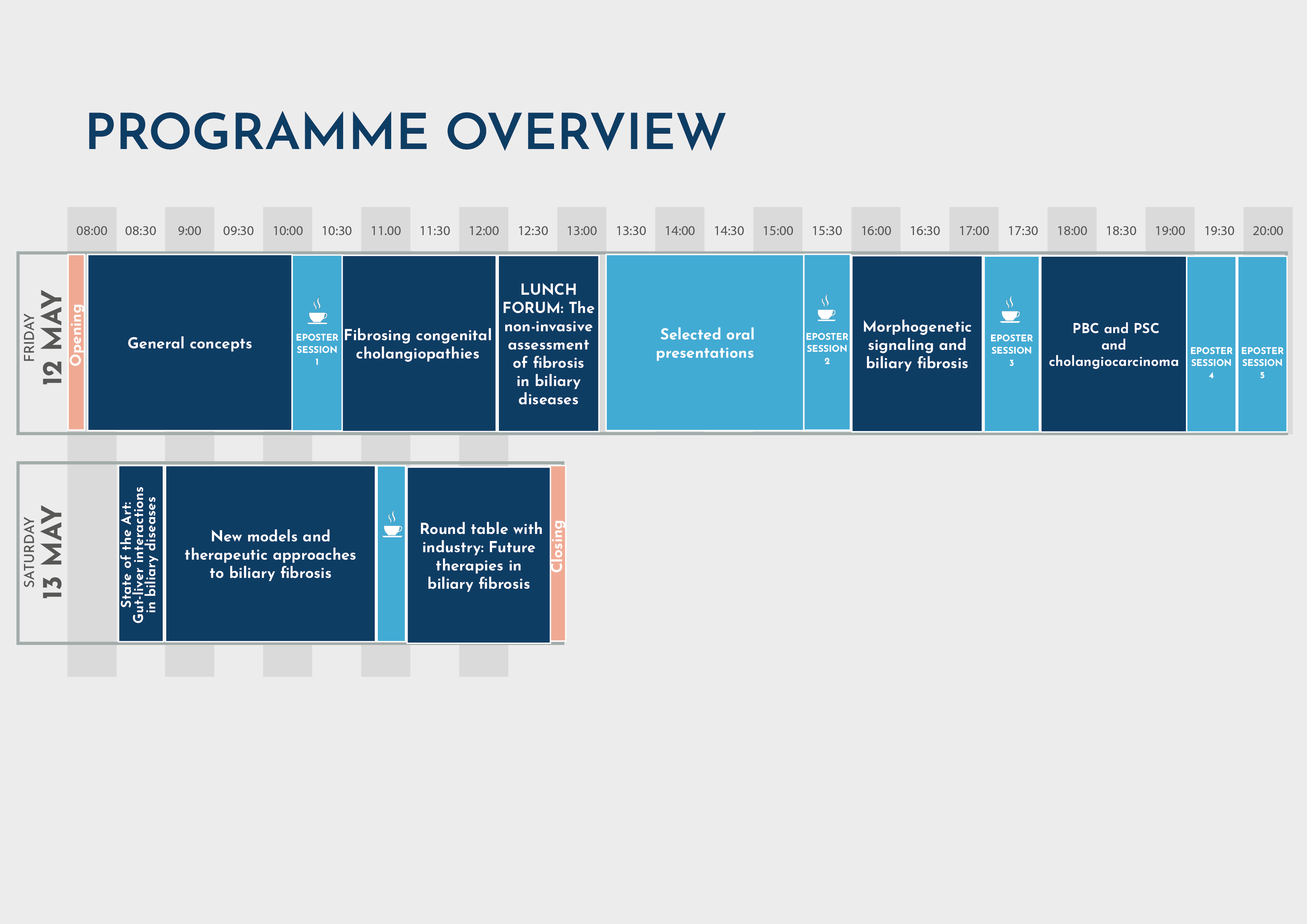 Session 1: General concepts
The monothematic conference is aimed at providing an update on all pathophysiological and clinical aspects of liver diseases characterised by biliary fibrosis.  The first session will introduce and discuss the general pathophysiological concepts of cholangiopathies and the basic mechanisms of biliary fibrosis.
Session 2: Fibrosing congenital cholangiopathies
This session will introduce key aspects of biliary development and discuss the most relevant alterations leading to congenital progressive biliary diseases using Biliary Atresia and Cystic Fibrosis as models. It will also explore new concepts on possible therapeutic interventions.
Session 3: LUNCH FORUM: The non-invasive assessment of fibrosis in biliary diseases
This session will present a detailed analysis of the non-invasive methodologies available for the assessment of the fibrotic evolution in chronic biliary disorders; In addition to examining their prognostic and clinical stratification potential.
Session 4: Morphogenetic signaling and biliary fibrosis
In this session, we will focus on mechanisms of cholangiocyte differentiation and bile duct morphogenesis in the context of both normal development and biliary repair/fibrogenesis. The models of Alagille syndrome and Polycystic liver Disease will also be discussed.
Session 5: PBC and PSC and cholangiocarcinoma
This session will focus on specific cellular and molecular mechanisms of biliary fibrosis in primary biliary cholangitis (PBC) and primary sclerosing cholangitis (PSC), highlighting cellular senescence, immune mechanisms, and the role of "reactive" cholangiocytes. An overview of the current guidelines for their clinical management, including screening for the occurrence of cholangiocarcinoma will also be provided.
Session 6: State of the Art Lecture: Gut-liver interactions in biliary diseases
This most awaited state of the art lecture, given by Professor Tom Hemming Karlsen, will highlight the intimate – although still largely unclarified – connection between the gut and the biliary system in the pathogenesis of chronic biliary diseases.
Session 7: New models and therapeutic approaches to biliary fibrosis
We will provide information on new advancements aimed at overcoming the technical limitations in the research modelling of cholangiopathies. In addition, we will discuss how these modelling advances could be of fundamental help in reshaping the expected endpoints of treatment.
Session 8: Round table with industry: Future therapies in biliary fibrosis
In line with the EASL monothematic conferences tradition, this session will shine the light on the current research interests and advancements of pharma/biotech partners currently active in cholestatic diseases, with the aim of reaching more effective cooperative efforts leading to treatment.
Key Dates
01 Mar, 2023

Abstract submission deadline

21 Mar, 2023

Abstract notification date

30 Mar, 2023

Early registration fees deadline

12 - 13 May, 2023

Event dates