The International Liver Congress™ is around the corner, and we are all looking forward to it, because this year, the ILC makes its big return onsite at ExCeL in London!
Still don't know why you should attend one of the world's top meetings in the field of Hepatology? Then continue reading to find out the most exciting events happening at the ILC 2022.
Jump directly to onsite and online key features 👇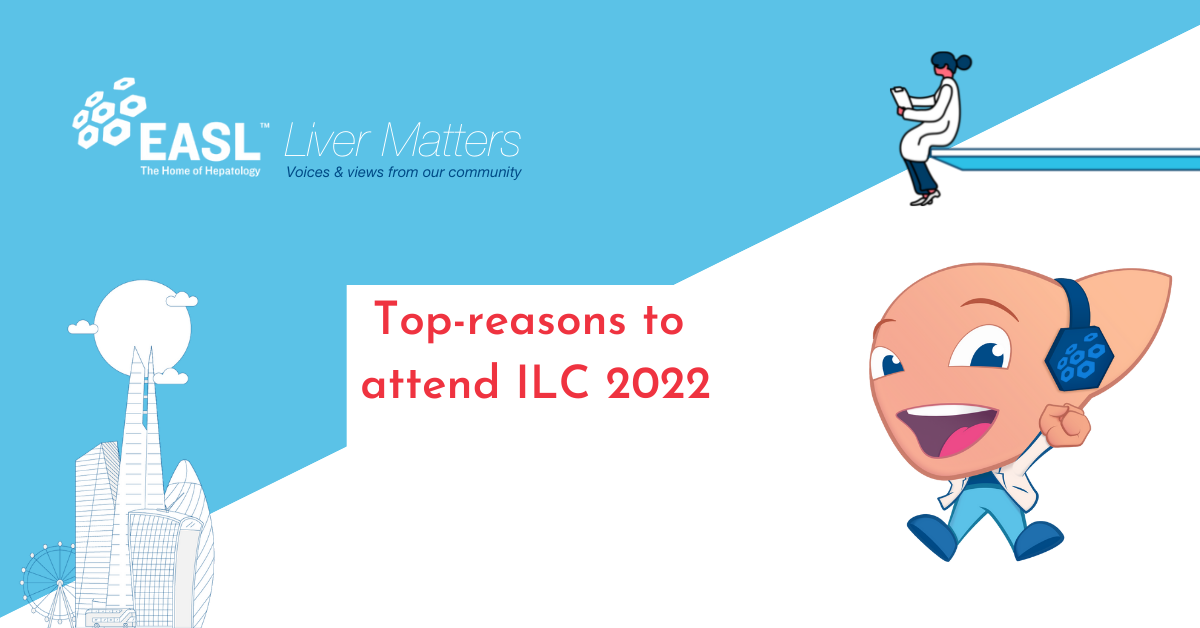 ONSITE
Attending the Congress onsite will give you the exclusive opportunity to enjoy up to 5 days of face-to-face learning and networking with the global EASL community, as well as with our esteemed speakers including top faculty, key opinion leaders, and abstract presenters, among other decorated delegates.
ILC 2022 has jam-packed Scientific Programme, offering you more than 200 hours of content such as:
Postgraduate Courses

Basic Science Seminars

Meet-the-Experts sessions

1,000+ posters, including direct Q&A with abstract submitters through poster tours

Hands-on sessions to hone your expertise
A new feature of this year's Congress is that sessions are already classified per track on the online ILC platform. Thanks to our improved search tool, results for queries on our online platform will appear faster, allowing you to easily explore our Scientific Programme. This should make planning and creating your daily agenda quick and convenient.
Track hubs are dedicated meeting points per track. Every day during lunchtime, short presentations and gatherings will be organised by different EU-funded projects, consortia, JHEP Reports, State-of-the-Art, speaker Guido Kroemer and many more. The finalised schedule will be released by the beginning of the ILC, but you can already have a look on the programme here.
Networking can happen everywhere, but its core area will be at the Community Hub!
Come and say hello to delegates and members at the booths hosted by the different EASL departments: Education, Journal of Hepatology, Membership, and Policy & Public Health. Grab a cup of coffee at the coffee bar and seize the opportunity to get to know the team and learn more about the work they do to serve the association and the larger Hepatology community.
Immortalise your visit at the ILC 2022—and score a nice souvenir while you're at it—at our photobooth. Make sure to try out the different background frames!
We have several events planned to allow you to (re)connect with your peers and other members of the community.
Opening ceremony – Wednesday 22 June 2022, 10:45 to 11:45 BST – ICC auditorium Level 0
Start your journey at the ILC by attending the Opening Ceremony alongside key members of the Home of Hepatology.
After the welcome message from Honorary President Mario Rizetto, the novelties of this year's Congress will be presented, followed by the award ceremony for the 2022 Emerging Leader Awards and the Nurses & AHPs Rising Star Award.
Poster Award — Thursday 23 June 2022 – 17:30 to 18:30 BST – EASL Community Hub, in the Exhibition / Poster area
This ceremony will acknowledge the Awards for the best poster per tracks, including Basic Science and Policy and Public Health. This event will also award the best oral presentation for Clinical and Basic Science.
Young Investigators Networking Event – Thursday 23 June 2022, 20:00 to 01:00 BST – Tiger Tiger London
The traditional Networking Event dedicated to the Young Investigators is taking place at Tiger Tiger, the famous staple of London's nightlife, located at Piccadilly Circus! Click here to register.
Log in using the same details you used for your ILC 2022 registration.

Click on "Individual registration" and follow the steps.

Choose the ticket for the Young Investigator Networking Event to complete your registration.

A confirmation will be sent via email.
All guests must show their ILC 2022 Badge and ID upon entry. +18 only!
Venue: Tiger Tiger London, 29 Haymarket, London SW1Y 4SP, United Kingdom.
EASL Recognition Award – Friday 24 June
Every year EASL acknowledges major scientific contributions made by scientists in the field of liver research.
EASL General Assembly — Friday 24 June 2022, 17:30 to 19:00 BST – Capital Suite 7 Level 3
After two years of virtual meetings, the EASL General Assembly will finally be held in-person in London on Friday 24 June 2022, 17:30–19:00 BST.
This meeting will give board members and association members the chance to sit face-to-face around the same table, look back on their achievements, and plan for the road ahead.
You can find the detailed agenda and supporting documents in the members' zone.
Have you renewed your membership? Take this opportunity to check your membership status and renew it for the coming year.
EASL & Friends – Friday 24 June 2022, 19:15 to 20:15 BST – Capital Suite 2, Level 3
Cocktails will be served right after the General Assembly. (Re)connect with your peers and reflect on the decisions taken.
Savour science—but make sure to have fun!
How well do you know EASL, its activities and its history? Challenge your peers and win a free registration for next year's Congress!
What: Quizzes consisting of seven questions on different topics such as the EASL Campus, JHEP, History of EASL and of the ILC, Policy & Public Health, London etc.
Where: At the Membership Booth in the Community Hub
When: Two quizzes per day will be held from Thursday to Saturday during lunch break and during the afternoon coffee break
How: Grab your cell phone, scan the dedicated QR code displayed at the Membership booth and take the quiz with the other participants.
Prizes: Winners of each individual quiz (from Thursday until Saturday lunch break) will receive a filled EASL bag and a qualification for the final membership Quiz: Battle of the Masters taking place on Saturday afternoon!
Prizes for the Finale Membership Quiz: Battle of the Masters:
              1st Prize: Free entry to ILC 2023 + Special T-shirt
              2nd Prize: Free membership + Special T-shirt
              3rd Prize: Special T-shirt
Keep the ILC 2022 lively by participating in the daily challenges that await you!
What: Three or five challenges per day
When: From 22 to 26 June 
Where: On the ILC 2022 Event Platform
How:
Log-in to theILC 2022 Event Platform on the homepage and click on the ILC 2022 Challenge button

Complete three or five mini-challenges each day and collect badges
There are 2 badges to collect:
The ILC 2022 Challenge badge when you complete at least three or five mini-challenges per day

The High Achiever badge when you complete all mini-challenges per day
Prizes:
Top 10 winners will receive a special t-shirt! 

And top 3 winners will get a FREE registration for next year's Congress.
A fully adapted health and safety protocol will be in place to ensure the safety of the visitors, exhibitors, contractors, and the wider community.
There will be hand-sanitising stations available throughout the venue and in each event hall, as well as in high-traffic areas. 

Even if not mandatory, particpants are encouraged to wear face coverings at the event.

Food and beverages can be purchased at the venue catering outlets through contactless payment methods in order to minimise contact points and provide speedier service.
More information about our safety protocols here
Savour science, but with a touch of royalty!
Last but not definitely not the least: The host city for this year's Congress is worth the trip!
There is always a good reason to travel to London, but with all the celebration around the Queen's Jubilee, the English capital city is looking extra lively this year. ExCeL London is ideally located near the city centre and benefits from good transport network.
ONLINE
Are you afraid of missing out but are not able to travel to London? No problem! Join us at ILC 2022 using our online platform.
Online attendees will have access to the same sessions of the Scientific Programme, including:
Online participation via Q&A and polls during presentations

Postgraduate Courses

Basic Science Seminars

1,000+ posters

Browsing the online exhibition area and Industry Satellite Symposia,

Networking sessions with key industry partners
Just because you aren't attending the ILC onsite doesn't mean you'll miss out on all the opportunity to network and interact with other delegates. On our online Community Hub, you will benefit from the matchmaking function, which will allow you to connect with other delegates sharing your area of interest.
More information about online attendance here.
The ILC 2022 Challenge is also opened to online delegates! Take the daily challenges for a chance to win a free registration for next year's congress.
Still not convinced? Here are even more reasons to attend ILC 2022
 Onsite or online, seize the opportunity to join our flagship event and let's savour science together again!