Call for applications for a patient advocacy representative member of the EASL Policy, Public Health, and Advocacy Committee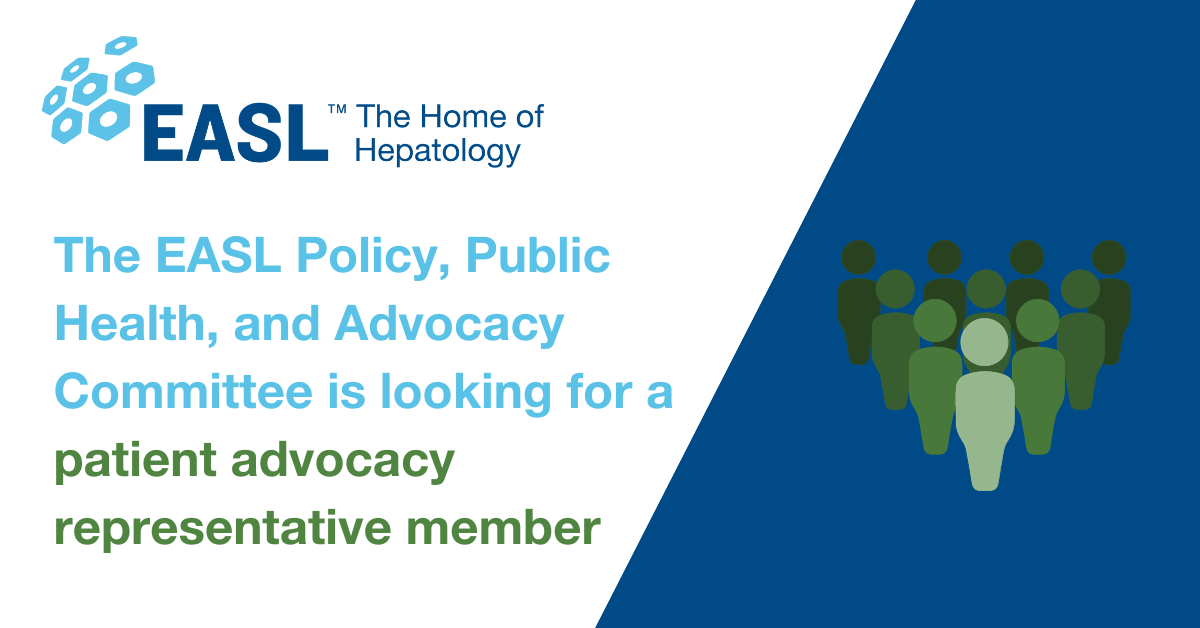 The mandate of the EASL Policy, Public Health, and Advocacy (PPHA) Committee is to provide EASL with expert scientific and policy guidance to pursue its policy and public affairs mission: to be the advocate of the highest standards of hepatology care for patients and increase public awareness about liver diseases.
The PPHA Committee will be involved in EASL's strategy as follows:
provide state-of-the-art scientific advice on all areas of liver health, research, treatment and liver disease prevention as required for the EASL PPHA work areas related to health and public policy, advocacy and research.
assist in and oversee the design, development and implementation of EASL public affairs strategies and work plans.
assist in and oversee the design, development, and implementation of EASL public affairs advocacy campaigns and strategies.
develop and oversee the public health sessions and content at EASL Congress and at all EASL events, potentially review abstracts for EASL Congress.
assist in identifying additional external experts (including, where relevant and necessary patients and non-hepatologists) who could support the work of the EASL public affairs department on a project-by-project basis.
identify expert speakers when requested for participation in external events and meetings and for interviews with the media.
identify experts to sit on EU and other institutional advisory boards and act as liaison points between those institutions, bodies and EASL where requested.
develop and draft Policy Statements on topics relevant to EASL's public affairs activities.
work closely with other EASL departments and initiatives such as membership, fellowships, fundraising, education to identify and improve synergies across all departments for the benefit of liver health, research and treatment, patients and EASL members.
identify and propose new PPHA Committee members to the Governing Board.
coordinate and oversee the EASL cooperation with patient associations working in the field of liver issues.
undertake other assignments which may be identified by the Governing Board or the Committee itself.
Term:
The term for the new member is from July 2024 to June 2027.
Eligibility criteria:
The candidate should be a patient representative or patient advocate and be involved or have experience with patient groups/patient advocacy groups. Other disciplines than hepatology, such as diabetology, cardiovascular etc. are welcome.
The candidate must be living in a European country, as defined by the World Health Organization.
No age limit applies to this call for applications.
The candidate must be an EASL member when applying.
Your application should include:
a letter of motivation and your aspirations for joining the PPHA Committee.
an updated CV.
a summary of your experience in Policy, Public Health and Advocacy work and patient advocacy work.
To apply, please login to the EASL Memberzone
DEADLINE FOR APPLICATIONS: 12 DECEMBER 2023
Review and selection process:
All submitted applications will be reviewed for eligibility by the EASL office.
All eligible applications will be reviewed by EASL's Public Health Councillor and the PPHA Committee members.
The EASL Policy and Public Health Committee will base their selection on the following criteria:

candidate profile:

experience or relevant field of expertise or being an active member of a patient association working in the field of liver issues.
network and connections in appropriate stakeholder communities
independence
collaborative work skills

inclusivity and heterogeneity (with the aim of composing a PPHA Committee that is representative of the EASL community in terms of scientific fields, countries, experience)
diversity, in accordance with the EASL equality, diversity and inclusion policy statement.

Shortlisted candidates may be invited for a max. 45-minute interview with the EASL PPHA Committee.

The interview will consist of a five-minute presentation from the candidate covering their qualifications and motivation for becoming a member of the Policy & Public Health Committee, followed by a Q&A session.

The successful candidate will be presented to the EASL General Assembly. The appointment as PPHA Committee member is dependent on confirmation by and at the General Assembly.
You are welcome to consult the EASL equality, diversity, and inclusion policy statement.