Experts discuss latest research and future of liver cancer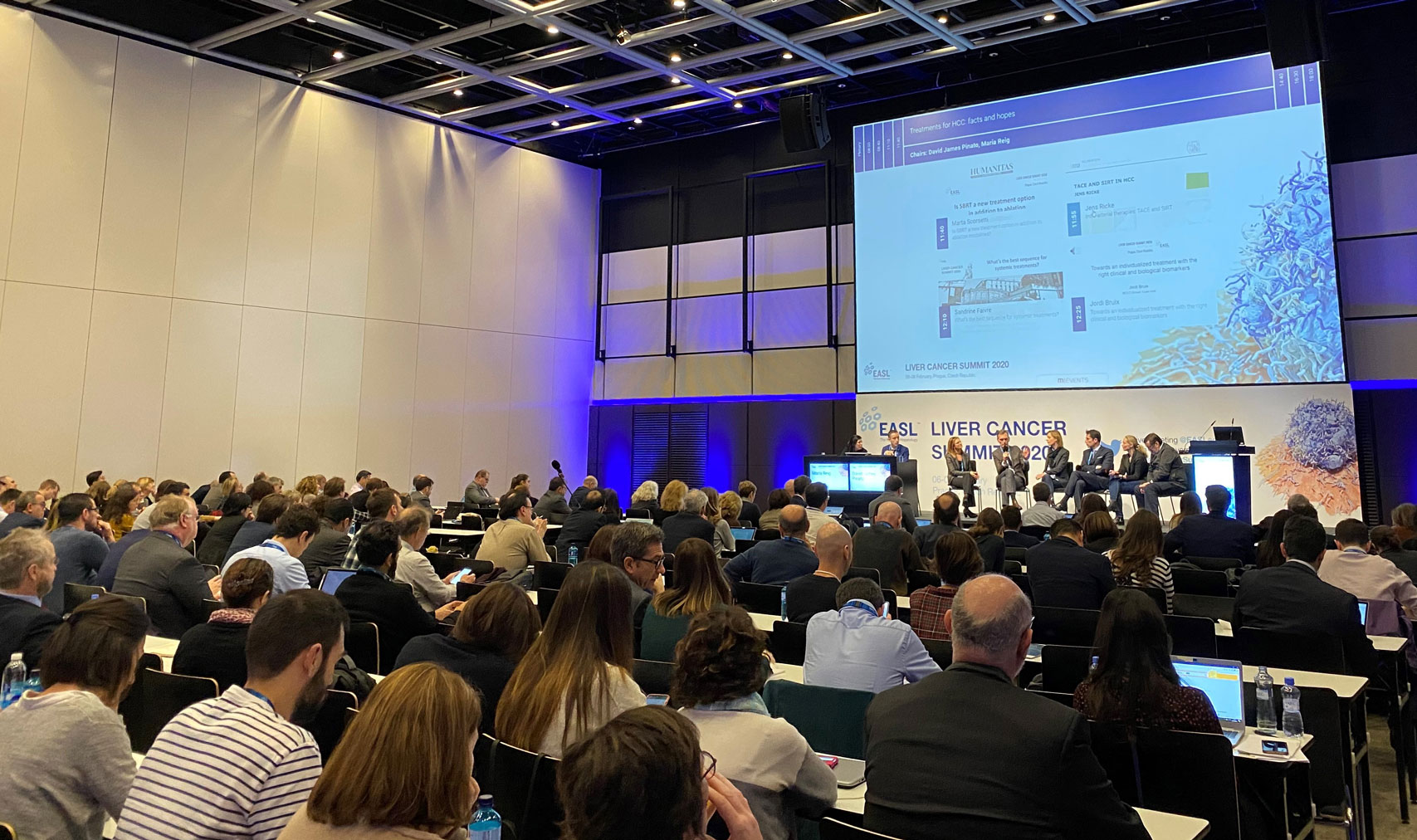 Over 600 delegates from 44 countries gathered in Prague at the EASL Liver Cancer Summit 2020 to discuss latest developments and the future of liver cancer research.
Organised annually by EASL, the European Association for the Study of the Liver, the Liver Cancer Summit 2020 edition provided an interactive platform to discuss the latest research and the multidisciplinary management of patients with hepatocellular carcinoma (HCC) and, for the first time at this Summit, the topic of cholangiocarcinoma (CCA).
Highlights from the summit are summarised from three distinct points-of-view: clinical, pathological and basic science.
Clinical highlights
From the clinical perspective, key sessions at the summit focused on presenting recent data on new targeted agents, immunotherapy, biomarkers and personalised medicine, along with open issues and unmet needs to be addressed in clinical trials.
The role of surgery, including novel perspectives for liver transplantation, and the best approach for systemic therapies for HCC and CCA were discussed. In addition, the role of intra-arterial therapies (TACE and SIRT) and the potential of stereotactic body radiotherapy (SBRT) as a new treatment for patients with HCC were also presented.
HCC:
• Subgroup analysis of Chinese patients with advanced HCC treated with first-line atezolizumab plus bevacizumab versus sorafenib in the phase 3 IMbrave150 trial
• Subgroup analysis of patients with advanced HCC previously treated with checkpoint inhibitors receiving cabozantinib as third-line treatment in the phase 3 CELESTIAL trial
• Post-hoc analysis of the correlation between pattern of progression and prognosis in patients with advanced HCC treated with second-line ramucirumab versus placebo in the phase 3 REACH and REACH-2 trials
• Preliminary promising results of a phase 3 trial of SBRT versus TAE/TACE in patients with intermediate stage HCC
CCA:
• Results of the phase 2 FIGHT-202 trial of pemigatinib (anti-FGFR) for patients with previously treated intrahepatic CCA with FGFR2 gene fusions
Pathological highlights
From the pathological point-of-view, it was highlighted that, in order to improve precision medicine and adapt management and therapeutic strategies, we need to develop integrative pathomolecular approaches requiring the access to tumour biopsy. In parallel, inter and intra-tumour heterogeneity is a main issue that should be considered and better evaluated. In the era of OMICS and Artificial Intelligence (AI), the field of IMAGOMICS, that will include all images coming from Radiology & Pathology, deserves further attention.
Basic Science highlights
Finally, from a basic science perspective, sessions highlighted the importance of metabolism, inflammation, type of cell death, epithelial-mesenchymal transition (EMT), activation of developmental pathways, and the cross-talk between tumour and stroma cells in the development and/or progression of liver cancer, and as targets for therapy.
Moreover, new molecular mechanisms of chemoresistance in HCC and CCA liver cancer cells at diagnosis, during cancer evolution, and/or after treatment were presented, with promising therapeutic implication. Results showed that liquid biopsy (circulating tumour cells, circulating tumour DNA, extracellular vesicles, metabolomics profiles, etc) is rapidly emerging as a novel and minimally invasive approach with promising diagnostic, prognostic and/or therapeutic consequences.
The need for consensus on the characterisation of the different animal models of liver cancer for HCC and CCA and their comparison with human phenotypes, in order to improve the translation of preclinical results into patients, were also highlighted.
Putting the "social" in social networks
The 2020 edition of the Liver Cancer Summit set a record for digital interactions at an EASL summit with nearly 6 million impressions, 341 participants and 1,438 tweets. Close to 2,500 participants worldwide joined EASL's livestream and actively debated hot topics via Twitter to take online discussions further, even after the official close of numerous sessions.
Related links
Watch the livestream from the Liver Cancer Summit 2020
Download the Best of Liver Cancer Summit 2020 slide decks