EASL Studio Special Episode "Promoting Liver Health: an urgent call for action at WHO"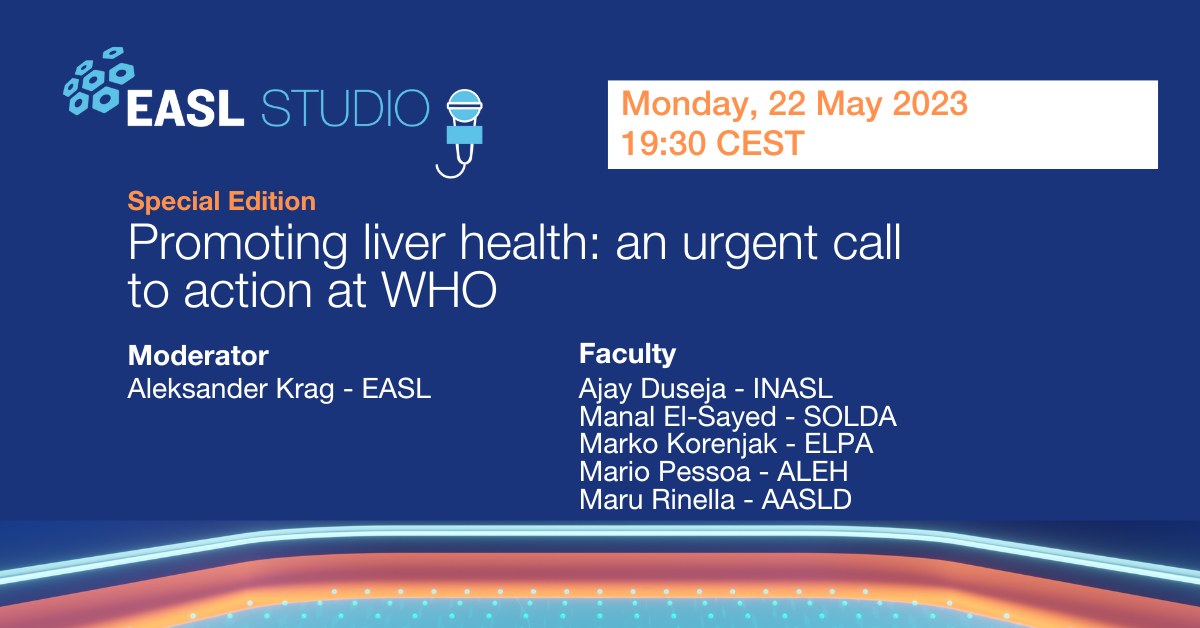 On 22 May 2023, policymakers, thought leaders, Permanent Mission Representatives to the UN, WHO staff, and people affected by liver disease will gather at the EASL Office in Geneva for the invitation-only event on the side-lines of the 76th World Health Assembly*: "Together for Better Liver Health: Mobilising Action for Fatty Liver Disease". The aim of the event is to raise awareness on the need for action, and to call for a coordinated response to combat the global public health threat represented by fatty liver disease.
Fatty liver disease is the most prevalent liver disease in history, affecting over one in three adults globally and 10% of children. If left unchecked, it can progress to cirrhosis and liver cancer. Despite its prevalence, fatty liver disease remains largely unknown, and its burden is expected to grow further in the years ahead.
Following the event, an EASL Studio special episode "Promoting Liver Health: an urgent call for action at WHO" will air at 19:30 – 20:00 pm CET on 22 May.
This is your chance to join the high-level discussion in a thought-provoking and informative format and hear the priorities and challenges from key stakeholders in the field.
The episode will showcase the collective effort of global stakeholders who stand united to advocate that fatty liver diseases are included in national and global policies. Our moderator, EASL Vice-Secretary Prof. Aleksander Krag, will be joined by distinguished faculty members representing organisations from around the world.
Don't miss this opportunity to learn about the strategies being put in place to promote liver health and the urgent need for coordinated approaches. Participate in this call for action to address fatty liver disease as a critical step toward a healthier future for all.
The EASL Studio special episode can be accessed online from wherever in the world you are located –we look forward to having you among our audience!
*The World Health Assembly is held annually and is an occasion for all WHO member delegations to discuss and make strides on global health issues. The EASL event builds upon WHA76 agenda item 11.2 which includes discussions on policy options and cost-effective interventions for the prevention and control of noncommunicable disease (NCDs). By raising the profile of fatty liver disease, the EASL's event on the side-lines of the WHA and the publicly accessible EASL Studio special episode can help to catalyse action and improve liver health outcomes worldwide.
More about our speakers and moderator
MODERATOR: Aleksander KRAG, EASL Vice Secretary, Professor and Head of Hepatology, Odense University Hospital, Denmark 
Aleksander Krag, MD, PhD, MBA is Professor and Department Chair, Department of Gastroenterology and Hepatology Odense University Hospital, Director of Centre for Liver Research (FLASH) Odense University Hospital and DIAS Chair of Health Sciences, University of Southern Denmark. He also serves as Vice Secretary General, European Association for the Study of Liver (EASL) and is the incoming Secretary General 2023-2025.
Aleksander Krag is involved in and hold leader positions in a number of large research collaborations in liver diseases, including being director of FLASH: Fibrosis Fatty Liver and Steatohepatitis Research Centre Odense, Coordinator in the H2020 project GALAXY: Gut and Liver Axis in Alcoholic Liver Fibrosis and partner and PI in the H2020 projects MicrobPredict, LiverScreen and The International Human Microbiome Action and PI in the Center of Excellence Center for Functional Genomics and Tissue Plasticity.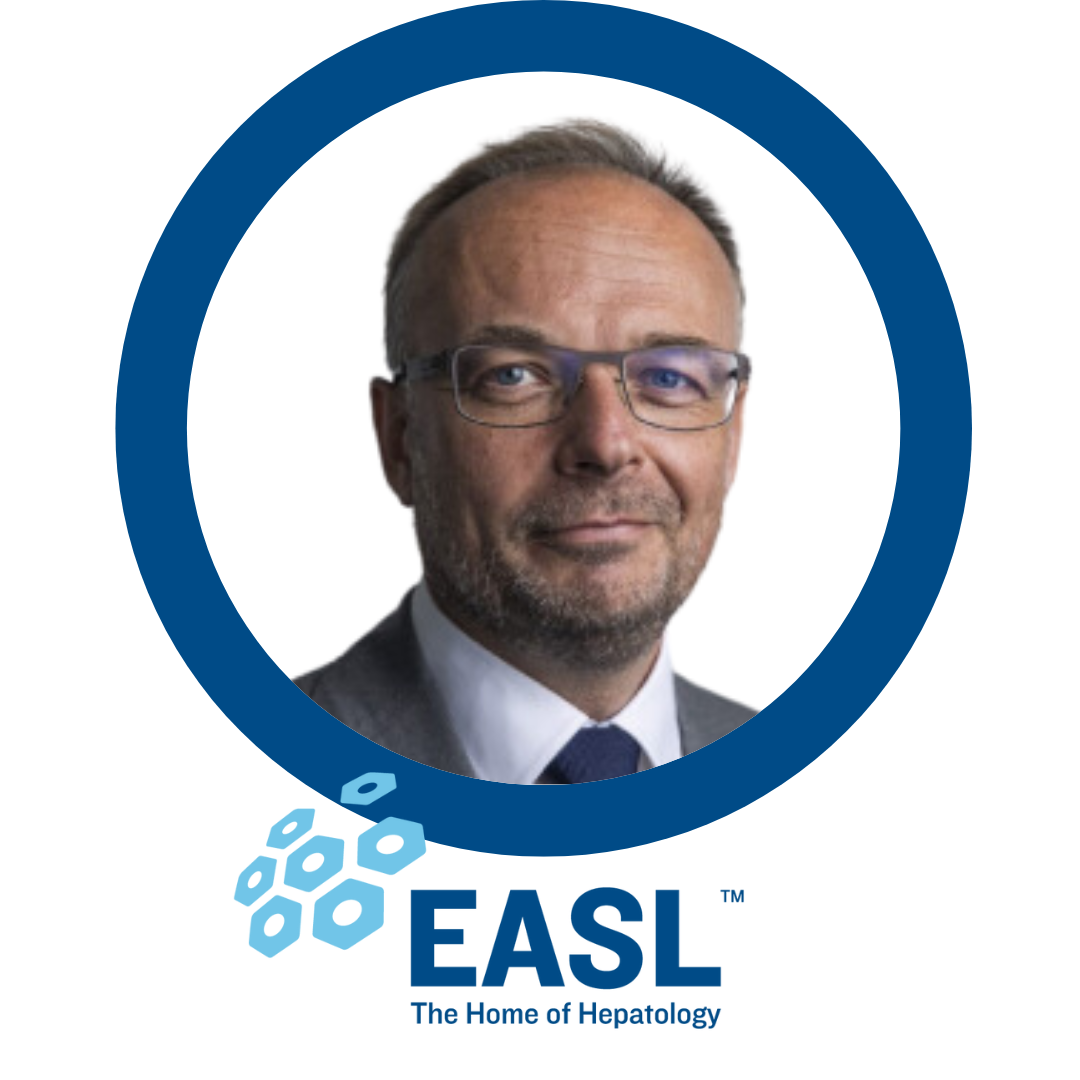 Ajay DUSEJA, Secretary General, Indian National Association for Study of the Liver (INASL), India
Dr Ajay Duseja is presently working as Professor and Head in the department of Hepatology, Postgraduate Institute of Medical Education and Research (PGIMER), Chandigarh, India. He did his MBBS in 1988, MD (Internal Medicine) in 1992 and DM (Gastroenterology) from PGIMER, Chandigarh in 1996. For last more than 25 years, he is working as Faculty with focused research in the field of Hepatology. He is Fellow of National Academy of Medical Sciences (FAMS), Fellow of American Association for the Study of Liver Diseases (FAASLD), Fellow of American College of Gastroenterology (FACG) and Fellow of the Society of GI Endoscopy of India (FSGEI), Fellow of Indian Society of Gastroenterology (FISG), Fellow of Indian National Association for Study of the Liver (FINASL) and Master of Indian Society of Gastroenterology (Master-ISG). He is currently the Secretary General of the Indian National Association for the Study of the Liver (INASL). He is also the National Convener of the Task Force on Non-alcoholic Fatty Liver Disease (NAFLD) and the Principal Investigator of the Indian consortium on non-alcoholic fatty liver disease (ICON-D) –an on-going real-life study on NAFLD in India involving 43 centres.
He is the member of the Chronic Liver Disease Foundation (CLDF) NASH Committee (USA), member of Global Council on NASH, member of the Asia- Pacific Working Party on NAFLD and member of the Gut and Obesity in Asia (GOASIA) working group. He is also an active member of the INASL Task Force on Hepatitis C virus, Hepatitis B virus, Hepatocellular carcinoma, Alcohol-associated Liver disease and Drug Induced Liver Injury.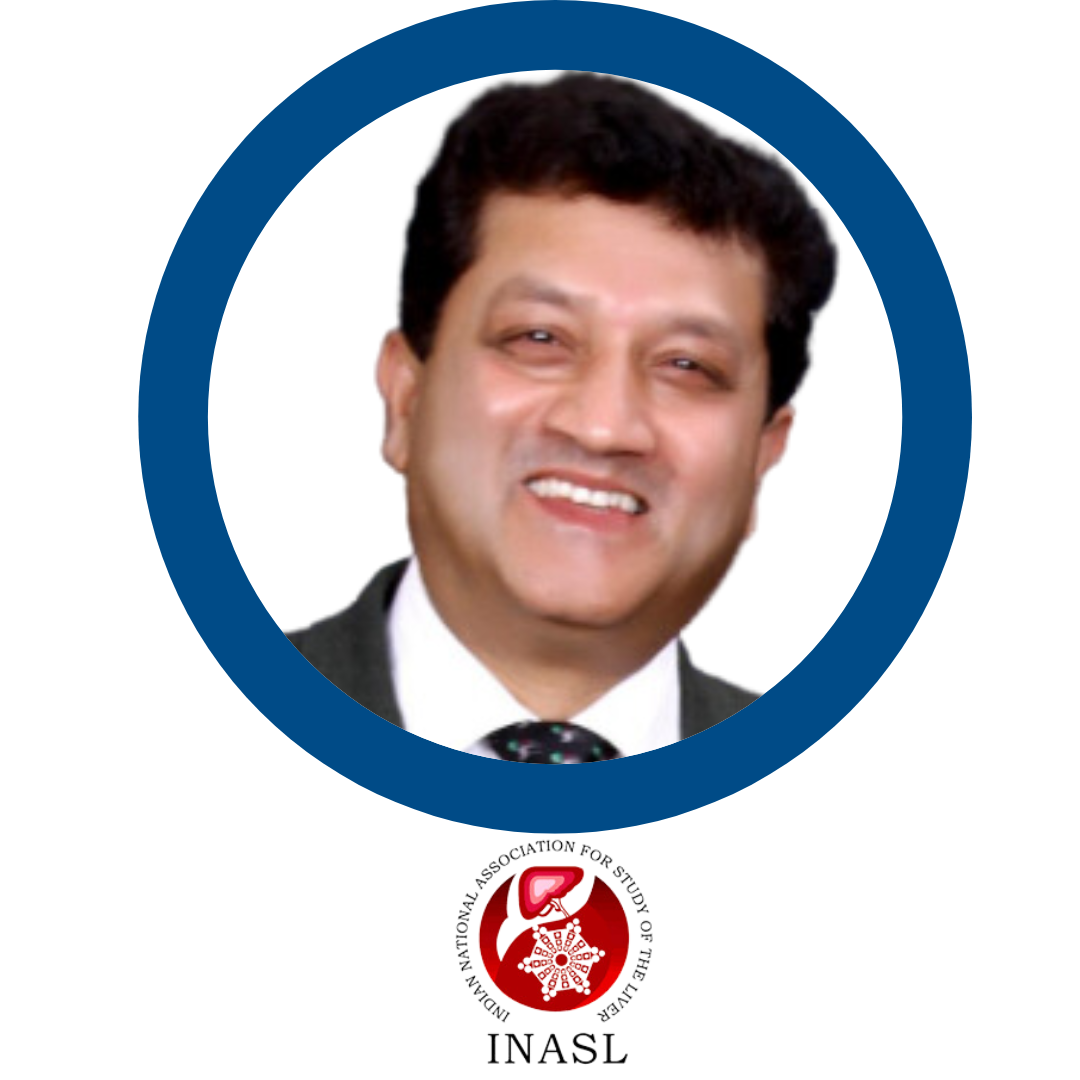 Manal El-SAYAD, Chairwoman, Society on Liver Disease in Africa (SOLDA), Egypt
Dr Manal El-Sayed (Cairo, Egypt) is Professor of Pediatrics at Ain Shams University. She is the clinical director of the national HCV Pediatric treatment program and the director of the clinical research unit and co-supervisor of the viral hepatitis treatment center at Ain Shams University. Manal has worked with pediatric hematology and oncology teams at Ain Shams University, National Cancer Institute, and 57357 Children's Cancer Hospital since 1990.Manal is a founding member of the Egyptian National Committee for Control of Viral Hepatitis (NCCVH) charged with planning and implementing the nationwide program for prevention and management of viral hepatitis since 2006. She contributed to the establishment of a nationwide network of 55 specialized liver centers that provided interferon therapy to 350,000 HCV-infected patients. Since 2014 when the NCCVH introduced the new direct-acting antiviral agents for HCV, more than 3 million patients have been treated. Manal collaborated on the development of the national action plan for prevention and control of viral hepatitis published in October 2014 with representatives from WHO, the U.S. Centers for Disease Control and Prevention (U.S. CDC), Pasteur Institute, and national stakeholders. In addition to co-supervising the nationwide mass screening program for adults and children reaching so far more than 56 million people.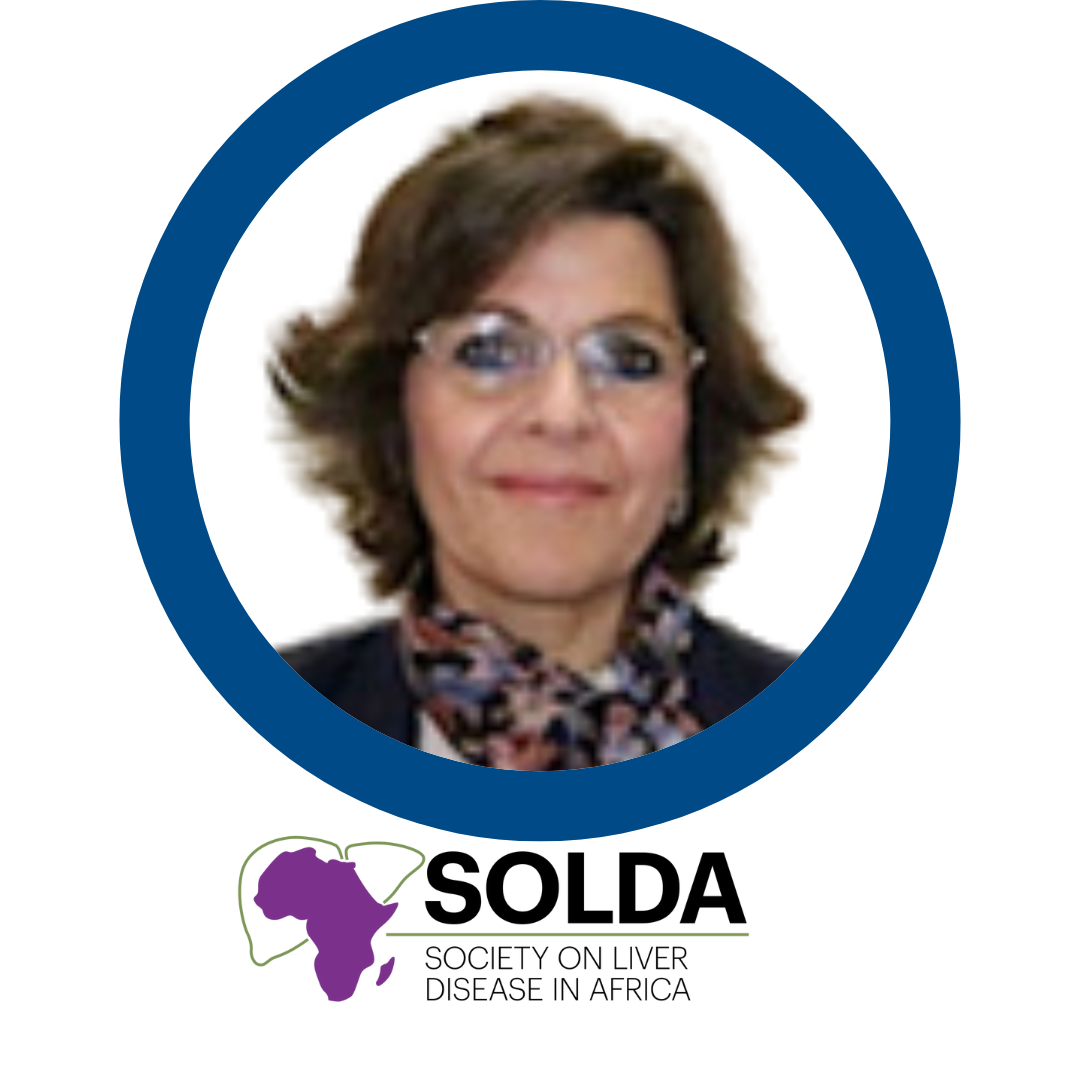 Marko KORENJAK, president of European Liver Patients Association (ELPA) and president of Slovenian Association for patients with viral hepatitis – Slovenija HEP 
Marko Korenjak is the president of the European Liver Patient Association, representing 32 liver patient associations from 25 countries. He has two Master's Degrees, the first in business and economy and the second in international relations and diplomacy. His work is focused on patient advocacy at the highest European level and is connected to changing the landscape of liver patients' care. He is a co-chair of PCWP and alternate member of PRAC at EMA, a member of the EASL Policy & Public Health Committee, EASL Task Force on Liver Cancer prevention, ECDC and HERA Advisory Forum, and a working group on monitoring hepatitis B and C in EU and WHO EURO Collaborating Committee on TB, HIV, and viral hepatitis. He is also a member of the HERA Civil Society Advisory Forum. In ELPA, he also leads a team that collaborates on 11 Horizon 2020 projects representing 100 million EUR spent in high-level liver research among more than 140 collaborating partners in the European Union.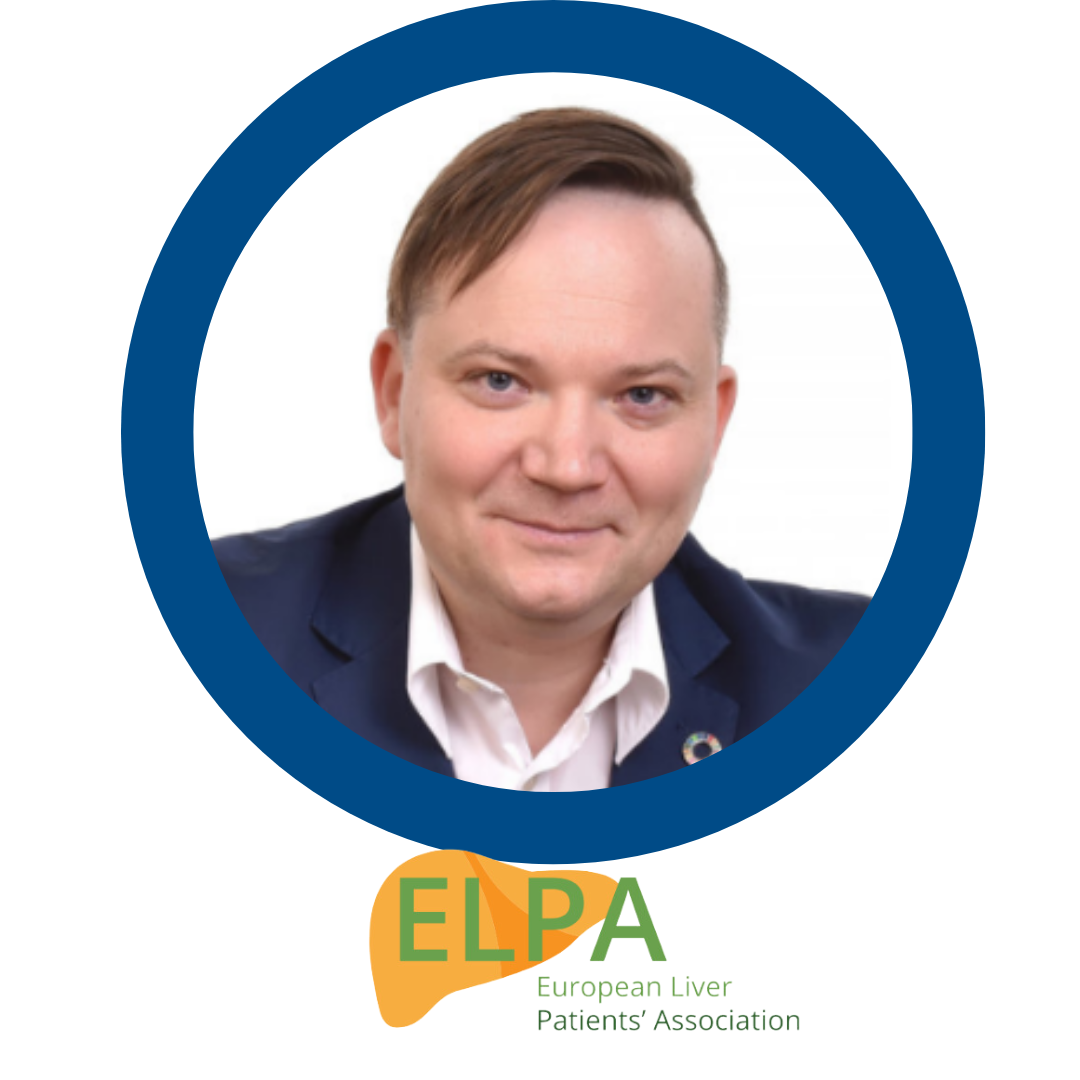 Mario PESSOA, Latin American Association for the Study of the Liver (ALEH), Second Vice-President, University of Sao Paolo, Brazil 
Dr. Mário Guimarães Pessoa, MD, PhD is the Second Vice-President for the Latin American Association for the Study of the Liver (ALEH). He Graduated in Medicine at Federal University of Bahia; Salvador – Bahia, Brazil and his Medical Residency in Internal Medicine as well.  He specialized in Medical Residency in Gastroenterology at University of São Paulo School of Medicine – HCFMUSP PhD in Pathology (Liver Pathology) at University of São Paulo School of Medicine – HCFMUSP Post-Doctoral Fellowship in Gastroenterology/Hepatology at University of California, San Francisco Assistant-Professor at Division of Gastroenterology and Hepatology at University of São Paulo School of Medicine – HCFMUSP.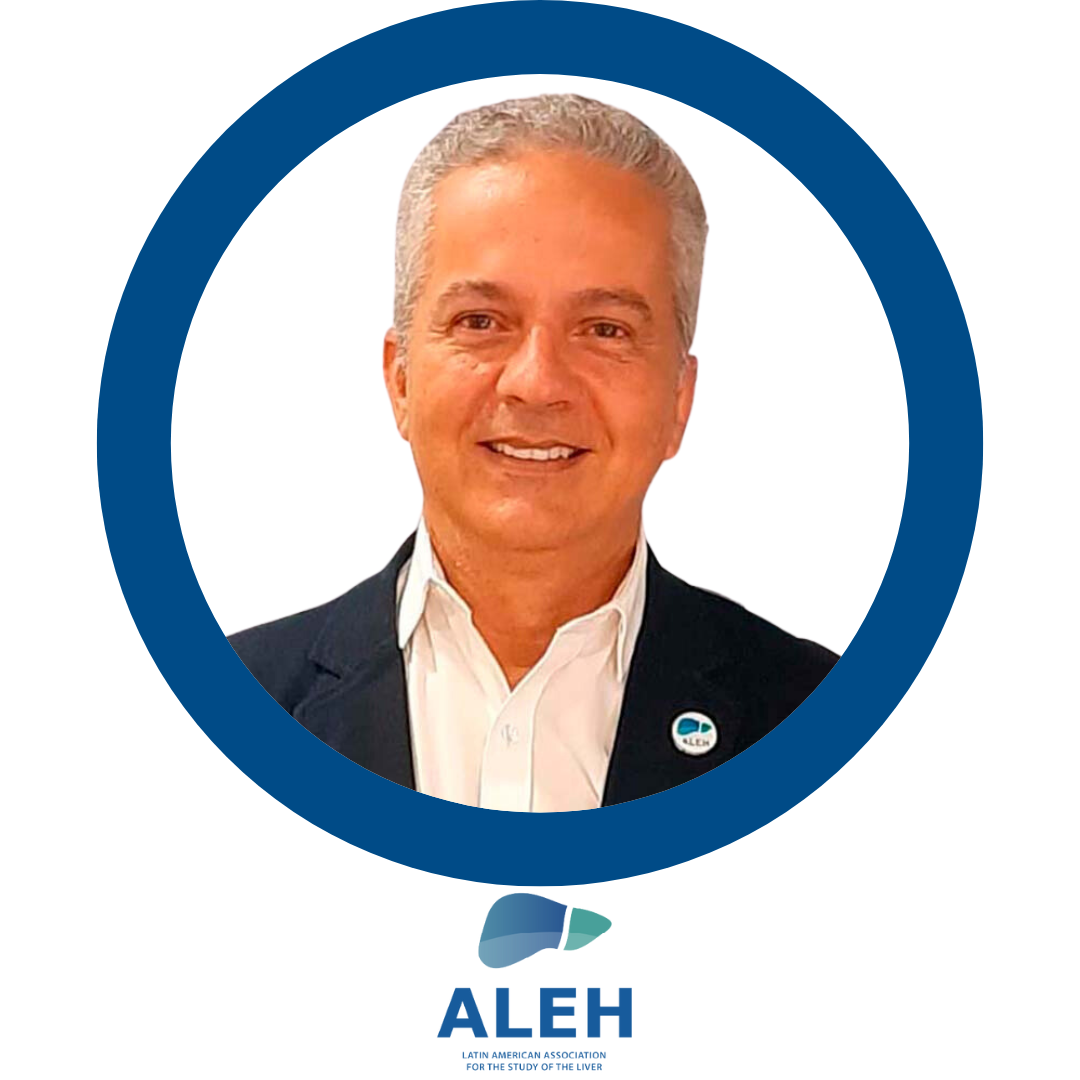 Mary E. RINELLA, Chair of the SLD (formerly NASH) Task Force, American Association for the Study of Liver Diseases (AASLD), USA  
Dr. Rinella is a Professor of Medicine at the University of Chicago Pritzker School of Medicine and is the Director of the Metabolic and Fatty Liver Program. During the earlier part of her career, she studied basic mechanisms of steatohepatitis with funding from the American Gastroenterological Association and the National Institute of Health (NIH). Currently her focus is on clinical research in the area of non-alcoholic fatty liver disease (NAFLD) / non-alcoholic steatohepatitis (NASH) both before and after liver transplantation.  She primarily focuses on the associations between NASH, metabolic co-morbidities and the recurrence of NASH after liver transplantation. Dr. Rinella is actively involved in the American Association for the Study of Liver Diseases (AASLD) where she recently served as Councilor-at-large on the Governing Board.  She was an author on the 2018 AASLD Practice Guidance for NAFLD and is the chair of the 2023 AASLD NAFLD Practice Guidance.  She has held several national leadership roles in the field of NAFLD including Chair of the AASLD NAFLD Special Interest Group (SIG) and Chair of the AASLD NASH Task Force.  As Chair of the NASH Task Force, she is was charged with fostering research collaboration and advancing best practice through collaboration with other medical societies, federal agencies and patient advocacy organizations to improve outcomes in patients with NASH.  Currently, she is co-leading a pan society global initiative using a Delphi process to identify a more suitable terminology for what we currently refer to as NAFLD.  She was recently appointed chair of the Steatotic Liver Disease task force, which will oversee 2 subcommittees focused on national and global strategies, respectively, to increase disease awareness and foster implementation of best practice.