October 2020
Liver cancer is the fourth leading cause of cancer-related deaths worldwide. It is the second and sixth most common cause of cancer death in men and women, respectively. For patients with cirrhosis, it is the primary cause of death.
Most of liver cancers are hepatocellular carcinomas, however some patients develop intrahepatic cholangiocarcinomas (ICC) or rare tumours in non-cirrhotic livers. Chronic liver diseases, alcohol consumption, obesity and diabetes, non-alcoholic fatty liver disease (NAFLD), exposure to aflatoxins, as well as chronic infection with HBV or HCV are considered risk factors.
In October 2020, the Nobel Prize was awarded to three scientists for their discovery and their valuable contribution to the elimination of HCV which lead to cirrhosis and liver cancer.
The burden of adult liver cancers and HCC is still increasing and various public health strategies have been developed for the prevention and control of this trend which will likely remain a major public health problem worldwide in the upcoming decades [1], [2].
EASL is offering the liver community a collection of open-access educational resources on liver cancer, developed with worldwide experts in the field. These diverse resources range from the online HCC management course, to Clinical Practice Guidelines, Best of ILC Slide Decks, educational materials from EASL events, and a collection of articles from the Journal of Hepatology.
EASL is building strong relationships with patient associations and public health organisations, so that together we can improve patients' lives and reduce stigma.
Most common etiologies related to liver cancer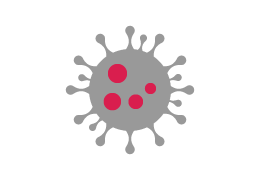 Chronic Viral Hepatitis
(B or C)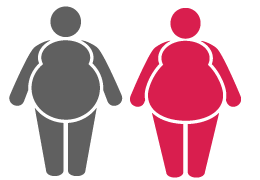 Obesity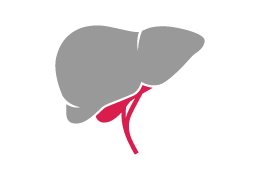 Cirrhosis*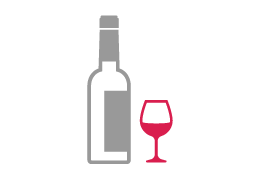 Alcohol consumption
New liver cancer resources
Ask EASL
In this audio interview conducted on the occasion of liver cancer awareness month, Dr. Massimo A. Iavarone, hepatologist at the Ospedale Maggiore in Milan, Italy, is answering key questions raised by the Liver Patients International (LPI) and PSC Support, two EASL-affiliated patient associations, both part of the EASL patient synergies project.
Dr. Massimo A. Iavarone is an assistant in the Department of Internal Medicine, Division of Gastroenterology and Hepatology, Fondazione IRCCS Ca' Granda Maggiore, Hospital of Milan, Italy. His main expertise and research interest is about the systemic treatments of hepatocellular carcinoma. He is a steering committee member and a member of the Drugs Commission of the Italian Association for the Study of the Liver (IASL) Special Interest Group on hepatocellular carcinoma.
Digital ILC 2020 Takeaways - Liver tumours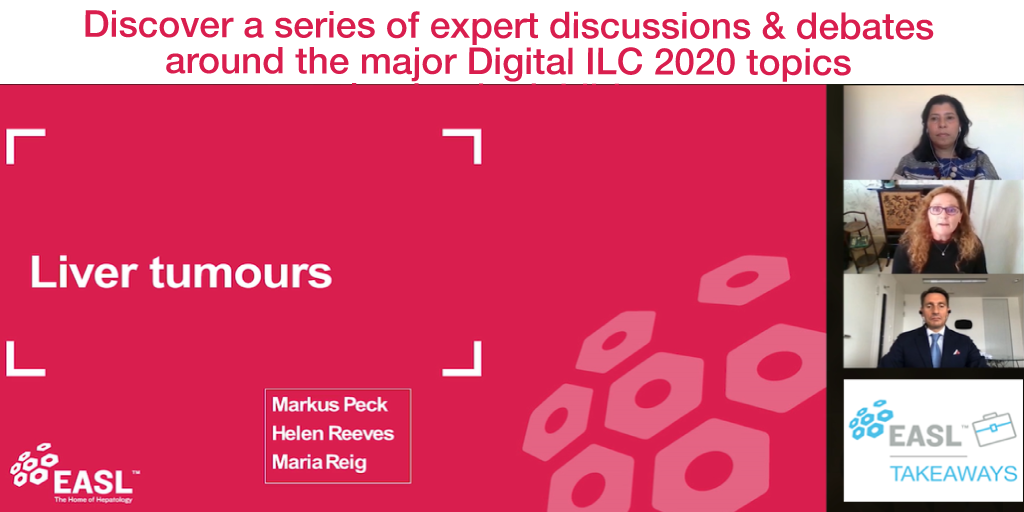 In this EASL Takeaway, Prof. Maria Reig, Prof. Markus Peck, and Prof. Helen Reeves review the latest advances in cancer therapy, diagnostics, and prognostics presented at Digital ILC 2020.
Watch the debate
HCC online course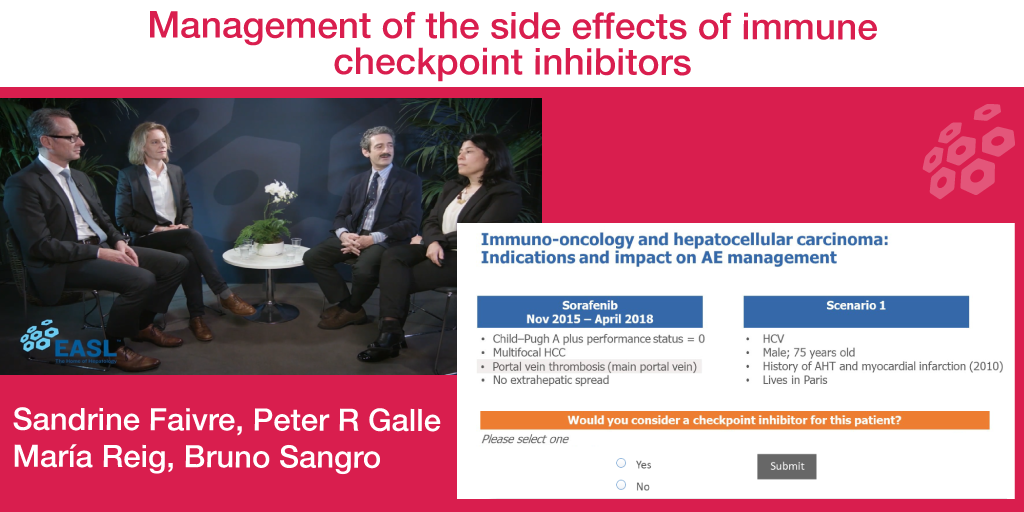 In this fascinating discussion, four of the leading experts in the field of HCC discuss the use of immune checkpoint inhibitors in the treatment of HCC.
Take the course now
Digital ILC 2020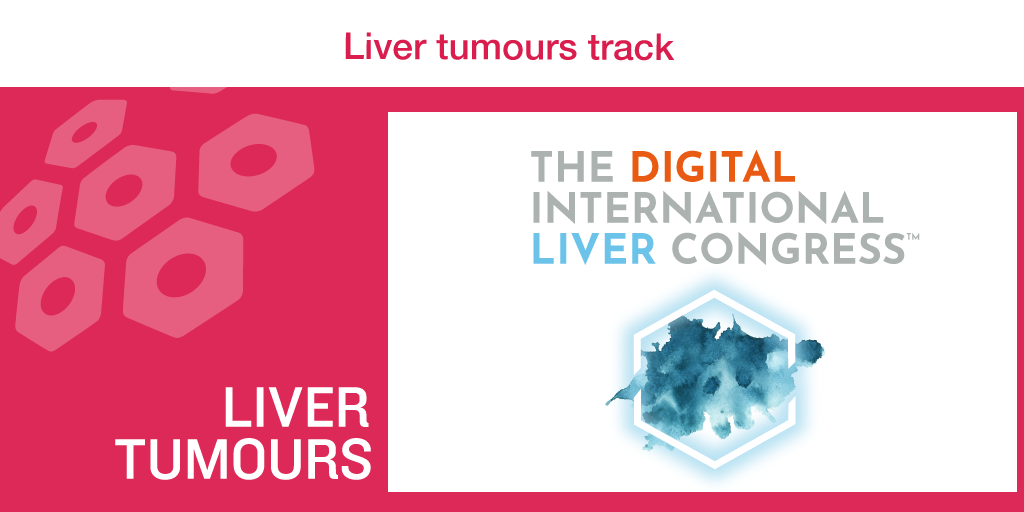 Liver tumours was one of the key topics at Digital ILC 2020. Experts and delegates from around the world discussed the latest research, novel treatments, and working together on improving patients' lives.
Browse through the resources, including Best of Digital Liver Tumours Slide Decks,  abstract & interactive sessions, ePosters, and more.
Access the resources
Nurses & AHPs at Digital ILC 2020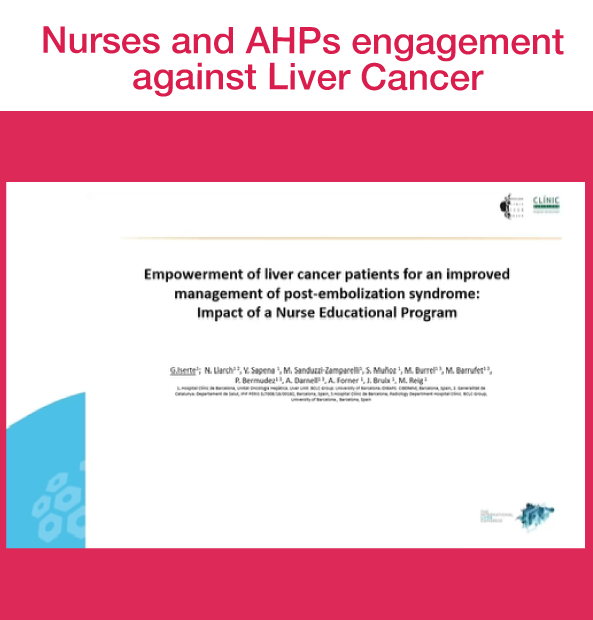 At Digital ILC 2020, nurses and AHPs held dedicated sessions on Liver Tumours, highlighting their engagement and the importance of their role in improving patients' lives.
Access the resources
Liver Cancer Summit 2020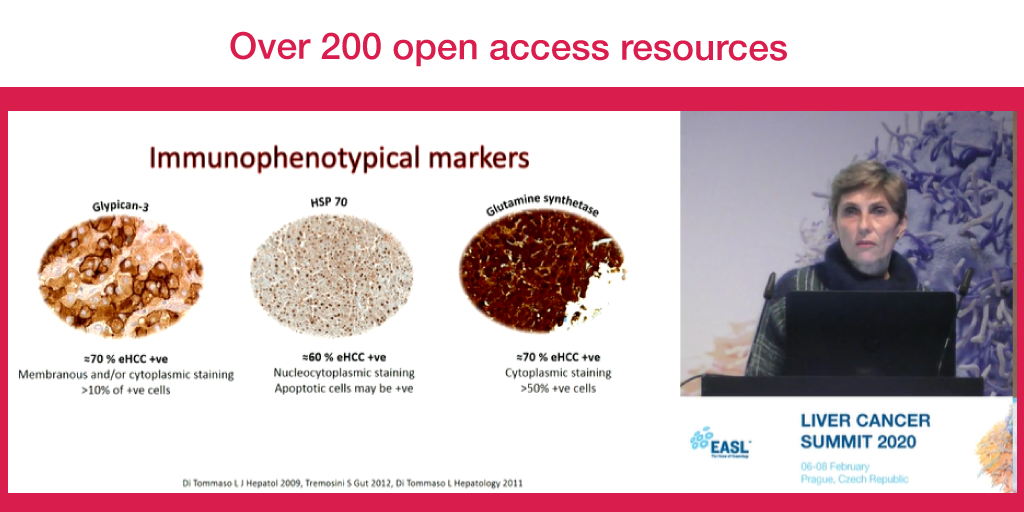 Learn from the latest science on liver cancer, presented at the most important European summit on this topic.
See the resources
HCC Summit 2019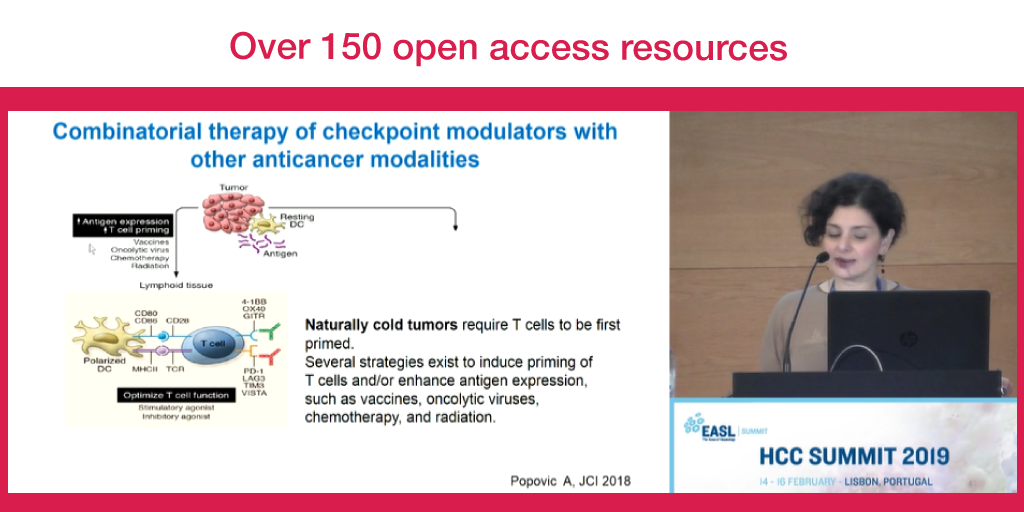 Discover 150+ open-access materials (including presentations, posters, etc.) from the HCC Summit 2019.
See the resources
ILC 2019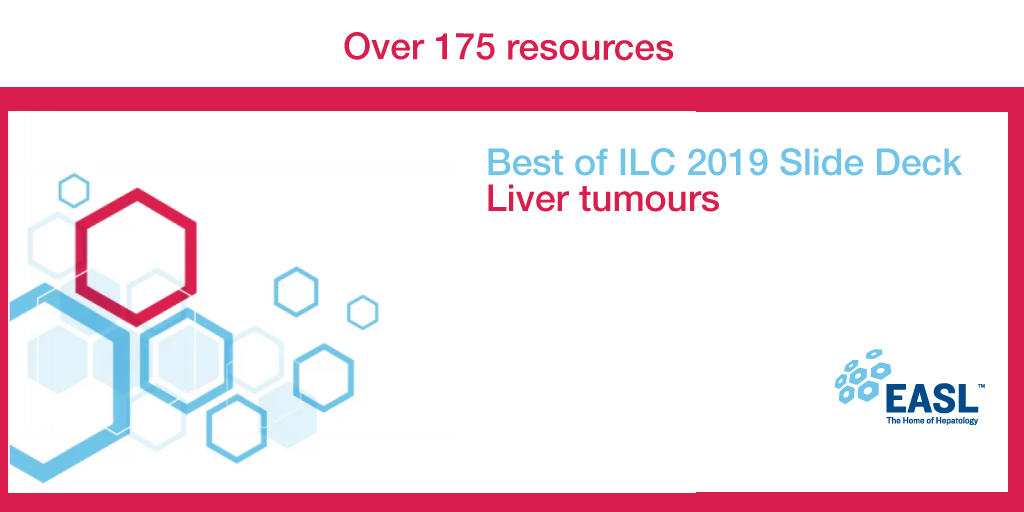 Explore 26 webcasts, 149 ePosters, and a synthesis in a downloadable Best of ILC 2019 Slide Deck.
Discover them
EASL Clinical Practice Guidelines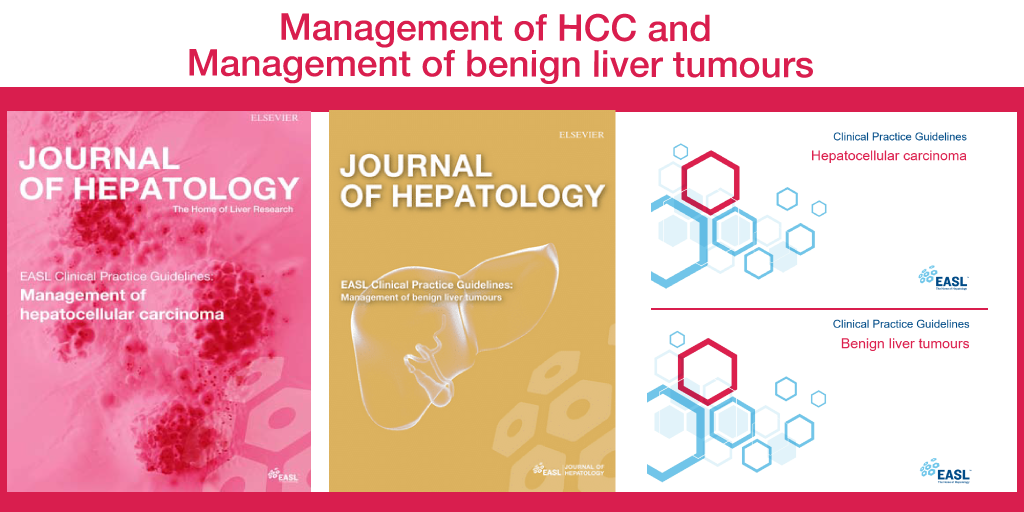 These CPGs give up-to-date advice on the clinical management of HCC patients and the management of  benign liver tumours. Each CPG has a downloadable Slide Deck.
Read & download the CPGs
Journal of Hepatology resources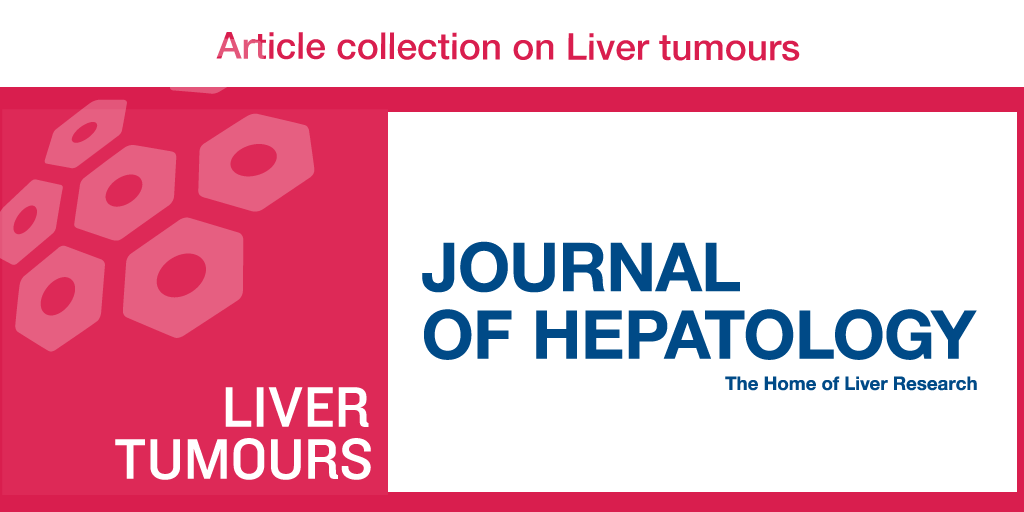 Browse through a collection of liver tumour related articles that have been published in the Journal of Hepatology, the best-ranked liver journal.
Read the articles
European Network for the Study of Cholangiocarcinoma (ENS-CCA)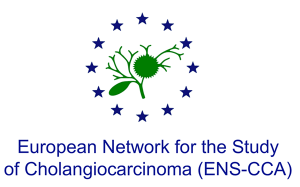 The European Network for the Study of Cholangiocarcinoma (ENS-CCA) is an open, international network of scientists focused on the multidisciplinary study of CCA. This pan-European consortium was created in 2015 with the main aim of promoting collaborative research projects at the basic, translational and clinical levels.
The ENS-CCA is coordinating a European Registry of patients with CCA (competitively funded by EASL in 2016 and in 2019) with clinical, biochemical, histological information using the online platform REDCap. This registry is the basis of multiple ongoing collaborative projects, which include the use of biological samples of patients from participating institutions.
* Cirrhosis is the consequence of liver diseases related to the above mentioned etiologies.
[1] European Association for the Study of the Liver. Electronic address: easloffice@easloffice.eu; European Association for the Study of the Liver. EASL Clinical Practice Guidelines: Management of hepatocellular carcinoma. J Hepatol. 2018 Jul;69(1):182-236. doi: 10.1016/j.jhep.2018.03.019. Epub 2018 Apr 5. Erratum in: J Hepatol. 2019 Apr;70(4):817. PMID: 29628281.
[2] Bridgewater J, Galle PR, Khan SA, Llovet JM, Park JW, Patel T, Pawlik TM, Gores GJ. Guidelines for the diagnosis and management of intrahepatic cholangiocarcinoma. J Hepatol. 2014 Jun;60(6):1268-89. doi: 10.1016/j.jhep.2014.01.021. Epub 2014 Mar 27. PMID: 24681130.