Discover the Scientific Programme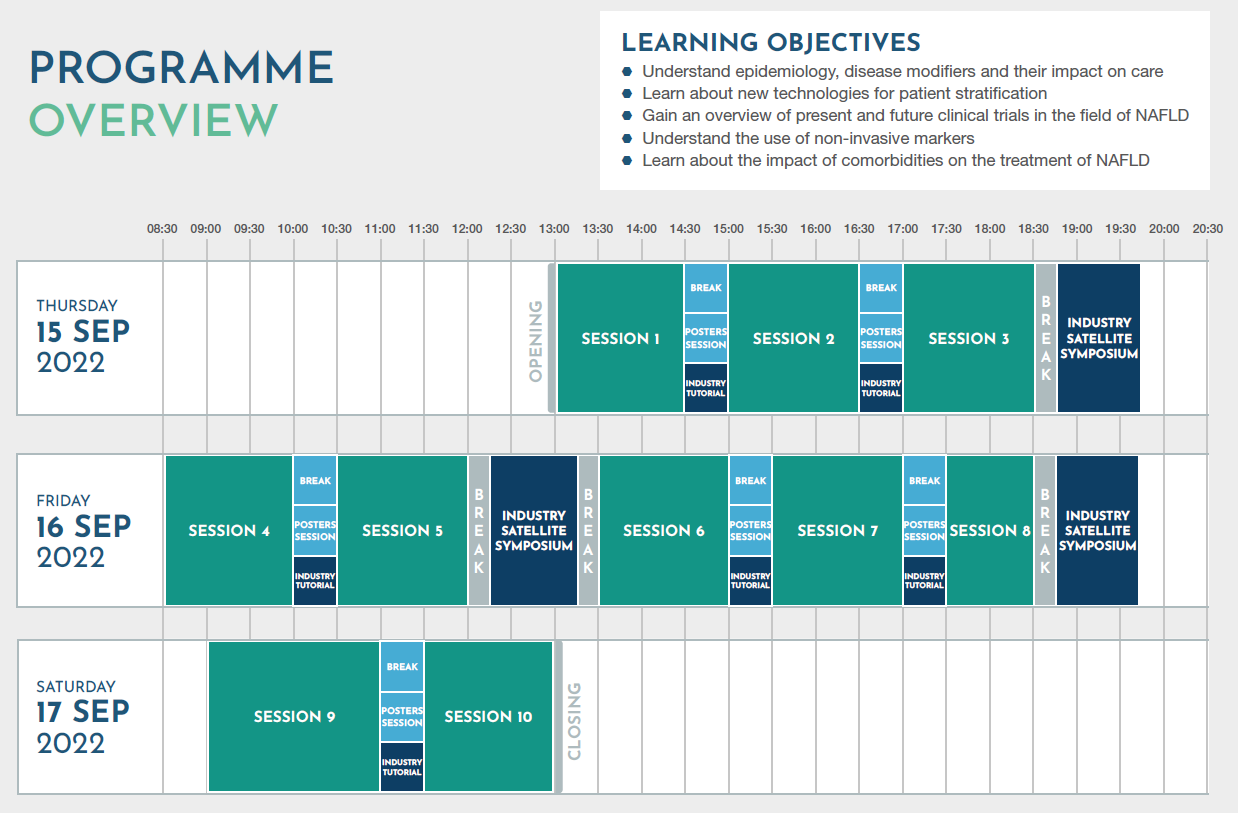 View the full programme
Session 1: Epidemiology, disease modifiers, and models of care
Current epidemiology and future trends
Nutrition, alcohol, and environmental toxins as (co-) factors of NAFLD
Case finding, screening of risk populations, and clinical algorithms
Evolving models of care: How will the future look?
Panel discussion
Session 2: New technologies for better stratification of patients
Disease phenotyping by metabolomics and lipidomics
Are polygenic risk scores ready for clinical routine?
Machine learning approaches relating to NAFLD
Digital pathology and image analysis
Panel discussion
Session 3: Non-invasive fibrosis markers : Present and future
Serum-based biomarkers: Staging and treatment response
Imaging biomarkers: Staging and treatment response
Panel discussion: The future of liver biopsy
Session 4: Mechanisms of disease progression and implications for therapeutic targets
Advances in understanding intrinsic mechanisms in NAFLD: metabolism
Advances in understanding intrinsic mechanisms in NAFLD: inflammation, fibrosis
Organ cross-talk as a NAFLD modulator: gut and adipose tissue
Organ cross-talk as a NAFLD modulator: brain and endocrine signals
Panel discussion
Session 5: New approaches to lifestyle modification – case-based discussion
Case presentation
Short presentations from different disciplines:
- Nutrition & app specialist
- Exercise trainer
- Bariatric surgeon
- Hepatology
Panel discussion
Session 6: Personalized medicine in 2032 – how will it look like?
Sexual dimorphism: the overlooked obvious?
Gut microbiota as a target for personalized NAFLD interventions
Gene silencing by siRNA treatment
Biomarkers for personalized NAFLD medicine – thinking outside the box
Panel discussion
Session 7: Overlooked issues in clinical trials
Cardiovascular safety
Extrahepatic malignancies
Alcohol misuse, depression, anxiety
The patient's perspective
Panel discussion
Session 8: How do pharmacological treatments of comorbidities affect NAFLD – case-based discussion
Case presentation
Short presentations from different disciplines:
- Obesity
- Dyslipidemia
- Diabetes
- Hypothyreoidism
Panel discussion
Session 9: Why do trials fail? Industry perspective & academia perspective 
Selonsertib
Cenicriviroc
Elafibranor
Panel discussion: Consequences for future trials?
Session 10: Clinical trial landscape in 2022
Phase 1-2 drug candidates for non-cirrhotic NASH
Phase 3 non-cirrhotic NASH
Cirrhotic NASH
Discussion