Course directors
Prof. Jonel Trebicka, Germany
Prof. Stefan Zeuzem, Germany
Programme Overview/Summary
The Clinical school will include six large complexes of ACLF management:
predisposing and precipitating factors,
etiological treatment,
nutrition and hepatic encephalopathy,
infections,
management of organ failure,
liver transplantation.
Description
In the University Clinic Frankfurt there is a large expertise to cover these topics and contribute to EASL-teaching for younger clinician-scientists. The Department of Internal Medicine I, University Clinic Frankfurt is already very experienced in organizing and hosting preceptorships, therefore the infrastructure is suitable and the personal perfectly prepared to host the EASL Clinical School of Hepatology in 2020. Moreover, we will implement hands-on sessions on Echography/Elastography (M. Friedrich-Rust), ICU-management in skills lab (J. Bojunga), TIPS live cases (J. Trebicka) and HE-assessment (H. Farnik).
J. Trebicka, faculty member of EASL-Clinical Practice guidelines on Complications of cirrhosis and responsible for the section on ACLF will present the predisposing factors for the development of ACLF. Furthermore, his expertise lays in decompensated cirrhosis and portal hypertension related complications, being faculty member of Baveno VI and VII, coordinator of German GI-bleeding guidelines and work group leader in the German complications of cirrhosis guidelines.
S. Zeuzem is one of the leading world-wide expert in HCV-treatment, as an important etiological factor of cirrhosis. Together with his large expertise in the field of viral hepatitis and his long clinical experience as the head of the Department, he will present the role of etiological treatment in ACLF patients.
M. Plauth is a world-leading nutritional expert, contributing in the EASL and German guidelines for Nutrition and hepatic encephalopathy.
O. Waidmann is a very motivated younger colleague with research interests in infection and multi-drug resistance bacteria in ACLF.
J. Bojunga is an experienced intensivist and the head of the medical ICU, who will present the management of organ failures and artificial organ support in ACLF.
W. Bechstein is the head of the transplantation surgery and the coordinator of the german liver transplantation guidelines is an excellent clinician to present and guide the younger attending colleagues through the still debated role of liver transplantation in ACLF.
M. Friedrich-Rust is a leading echographist and experienced clinician in elastographic methods, who will teach and guide the participants in the different modalities of echographic and elastographic methods for guidance of decision-making.
For the participants interested in translational research, R. Schierwagen (biologist by training) and F. Uschner (clinician-scientist) will guide them in this field from the planning of the study, over the sampling and biobanking of different biological materials to basic techniques in detection of biomarkers. Both colleagues have been majorly involved in the planning and execution of different large studies such as PREDICT (NCT03056612), NEPTUN (NCT03628807) and others (NCT03072615, NCT03584204, NCT03083925).
Finally, the state-of-the-art lecture will be held by Paolo Angeli, Editor in Chief of the Journal of Hepatology, former chairman of the International Ascites Club, the chairman of the EASL-Clinical Practice guidelines on Complications of cirrhosis and the chairman of the EASL-CLIF Consortium. He is an excellent presenter for the topic of Management of ACLF.
MICROB-PREDICT and DECISION symposium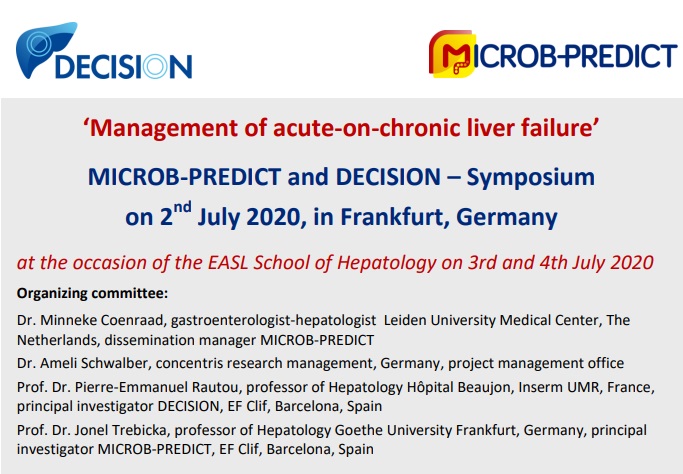 We would like to invite you for the MICROB-PREDICT and DECISION symposium, which will take place at July 2nd 2020 in Frankfurt, Germany, in the afternoon before the EASL School of Hepatology 'Management of acute-on-chronic liver failure'.
At this symposium, several experts of both project consortia will present recent advances in the field of microbiome, introduce the role of proteomics and metabolomics in hepatology and discuss treatment strategies and their mechanisms of action in acute-on-chronic liver failure.
The gut microbiome, the gut barrier, microbial translocation and systemic inflammation have been identified as triggers for the development of decompensation and progression of decompensated cirrhosis to acute on chronic liver failure. Nowadays, we have access to high-end multiomics techniques, which allow us to develop tools for better stratification of patients with cirrhosis at risk of decompensation or acute on chronic liver failure and to develop personalized treatment strategies.
This symposium is aimed at young fellows enrolled in hepatology-oriented departments, more experienced clinicians who want to be exposed to the newest trends in hepatology and young researchers involved in microbiome and cirrhosis research.
Be aware that this symposium is connected to, but not part of the EASL School of Hepatology. This implies that there is no selection process for attendees of this symposium. The symposium is open to attendees of the EASL School and all other interested people. The symposium is free of cost. The number of attendees is limited to 40, so register soon!
About EASL Schools
The schools contribute to the training of new generations of hepatologists and are a major element of our association. Aimed at young fellows enrolled in hepatology-oriented departments or more experienced clinicians who want to be exposed to the newest trends in hepatology.
For selected applicants, EASL will cover transportation costs to attend the school and accommodation during the event (details will be provided individually once the selection process has been done).
Application is open to young fellows under the age of 35 (born after 3 March 1985) and/or still in training.
Approximately 30 places are available for each school and priority is given to registered EASL members during the selection process.

An application has been made to the EACCME® for CME accreditation of this event.