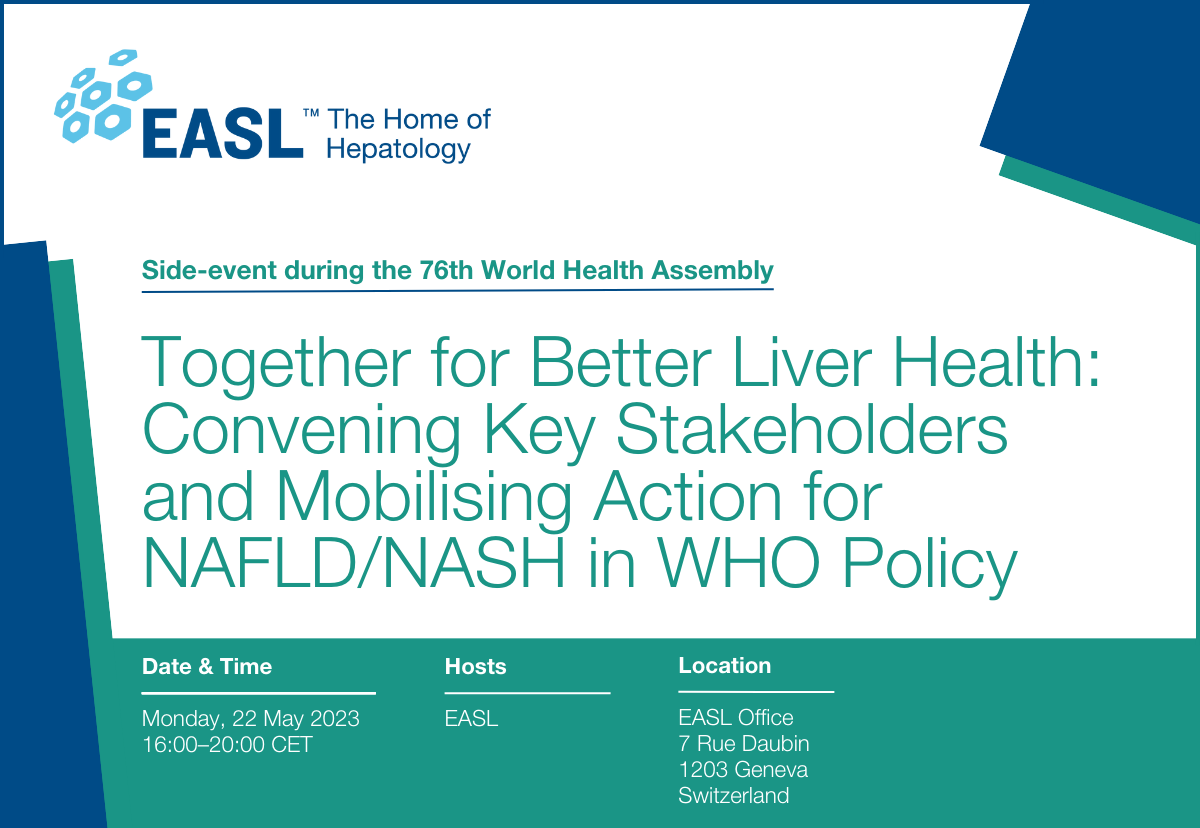 Together for Better Liver Health
An estimated one in three adults have non-alcoholic fatty liver disease and some  444 million people (6.5%) worldwide are affected by the more aggressive non-alcoholic steatohepatitis (NASH) – a progressive liver disease caused by build-up of fat and chronic inflammation in the liver.
The true current burden of NASH on health systems is underestimated due to a lack of early screening and diagnosis. However, left untreated NASH can result in liver cancer, liver failure requiring liver transplantation, and higher risk of cardiovascular disease. Although the number of people with NASH in advanced stages is expected to double by 2030, the disease remains widely unknown among health authorities and policy-makers.  
The event will bring together key stakeholders to first discuss the scope of the problem of these diseases, agree on priority setting, the needs, and goals for future WHA (WHO) engagement. Secondly, the focus will be on how to place healthier livers as a priority in their agenda, and how to bring Member States to make bold commitment to work closely with relevant partners to address this problem and meet the SDG 3 and 10 goals. The third step will be to develop a policy paper with an agreed roadmap, set up a coalition of partners whose main mission will be to define a shared vision creating a sense of urgency that resonate with key stakeholders that will help us move the needle.  
The focus of the discussion will be built on WHA agenda item 11.2 "Political declaration of the third high-level meeting of the General Assembly on the prevention and control of non-communicable diseases, and mental health as well as WHA agenda item 11.1 "Universal health coverage, Reorienting health systems to primary health care as a resilient foundation for universal health coverage and preparations for a high-level meeting of the United Nations General Assembly on universal health coverage." The event will present clear asks and an urgent call to action to WHO and other UN agencies, Member States, donors, the private sector to:  
WHA: Recognise fatty liver disease as an NCD and initiate discussions on a resolution and or framework including setting out the role of WHO  

Safeguard unmet patient needs: access to diagnostics, care, and treatment  

Place healthier livers as a priority in their agenda and make bold commitment to work closely with relevant partners to address this problem and meet the SDG 3 &10 goals,   
This event is organised by the European Association for the Study of the Liver (EASL). 
Date & location: EASL Office, Geneva, Monday 22 May, 16.00–20.00  
Who is this event for: Liver, cardiovascular, obesity and diabetes healthcare experts, WHO staff, WHO member state delegations, liver health patient groups, and the media.  
Please note that this event is by invitation only.