Discover the Scientific Programme
The three day EASL SLD Summit 2023 has a full programme including:
9 plenary sessions

6 state-of-the-art lectures

4 parallel sessions

2 abstract sessions, and

6 ePosters sessions 
Programme overview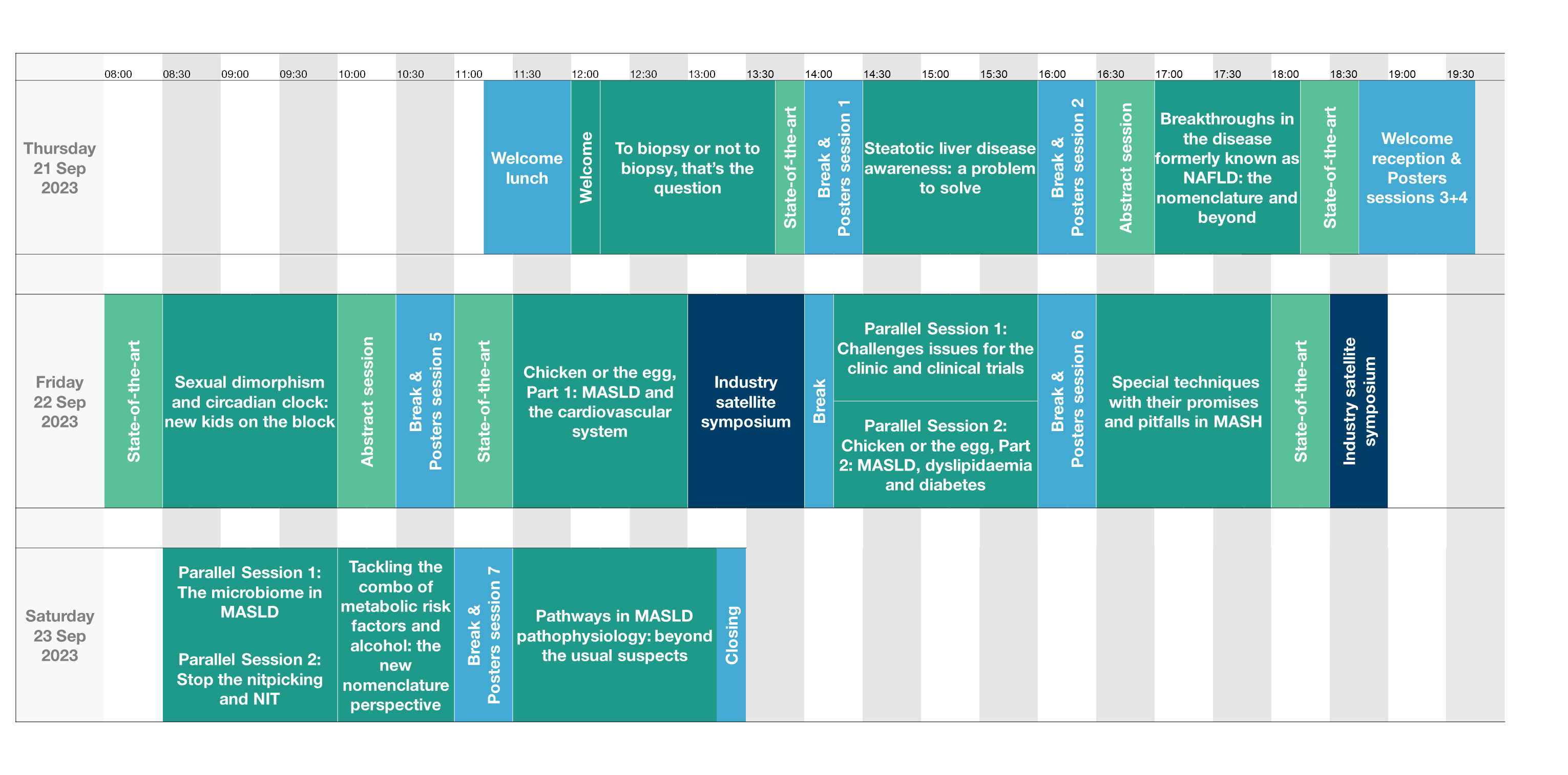 Learning objectives
The EASL SLD Summit 2023 aims at updating you on the most recent advances in SLD research, both pre-clinically and clinically, focusing on MASLD and tackling the issue of MetALD. You will gain insights in the most key techniques employed in research, clinical trials and clinical practice, with an understanding of their potential as well as limitations. You will learn about the most recent advances in our understanding of the disease, including the role of sexual dimorphism, circadian clock or vascular mechanisms, and potential new targets as well as modalities of treatment. You will exchange on these topics with both young fellows and established experts in the field in a highly interactive format with a lot of room for discussion. You will get the latest update on where we stand with the efforts of having MASLD, and SLD in general, on the agenda as a public health problem and the roadmap and policies to tackle this problem, in which the people living with SLD, and many stakeholders have been increasingly joining forces. In light of the latter, the Summit will also provide a space to further discuss the nomenclature change and its potential impact on research clinical practice and awareness. A session will be dedicated to discussing in-depth the issue of people who combine alcohol use and metabolic risk factors, designated as MetALD in the latest nomenclature. You will also get the latest data on diagnosis and prognostication in MASH and on how to tackle MASLD as a multisystem disease, informing you not only on what you need to do, but also on the science and evidence behind it.
Scope & Topics
MASLD diagnosis, recent advances in exploiting the liver biopsy and in biomarkers

Controversial issues in the use of non-invasive tests

MASH as a multisystem disease: multidirectional relations with diabetes, obesity and dyslipidaemia

SLD nomenclature, and the challenge of alcohol and metabolic risk factors combined in MetALD

Novel therapeutic targets and modalities, including siRNA and gene targeting

Awareness and public health issues

The Wilton Park roadmap, now Healthy Livers, Healthy Lives

Research technologies and their application in MASH research

Organoids in MASLD research

The microbiome in MASLD: data and pitfalls

Role of sexual dimorphism, circadian clock, and vascular mechanisms
Session 1: To biopsy or not to biopsy, that's the question
Biopsy bashing has become popular in NAFLD/MASLD clinical research, but is it justified? The limitations of the liver biopsy should be acknowledged, but it remains an incredible source of information, directly emanating from the liver tissue. In this session, we will explore how the reading of the liver biopsy can be improved to overcome some of the limitations and problems that arise, in particular in the context of clinical trials. We will also discuss how the liver biopsy can be exploited beyond the current standard reading, and what additional information can be retrieved from it. While the liver biopsy remains an invaluable research tool, pre-clinical models of NAFLD/MASLD are not always representative of the human condition. Differences between rodents and humans may require different tools and reading protocols for the liver biopsy, which we will discuss. Finally, we will discuss the current and future role of the liver biopsy in pre-clinical and clinical research as well as in clinical practice. 
State-of-the-art:Immunology and immunotherapy in MASH and MASH-related HCC
Innate, innate like and adaptive immunity are central in the progression of MASLD/MASH to hepatocellular carcinoma development and response to therapy. This state-of-the-art talk will summarize the current knowledge on the complex role of the different immune cell types in MASLD and in MASLD-associated HCC, and also discuss the potential therapeutic implications hereof. 
Session 2: Steatotic liver disease awareness: a problem to solve
Steatotic liver disease has taken pandemic proportions and yet awareness at all levels is low, leading to underdiagnosis, insufficient linkage to care and a missed opportunity in terms of prevention and early diagnosis and management. How can we do better? What needs to be done to improve the lives of so many people living with SLD? Key stakeholders will shed light on this preoccupying issue. First, of course, the liver patients, living with the condition and at the centre of the disease. But we will also learn from another group at risk, that have been struggling with comparable problems and have already paved the way:  advocates from the European Coalition for People living with Obesity. And, of course, primary care physicians, who are in the frontline to tackle this MASLD tidal wave. This session brings them all together in a lively discussion on awareness: who will do what? 
Session 3: Breakthroughs in the disease formerly known as NAFLD: the nomenclature and beyond 
What's new since the EASL NAFLD Summit in Dublin last year? The nomenclature, of course. This nomenclature change will be extensively discussed elsewhere during the programme, but we will also touch upon it at the end of the session, especially in relation to policy developments. Although awareness is low and much work lays ahead of us, as discussed in the previous session, several efforts have meanwhile been led by EASL, e.g. Wilton Park and the global initiative "Healthy Livers, Healthy Lives", and WHO has been formally engaged. This session will update you on these endeavours the latest evolutions and progress made over the last year in terms of our understanding of disease mechanisms as well as on the natural history of the disease. And where do we stand in terms of developing biomarkers for different contexts of use? Did the large consortia already come up with solutions? Finally, something is moving in the field of MASH therapeutics and you will learn all about it.
State-of-the-art:MASH cirrhosis: the challenges of diagnosis, prognosis and treatment 
MASH in the cirrhotic state comes with particular challenges. Attributing cirrhosis to metabolic drivers and hence making a formal aetiological diagnosis is not always easy in the stage of cirrhosis, as typical features of the disease tend to disappear when disease gets very advanced. This also implies that the classical endpoints to assess treatment efficacy of MASH drugs are often of little use in this disease stage. But how then to evaluate treatment efficacy?  
Although cardiovascular events are the major cause of death in patients with MASLD/MASH, liver-related events become dominant in the stage of cirrhosis. But how frequent are they? What is the incidence in a heterogeneous MASH cirrhosis population? And how does all of this impact on the management of these patients? Any differences compared to other aetiologies of cirrhosis? And how should we design clinical trials in this patient group? 
State-of-the-art: Rodent vs. human metabolism: the challenge of translational medicine in MASLD 
Despite a huge effort, there is to date no drug approved for the treatment of MASH. Many trials turned out negative, despite sometimes strong and convincing pre-clinical evidence of efficacy. How come? Although many factors can help explaining the difficulty to translate pre-clinical data into the clinic, one of the main issues is the notorious difference between human and rodent metabolism and the difficulties of designing a rodent model that closely mimics the human condition. This state-of-the-art will review in detail the similarities and differences between rodent and human metabolism, discuss the impact on finding the right model to study MASLD/MASH and discuss how to tackle this problem in current and future research. The lecture will also give guidance on what can help improving the translation from pre-clinical models to clinical data, especially regarding drug development. 
Session 4: Sexual dimorphism and circadian clock: new kids on the block
There has been tremendous progress in our understanding of MASLD/MASH pathogenesis and yet many knowledge gaps persist. The patient population is very heterogenous and data from clinical studies sometimes yield conflicting results. Main disease drivers such as the adipose tissue dysfunction and insulin resistance are now quite well understood, but recent data indicate that other mechanisms add a level of complexity to our current understanding. One of great relevance to clinical practice is the sexual dimorphism: data are emerging to quantify the differences and tell us what it represents in clinical practice, but our understanding of the mechanisms behind it is just in its infancy. Even less clear, but increasingly recognised as impacting on our observations, is the circadian clock. The latter is not only relevant to rodents and hence our research in MASLD but is even so relevant for the clinical data. Experts in this session will discuss both the pre-clinical as well as clinical data, how we can further investigate that and how we need to take these aspects in account in our research and clinical practice. 
State-of-the-art: Cardiovascular disease in MASLD clinical care and clinical trials 
 It is common to state that MASLD is the hepatic manifestation of the metabolic syndrome. This suggests that MASLD is the consequence or victim of the metabolic syndrome. The reality is, however, far more complex. The liver is in a complex multidirectional cross talk with the adipose tissue, the muscle, the cardiovascular system and other body sites, resulting in a concept of a multisystem disease, with the liver at the centre driving vicious circles. The cardiovascular system is one of the main systems in crosstalk with the liver in MASLD. Cardiovascular events are the main cause of death in patients with MASLD. There are many mechanisms by which the liver can contribute to cardiovascular disease. Pre-clinical data support this. Clinical data show correlations between MASLD and subclinical CVD events, but the data on clinical events are less straightforward. This state-of-the-art will review the data and discuss how we currently assess this in clinical trials and how we can more thoroughly assess this in future clinical trial design. 
Session 5: Chicken or the egg, Part 1: MASLD and the cardiovascular system 
Building further on the state-of-the-art, this session will mainly tackle the opposite arrow: not from the liver to the cardiovascular system, but the other way around: how vascular lesions contribute to the pathophysiology of MASLD/MASH. We will review extensively the existing pre-clinical and clinical data and shed a light on currently ongoing research. As these mechanisms appear to be relevant in disease pathophysiology, drugs that act on the cardiovascular system and CVD might also be relevant for the course of MASLD. Two drug classes will be highlighted, covering both preclinical data and mechanistics as well as clinical data: statins and drugs that interact with thrombocyte function. The role of the endothelium and the endothelium-platelet interaction is increasingly recognised as an important player in MASLD pathogenesis and tackling this by drugs that are anyhow used to treat the cardiometabolic comorbidities of MASLD has relevant consequences for the concept of MASLD as part of a multisystem disease.  
Session 6: - parallel sessions
NASH clinical trials have to date been challenging and the -sometimes disappointing- results of many trials over the past 2 decades have helped the field to substantially improve trial design. Nevertheless, many issues remain. As alcohol use is widespread and difficult to quantify, the potential confounding role of alcohol in the interpretation of trial results remains challenging. How can we assess that more accurately? With the new nomenclature, a group of patients and hence an area of research has been better delineated: people who combine metabolic risk factors with significant alcohol use. How are we going to study MetALD? Placebo rates remain high: how big is the impact of lifestyle modification and treatment of co-morbidities in MASH clinical trials and how can we standardize that in order to control it as a potential confounder? Patients with cirrhosis are mostly excluded from trials or treated in specific MASH cirrhosis trials? How to design those trials? Based on clinical outcomes? If based on portal hypertension, there is a potential issue with portal hypertension in MASLD having some specific features. This session will extensively discuss all those challenges in current MASH clinical trial design.
As in Part 1, we will again tackle the concept of MASLD being a multisystemic disease and the liver being in the centre of it: the MASLD/MASH liver is not just a victim of metabolic and inflammatory stress, this diseased and chronically inflamed liver will have an impact on extrahepatic sites, leading to extrahepatic consequences that add to the total disease burden of MASLD. This session will focus on the multidirectional relation between MASLD on the one hand and diabetes and dyslipidaemia on the other hand. Diabetes is a well-established risk factor for MASH and MASH-related fibrosis, but the presence of MASLD/MASH is in its turn a risk factor for incident diabetes and makes control of existing diabetes more difficult to achieve. So, what comes first: diabetes of MASLD? The same complex relationship exists between MASLD and lipid disturbances. The session will take a deep dive into the pathophysiology of these complex interactions, as well as discussing what the impact is of these insights on MASH drug development. 
Session 7: Special techniques with their promises and pitfalls in MASH
Tremendous advances have been made in single cell multi-omics technologies that have revealed the heterogeneity in liver cell phenotypes and functions within subsets. We also learned that spatial distribution of liver cells can vary during MAFLD progression. In this session, we will discuss the latest results in the field, learn how we can integrate these cutting-edge techniques in our current research, but also what currently already their relevance is for our daily practice, and how this may look like in the near future. 
State-of-the-art: Liver organoids in MASLD research: from mechanistic insights to drug testing
In vitro models are increasingly used to replace research on animals and for many testing purposes, including drug development. The complexity of the liver macro- and microscopic architecture makes this, however, extremely challenging in the liver space. The complex set of functions, the different cell types, the zonal distribution and differential functions… all imply single cell in vitro systems to be very artificial and poorly representative of the whole organ complex cell-cell interactions that in the end explain the outcome of any drug intervention with intrahepatic pathways. It also explains the difficulty of developing liver organ replacement therapies. This state-of-the-art will discuss these issues, highlight the most recent progress that has been made in developing organoids that closely mimic the liver microscopic environment, discuss remaining issues to overcome, illustrate current applications and give a view on the future of this rapidly evolving field. 
Session 8 - parallel sessions:
The microbiome is undoubtedly an important player in the pathophysiology of MASLD. And yet, how it contributes to the development and progression of MASLD/MASH remains largely unknown. Also, in terms of intervention and therapeutic target, research is to date limited and results not very convincing. In this session, we will present an in-depth overview of where the field currently stands and discuss the methodological issues with studying the microbiome. We will also discuss what the prerequisites for generating high quality data in this field are and how research in this field can progress. Is this really ready for prime time as a drugable target? Finally, we will also learn more about the role of alcohol production by gut bacteria: is NAFLD ALD after all? A perfect setting-the-scene for the subsequent session on the new nomenclature, in which the combination of alcohol and metabolic dysfunction as risk factor for steatotic liver disease are the central topic. 
The limitations of the liver biopsy and the epidemic proportions of MASLD clearly underpin the need for accurate non-invasive tests in the field of MASLD. Despite intensive research, the holy grail hasn't been found yet. Nevertheless, important progress has been made. In this session, we will first discuss the limitations of NITs: every appropriate use of a NIT starts with a detailed understanding of its pros and cons. What does a NIT tell us, and what not? A better knowledge of the limitations is a prerequisite for an appropriate use. We will also discuss where we currently stand and where we are heading up to in different contexts of use. The field has so far mainly focused on cross-sectional diagnostic approaches. Data is emerging, however, on how NITs can assist us in risk assessment and prognostication. And how do we have to interpret evolutions of NITs over time? What do they tell us about disease evolution? All these issues will finally fuel a lively debate about how to put all this into practice anno 2023 for different purposes and in different healthcare systems: transfer the NITs to your daily practice! 
State-of-the-art: Tackling the combo of metabolic risk factors and alcohol: the new nomenclature perspective
The global Delphi consensus process to come up with a new name and definition for NAFLD was a long but fruitful process, the results of which were announced at the EASL Congress 2023 and meanwhile published. The new nomenclature solves several issues that accompanied the term and definition of NAFLD and offers opportunities to further improve clinical practice and research. One of the main changes is that metabolic dysfunction associated steatotic liver disease can be co-diagnosed with other chronic liver diseases and causes of steatosis. Although reflective of real life, the impact of metabolic risk factors as co-factors in alcohol-related liver disease has been poorly studied, and little is known about potential additive or synergistic effects of combining alcohol and metabolic risk factors, the 2 most common causes of chronic liver disease that often co-exist. A great opportunity for research at the centre of a lively debate on how to tackle this issue! The session will provide more details about how this was handled in the consensus process to come up with the term of MetALD, illustrate how overlapping risk factors and disease behaviour urge us to study the combo, and how we should tackle this both in terms of research and daily practice. 
Session 9: Pathways in MASLD pathophysiology: beyond the usual suspects 
Drug development in MASLD/MASH has proven to be a bumpy road so far. Many pathways have been explored over the past two decades. Despite some recent promising results, there is still a long way to go. In this session we will discuss new avenues of therapy that have been poorly explored to date and discuss new targets for treatment. These include genetic targets, starting from their role as disease modifiers to drugable targets. Cell therapies offer another innovative approach to chronic inflammatory diseases like MASH. Mitochondrial dysfunction plays a crucial role in disease pathophysiology and hence mitochondrial uncoupling holds promise. Beyond GLP-1, incretins seem to play a crucial role. And what to think about the unexpected role of ammonia, which is clearly not only relevant in hepatic encephalopathy and also offers therapeutic options. This session will offer in-depth insight into the underlying pathophysiology that is targeted, as well as an overview of new compounds, aspects of practical implications and trial design, offering a glimpse of the near future in innovative MASH drug development. 
Key Dates
01 May, 2023

Abstract submission opens

18 Jul, 2023

Abstract submission deadline

15 Aug, 2023

Early fee registration deadline

21 - 23 Sep, 2023

EASL SLD Summit 2023

24 Mar, 2024

Exclusive access to on-demand content for delegates