Season 3, Episode 2 - Liver transplantation for ACLF: Opportunities, challenges and pitfalls
This EASL Studio will discuss important issues related to the opportunities and challenges of liver transplantation in acute-on-chronic liver failure (ACLF).
Does urgent liver transplantation improve the survival of patients with ACLF-3 and where are the limits?
Are the current allocation systems adequate and how to implement ACLF criteria for prioritisation?
The distinct lack of equity of access of ACLF-3 patients to liver transplantation: where are the barriers?
What data will the CHANCE study deliver to address some of the unanswered questions?
Faculty: Prof. Rajiv Jalan (Moderator), Dr Thierry Artzner (Faculty), Prof. Luca Belli (Faculty), Prof. Marina Berenguer (Faculty)
Patient perspective: Dr Amit Verma (United Kingdom), Dr Devangi Verma (United Kingdom)
The faculty will be addressing your questions and comments during this episode. You can send in your questions or use the Q&A during the live broadcast.
The episode will be broadcasted live on this page.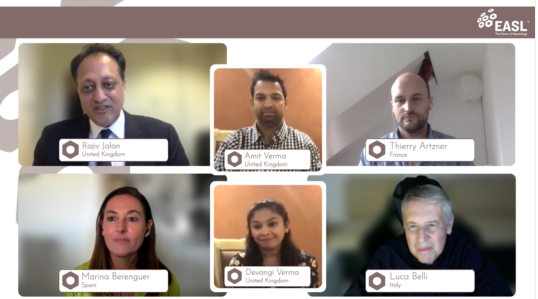 Watch previous EASL Studio episodes