Calling transplant centres to share how they are affected by COVID-19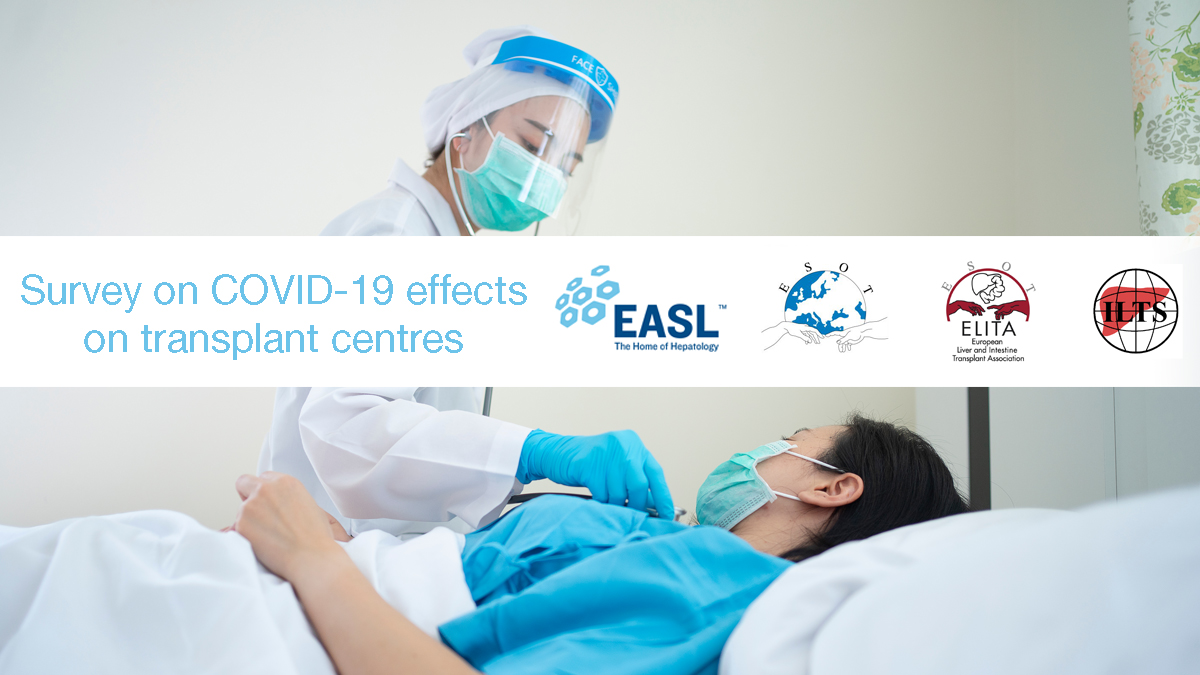 19 September 2020
EASL is part of a joint initiative on the impact of COVID-19 on liver transplantation, aiming to explore how patients, healthcare professionals, and liver transplant centres across the world are affected – in their clinical care and waiting-list management.
To this end, a survey launched in September 2020 has been sent to more than 470 transplant centres in Europe, Australia, Asia, USA, and South America, to collect and analyse regional practices. Once processed, the results of this survey will be disseminated, including in a peer-reviewed publication and a multi-society, open-access webinar.
EASL, the European Society for Organ Transplantation (ESOT) with the European Liver and Intestine Transplantation Association (ELITA), and the International Liver Transplantation Society (ILTS), are combining forces to address the important topic of how liver transplant patients are affected by the pandemic. The four-part survey requests data on: processes; therapy; living donors; and the procurement of organs.
To take part in this survey, please write to the EASL Survey contact, Dr Rossana Mirabella: rossana.mirabella@easloffice.eu. Transplant centres are encouraged to take part:
Part 1: Processes
Part 2: Therapy
Part 3: Living donors
Part 4: Procurement of organs
Transplant centres approached may respond to the survey anonymously, indicating only their geographical location. Those centres which provide their names will be formally thanked upon the conclusion of the assessment.
"COVID-19 has caused setbacks in services in all areas of health care. Transplant patient have been hard hit, as some transplantation centres slowed down or even closed their services during the first wave of the pandemic in 2020. Many questions remain. We need thorough research to better understand the consequences of the pandemic for the transplant population and to explore how to mitigate these setbacks and best serve the transplant patient community," said Prof. Thomas Berg, EASL Vice-Secretary General and Head of the Division of Hepatology, Department of Medicine II, Leipzig University Medical Center, Germany.

This three-way collaboration was launched in July 2020 with an hour-long, open-access webinar: "Liver transplantation and COVID-19: a joint ESOT-ELITA, ILTS, and EASL project". In this webinar, speakers discussed the effects of the pandemic on liver transplantation in Europe and in the United States as well as the response of medical societies to date, regarding education.
Watch the ESOT-ELITA, ILTS, and EASL launch webinar, July 2020
Related links
Read about the EASL-ESCMID Position Papers
 Read the Digital ILC 2020 press release:
During COVID-19, patients with liver conditions and facing liver transplantation require targeted and sustained support
Read these open-access journal articles:
"Epidemiological pattern, incidence and outcomes of COVID-19 in liver transplant patients", by Colmenero J, Rodríguez-Perálvarez M, Salcedo M, et al, published 1 August 2020 in the Journal of Hepatology. 
"Outcomes following SARS-CoV-2 infection in liver transplant recipients: an international registry study", by Webb GJ, Marjot T, Cook JA, et al, published 28 August 2020 in The Lancet: Gastroenterology & Hepatology.
"Impact of COVID-19 on liver transplantation in Europe: alert from an early survey of European Liver and Intestine Transplantation Association and European Liver Transplant Registry", by Polak WG, Fondevila C, Karam V, et al, published 1 July 2020 in Transplant International.
Find out more about the ESOT-ELITA, ILTS, and EASL joint collaboration
Join Prof. Patrizia Burra, Prof. Philippe Mathurin, and Prof. Vincenzo Mazzaferro for a discussion of the latest developments in liver transplantation presented at Digital ILC 2020. The panel reviewed new data on early liver transplantation in patients with alcoholic hepatitis, and discussed liver transplantation outcomes in hepatocellular carcinoma and intrahepatic cholangiocarcinoma.
Watch this EASL Takeaway here.