Calling for EASL Social Media Ambassadors!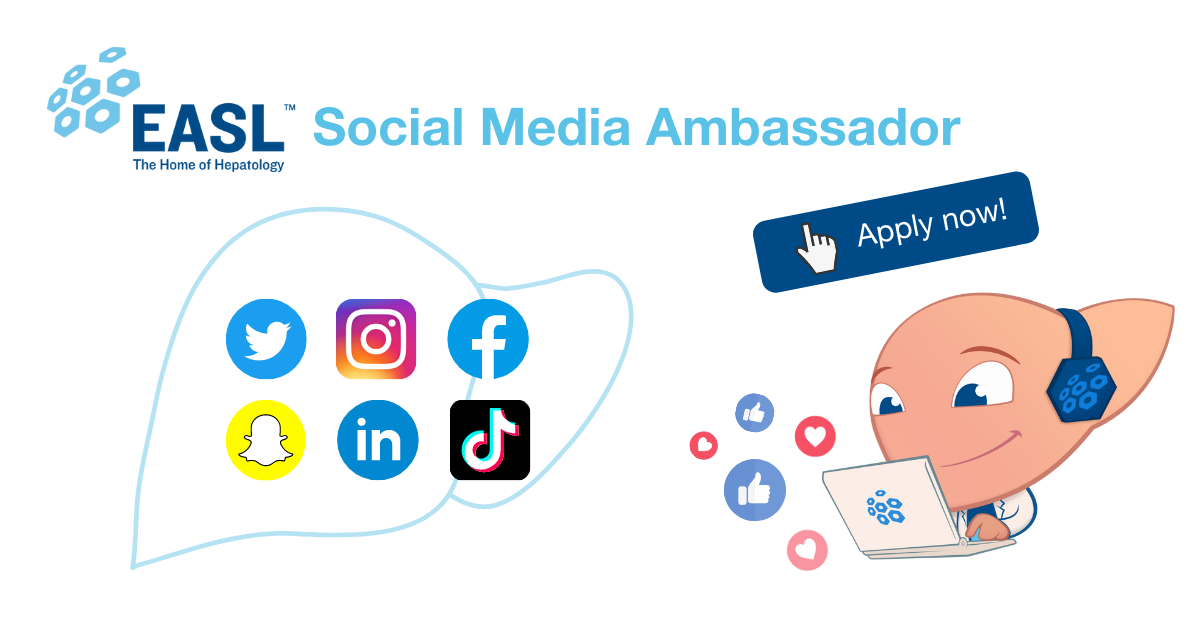 Are you passionate about social media and scientific communication?
Do you have a flair for starting online conversations?
Does the idea of discussing your field of research with the world wide web delight you?
If the mantra "like, share, comment" resonates with you, then you may be the next liver trendsetter!
We are looking for social media ambassadors who will contribute to promoting EASL events and activities to the liver community for a 1-year mandate.
Your tasks
Working closely with EASL's Social Media Advisor, you will promote events, educational material, and related activities. You will also have the opportunity to participate and be involved in new upcoming EASL projects.
Pre-event period
You will promote the event as much as possible; Covering the programme and sessions that you are interested in attending, the speakers you are looking forward to listening to, the posters you expect to discover, and more.
You will also contribute to promoting the various event-related deadlines, such as the abstract submission deadlines or the early fee period.
During the event
You are expected to attend the sessions relevant to your speciality and interests and cover them on social media. The goal is to add to the conversation with the liver community, and exchange with other social media accounts on the topic. Your activity should act as a rich complement to the event you are attending.
You will also promote the other EASL activities taking place during the event, such as networking opportunities and social activities (photobooth, gamification activities, etc). Should you be attending the event face to face, you are also encouraged to cover the overall onsite experience.
Post-event period
You will share your personal highlights of the event and promotion/teaser for the next one.
Other activities
EASL regularly offers topic-specific educational content and will need you to promote it on your social media account.
What we will offer you
You will receive a free registration to the event(s) and early access to relevant courses and webinars that you will cover. You will also be able to access the content before the delegates, to anticipate the coverage.
You will receive a digital package that will showcase your role as an official EASL social media ambassador, and also a physical badge should you attend the event face to face.
We will offer you visibility via our social media platforms, our website and newsletters. You may also be featured in an upcoming blog post.
At the end of your mandate, you will receive a dedicated certificate of recognition.
Interested? Fill out the application form now