Prof. Jordi Bruix receives AASLD 2019 achievement award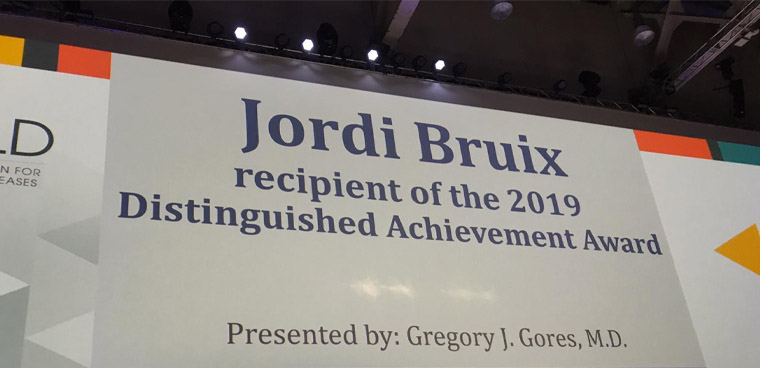 EASL member and former secretary-general (2002-2003) Professor Jordi Bruix was honoured with the Distinguished Achievement Award at The Liver Meeting® 2019, held this week by the American Association for the Study of Liver Diseases (AASLD) in Boston.
The award, which is presented to only one individual a year, recognises the continued scientific contribution that Prof. Bruix has made to hepatology throughout his career.
In 2016, EASL also acknowledged the professor's outstanding lifetime work by presenting him with its prestigious EASL Recognition Award.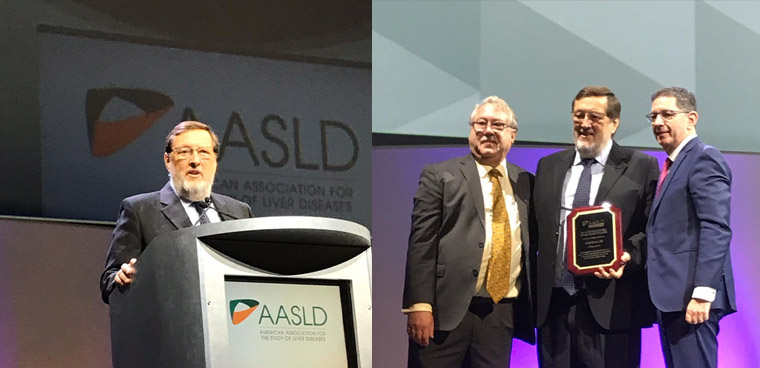 As a principal investigator in the diagnosis and management of hepatocellular carcinoma (HCC), Prof. Bruix developed a staging and treatment strategy that has been endorsed by several international scientific associations to guide management of patients with HCC. He has also authored over 300 original investigations (h-index: 102) that have changed liver cancer diagnosis, prognostic evaluation and treatment. Another notable achievement of his career was the founding of the International Liver Cancer Association (ILCA), an organisation devoted to liver cancer research and a further testament of his commitment to combating liver disease.
Prof. Bruix currently works as Professor of Medicine at the University of Barcelona and is Director of the Barcelona Clinic Liver Cancer Group (BCLC) within the Liver Unit at the Hospital Clinic of Barcelona. Alongside this, he is a board member of the EASL Foundation, an initiative set up to extend scientific and educational hepatology initiatives beyond Europe. He is also Co-Editor-in-Chief of the journal Seminars in Liver Disease.