Past and Present: Tall oaks from little acorns grow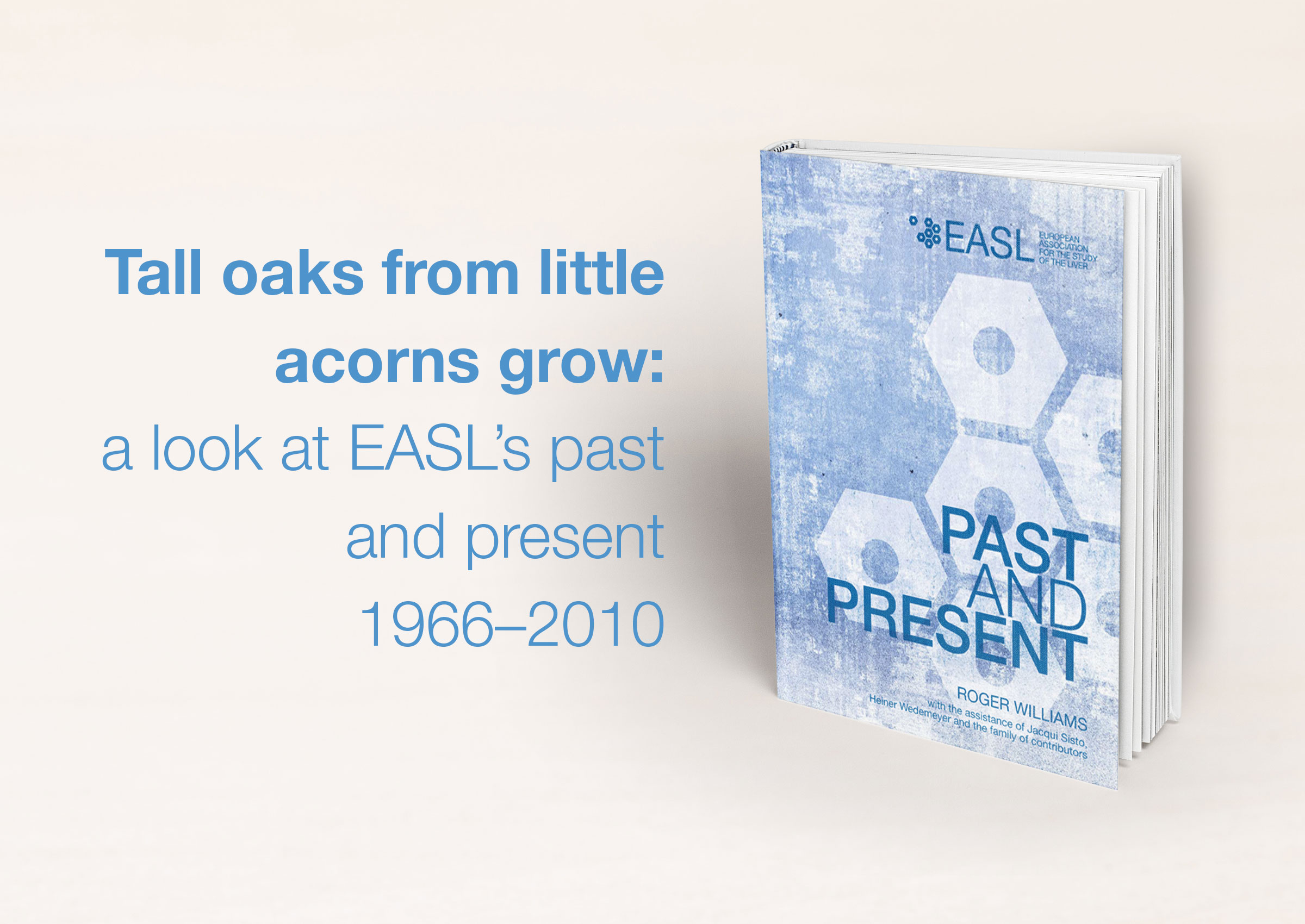 EASL's Digital ILC 2020 was the 55th iteration of a flagship annual congress – a firmly rooted and longstanding tradition that evolved into a sparkling virtual event. Over half a century has passed since the first EASL meeting was held in 1966, convening specialists in hepatology, then "without doubt the Cinderella of medical specialities", as described by  the late Prof. Roger Williams.
To capture history for future generations, Prof. Williams co-authored a volume describing the dramatic evolution of the field of hepatology and of EASL itself. It provides an illustrated history of EASL and its remarkable developments, the advent of the Journal of Hepatology, further training of specialists, EASL within the European Union, and more. Past and Present highlights the many steps made by EASL as it grew from strength to strength, from 1966 to 2010. While several of the founding members are no longer with us, their voices live on in this inspiring record.
In the Preface, Prof. Williams wrote:
Tall oaks from little acorns grow – and how appropriate this quotation is to the history of EASL. The beginnings in 1966 were certainly small but the concept was an inspired one and the quite radical and farseeing principles laid down in its founding constitution have served the society well.
Contents:
Preface: An Inspired Concept, by Roger Williams
ch. 1: From Small Beginnings, by Roger Williams
ch. 2: Recollections of Early Pioneers, by Georg Strohmeyer
ch. 3: Reminiscences & View Points, by Christian Trépo
ch. 4: New Directions for EASL, by Howard Thomas
ch. 5: The Journal, by Gustav Paumgartner
ch. 6: Post-graduate Teaching and Learning, by Peter L.M Jansen and Geoff Dusheiko
ch. 7: Wider Influences, by Mark Thursz, Nadine Yannick-Pirkowsky, Mario Mondelli
ch. 8: EASL as seen by AASLD, by John M. Vierling
ch. 9: Major Changes to Governance, by David Adams, Jean-Michel Pawlotsky, and Heiner Wedemeyer
Appendices
Download an open-access  version of Past and Present, a history of EASL from 1966 to 2010, written by Prof. Williams and several contributing authors, hepatologists and members of former EASL leadership. It provides a fascinating journey back in time through the first 44 years of EASL.
See also our EASL news article,  "Liver enthusiasts who paved the way: 50 years of the Gnomes"