Learn the New NAFLD Nomenclature at EASL Congress in Vienna!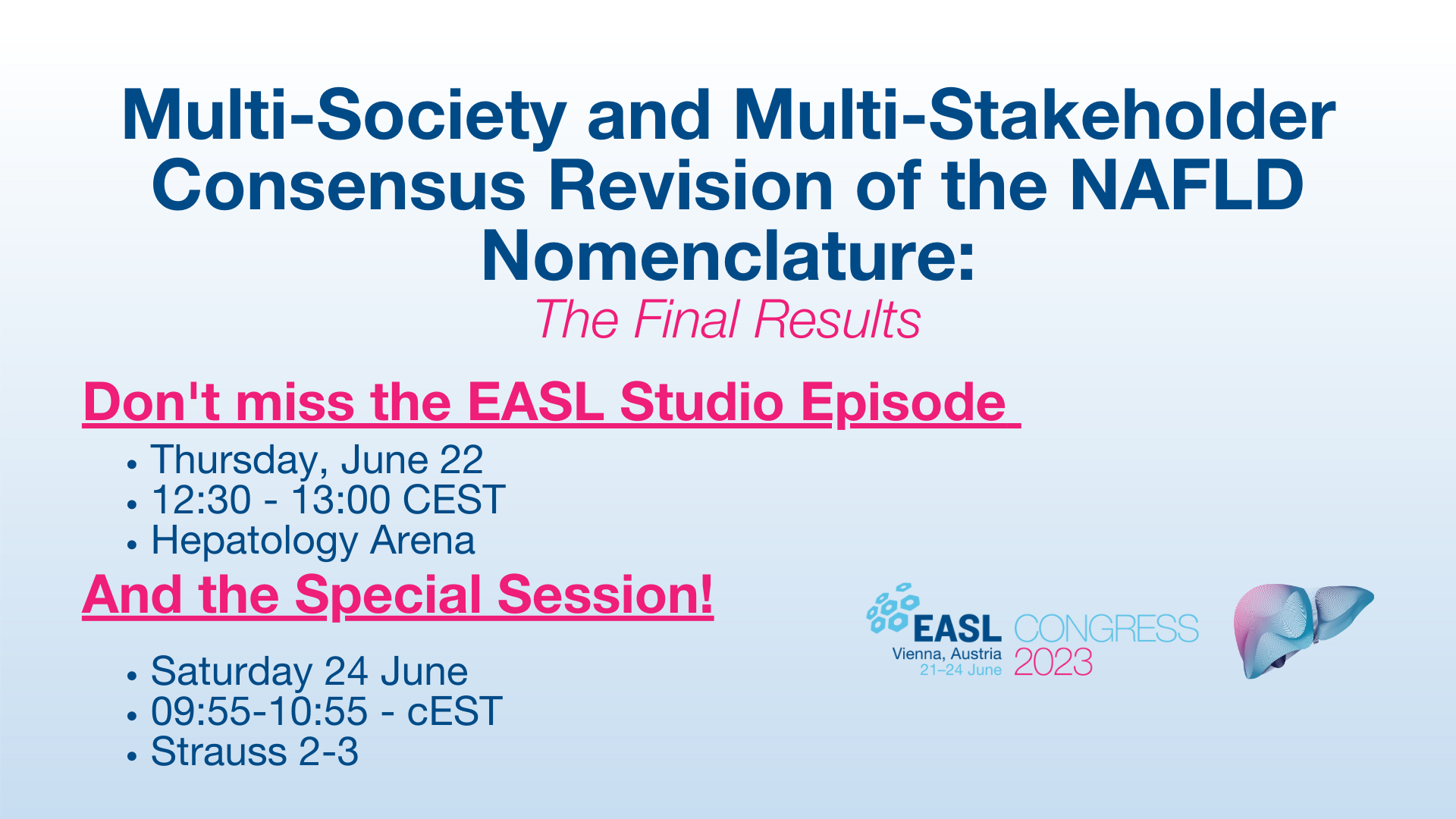 Collaborating with multinational liver societies, patient advocacy groups, and leading experts and researchers, a global consortium will unveil a new nomenclature for the prevalent Non-Alcoholic Fatty Liver Disease (NAFLD) at the upcoming EASL Congress in Vienna on 21-24 June.
This announcement will redefine our understanding and treatment as well as serve as a strong foundation for raising disease awareness, reducing stigma, and accelerating the development of effective drugs and biomarkers.
The current nomenclature has long been recognised as inadequate, as it fails to capture the true complexity and underlying causes of NAFLD. The term "non-alcoholic" does not accurately reflect the disease's etiology, while the word "fatty" has carried negative connotations and contributed to stigmatisation. Furthermore, the existing nomenclature excludes individuals with risk factors for NAFLD, such as type 2 diabetes, who may consume more alcohol than the strict non-alcoholic thresholds.
Acknowledging these shortcomings, a comprehensive effort was initiated by the American Association for the Study of Liver Disease (AASLD), the European Association for the Study of the Liver (EASL), and the Asociación Latinoamericana para el Estudio del Hígado (ALEH). This multi-stakeholder initiative involved hepatologists, gastroenterologists, endocrinologists, hepatopathologists, public health and obesity experts, along with representatives from industry, regulatory agencies, and patient advocacy organisations. Their collective expertise and diverse perspectives were instrumental in crafting a new consensus on the nomenclature and diagnostic criteria for NAFLD.
The highly anticipated unveiling of this new nomenclature will take place at the EASL Congress 2023 in Vienna. Two key sessions will provide an in-depth exploration of the updated terminology and its implications for NAFLD diagnosis and treatment.
The Nomenclature EASL Studio Session, will be held in the Hepatology Arena on Thursday, June 22, from 12:30 to 13:00 CEST. This session will be streamed live to delegates via the   app and will subsequently be made available on demand within three hours.
The Nomenclature Scientific Session will take place in Strauss 2-3 on Saturday, June 24, from 09:55 to 10:55 CEST. This session will also be streamed live to delegates via the   app and made available on demand within three hours.
Attending these sessions is paramount for healthcare professionals, researchers, and stakeholders who wish to stay at the forefront of NAFLD advancements.
Secure your place at the EASL Congress in Vienna to shape the future of liver disease by learning  the innovative nomenclature and harnessing its potential for improved patient outcomes.