MICROB-PREDICT highlights at EASL Congress 2023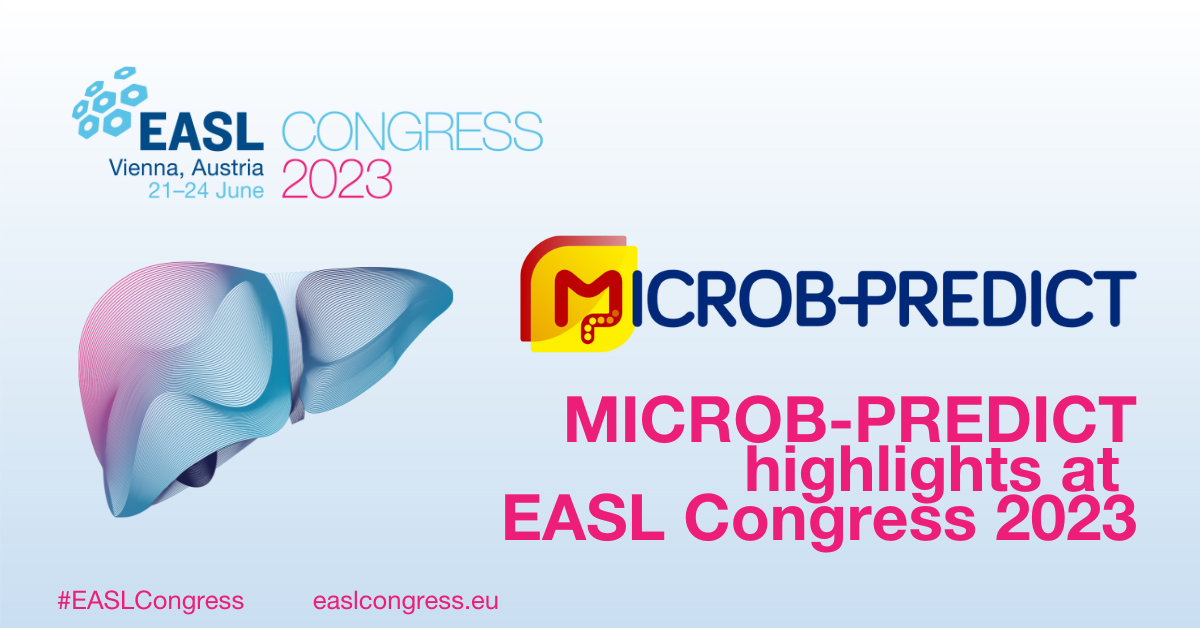 MICROB-PREDICT aims to identify microbiome-based biomarkers and mechanisms that predict in advance when the body can no longer compensate for the dysfunctional liver (decompensated cirrhosis), when such decompensated cirrhosis will progress to acute-on-chronic liver failure (ACLF), and a patient's individual treatment response. Based on such biomarkers, novel diagnostic tools for earlier and better patient stratification and to establish personalised and effective treatment strategies are developed.
The upcoming EASL Congress 2023 in Vienna is set to feature an array of activities, sessions, and posters presented by the MICROB-PREDICT EU-funded project, showcasing its significant contributions to the field and discussing the implications for improving patient outcomes.
The MICROB-PREDICT project members will present a series of ePosters at the EASL Congress 2023. These include studies on the real-world treatment of decompensated liver cirrhosis; the association between serum PDL1 levels and bacterial infections in non-hospitalized cirrhosis patients; the link between non-alcoholic fatty liver disease (NAFLD) and the risk of type 2 diabetes mellitus; the development of novel rodent models for Acute-on-Chronic Liver Failure (ACLF); the comorbidities and complications experienced by patients undergoing liver transplantation; the acute effects of terlipressin on systemic inflammation markers in patients with cirrhosis and ascites; as well as the use and impact of transjugular intrahepatic portosystemic shunt (TIPS) based on a comprehensive twelve-year nationwide study in Germany . These presentations aim to enhance our understanding of liver cirrhosis and improve patient care and outcomes.
In addition to the ePoster presentations, several engaging talks will captivate the audience. Wim Laleman will deliver a talk on "Highly recurrent and persistent hepatic encephalopathy," providing valuable insights into this debilitating condition associated with liver cirrhosis.
Lindsey A Edwards will present her talk on "Faecal microbiota transplant restores gut barrier function and augments ammonia metabolism in patients with advanced cirrhosis: a randomized single-blind placebo-controlled trial," shedding light on the potential of FMT as a therapeutic intervention for advanced cirrhosis patients.
Wenyi Gu will share insights on "Platelet, elastography, age, sex, and etiology for hepatocellular carcinoma surveillance in patients with advanced chronic liver disease: Please algorithm," providing a novel algorithm for hepatocellular carcinoma surveillance in patients with advanced chronic liver disease.
David Tornai will deliver a talk titled "Serum villin-1 level – a tell-tale sign of gut barrier failure in patients with cirrhosis and acute decompensation". The findings from this talk have the potential to improve the management and prognosis of patients with cirrhosis and acute decompensation by enabling timely interventions to preserve gut health.
MICROB-PREDICT international experts will discuss "Therapeutic Advances for Cirrhosis Decompensation" in a session with topics including microbiome-host interaction, patient stratification, and early management of ALD patients.
The MICROB-PREDICT project will also be actively involved in the EASL Community Hub's networking session. Jonel Trebicka will represent the project during this session, engaging in discussions and knowledge-sharing with fellow experts and attendees. Additionally, the MICROB-PREDICT team members, including Dávid Tornai, Lindsey Edwards, and Wenyi Gu, will deliver flash-talks, providing concise presentations on their respective research areas within the project.
Furthermore, the MICROB-PREDICT project members will actively participate in a workshop focused on "Using social media in science communication", featuring Debbie Shawcross and Maja Thiele, which will explore the potential of social media platforms as effective tools for facilitating knowledge dissemination and engagement with a wider audience.
MICROB-PREDICT project's participation in the EASL Congress 2023 promises to be highly impactful. Through ePoster presentations, talks, networking sessions, and workshops, the project members will showcase their cutting-edge research and contribute to the advancement of liver cirrhosis knowledge and the development of innovative approaches for its prevention and management. This congress will undoubtedly provide an invaluable platform for sharing insights, fostering collaborations, and driving progress.