Liver Cancer Awareness Month – October 2023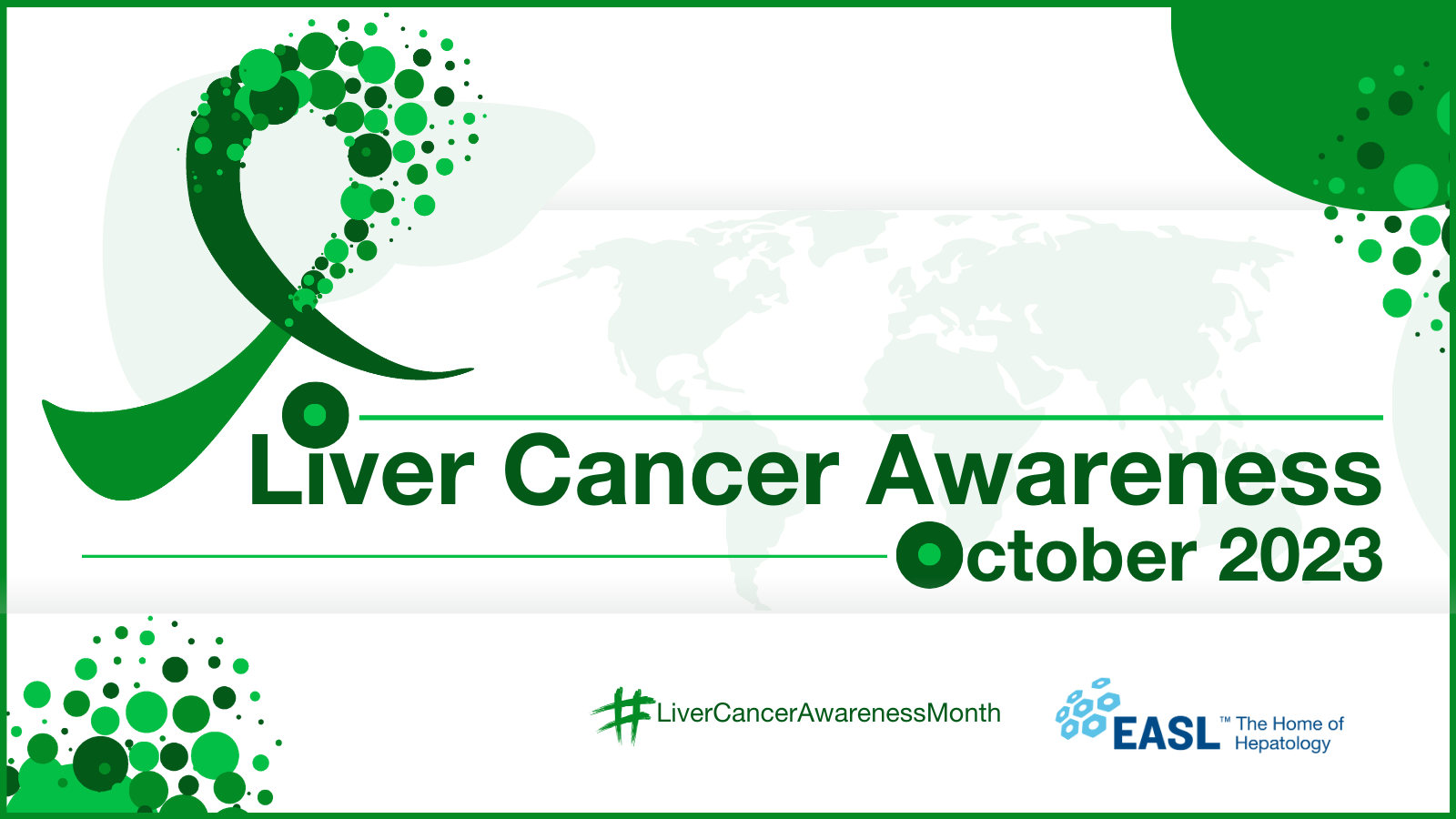 Every October, we stand united for #LiverCancerAwarenessMonth, and EASL is proud to support this vital campaign. This month is a significant opportunity to raise awareness, educate, and advocate for liver health on a global scale. It serves as a reminder that by working together, we can make a profound impact in the fight against liver cancer. We are committed to advancing knowledge, improving prevention and early detection, and enhancing treatment options to improve the lives of those affected by this challenging disease. Join us in spreading the message of hope, knowledge, and action throughout October and beyond. Together, we can create a brighter future in the battle against liver cancer. 
Understanding Liver Cancers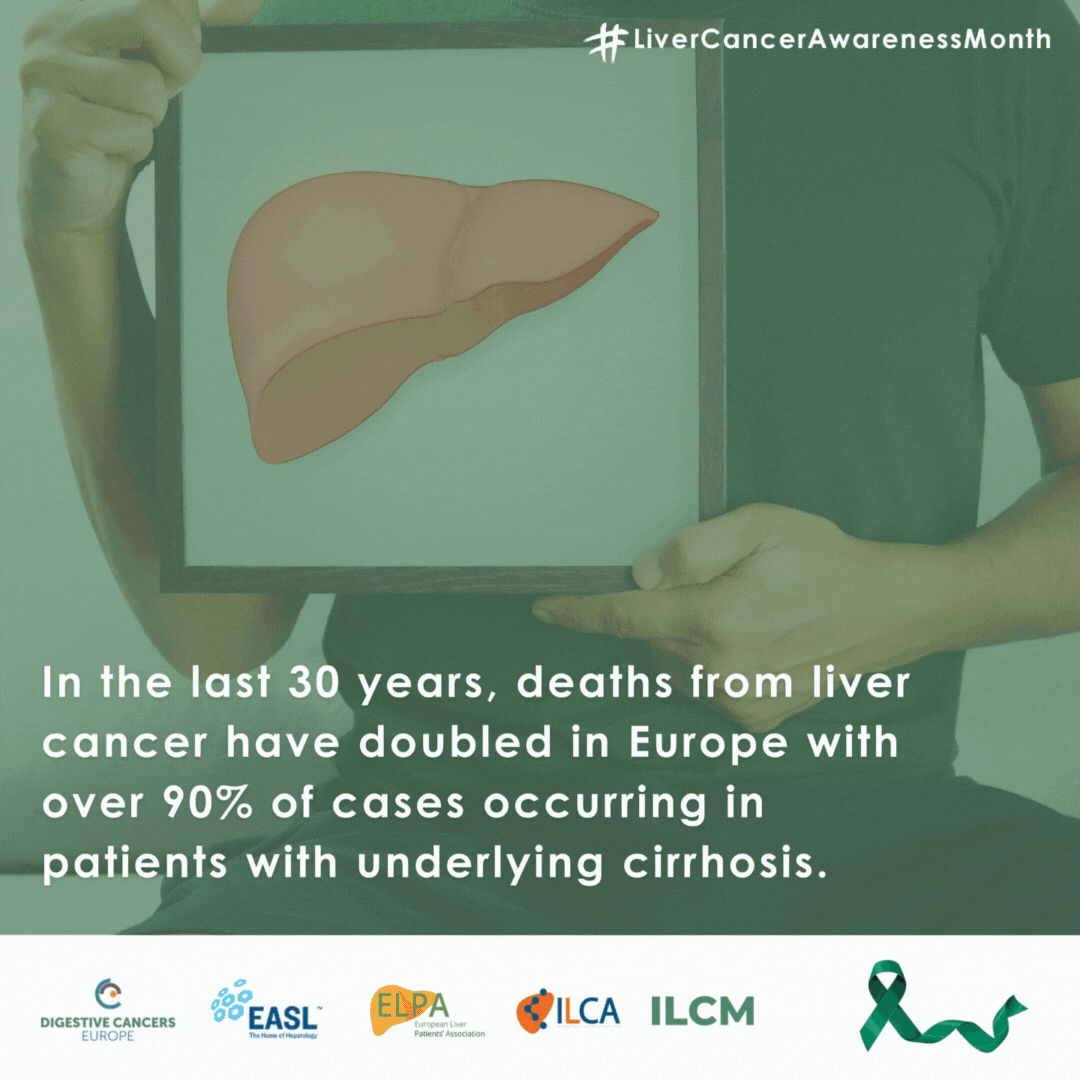 Get involved!
There are plenty of ways you can get involved in Liver Cancer Awareness Month!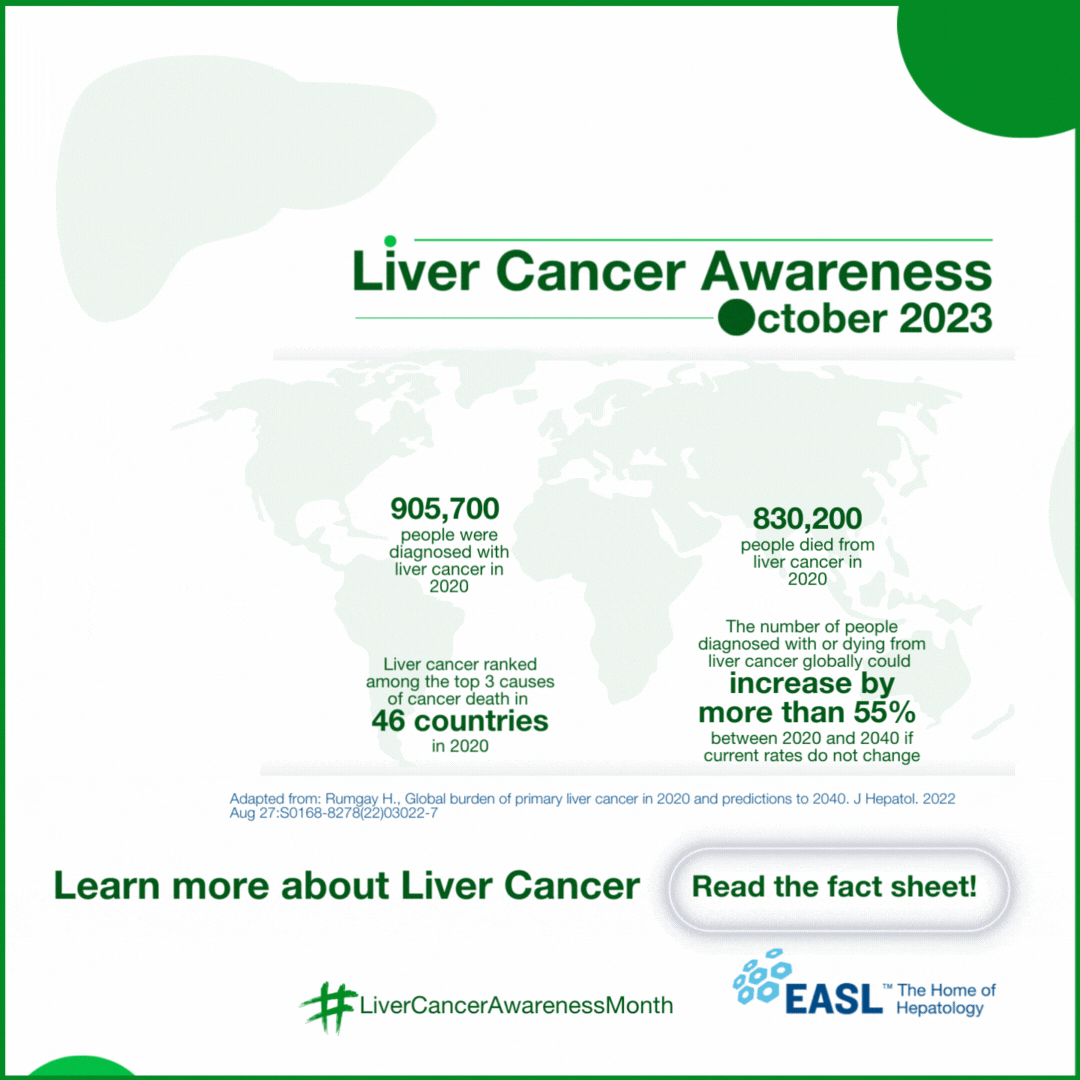 Face the facts! 
Find out why liver cancer is a significant global health threat, and learn more about prevention, treatment and prevalence of the disease.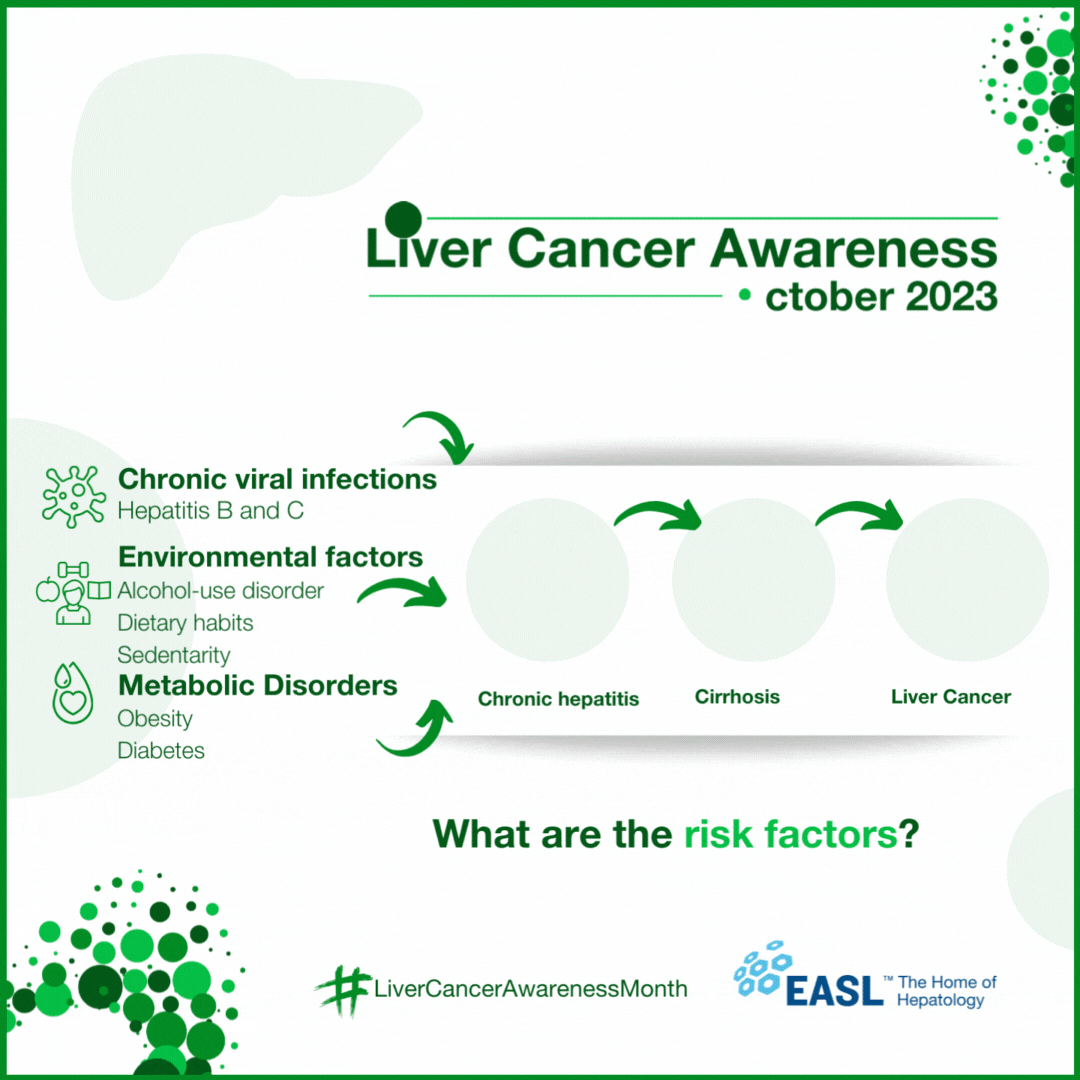 Understanding the risk factors
Chronic Viral Infections: Hepatitis B and C are major contributors. Regular screenings and vaccinations offer protection.

Environmental Factors: Excessive alcohol use and a sedentary lifestyle increase the risk. Moderation and physical activity are vital.

Dietary Habits: A balanced diet can reduce the risk.

Metabolic Disorders: Obesity and diabetes are linked to liver cancer. Maintaining a healthy weight and managing these conditions can make a difference.
Understanding the risk factors of liver cancer is essential for early detection and prevention.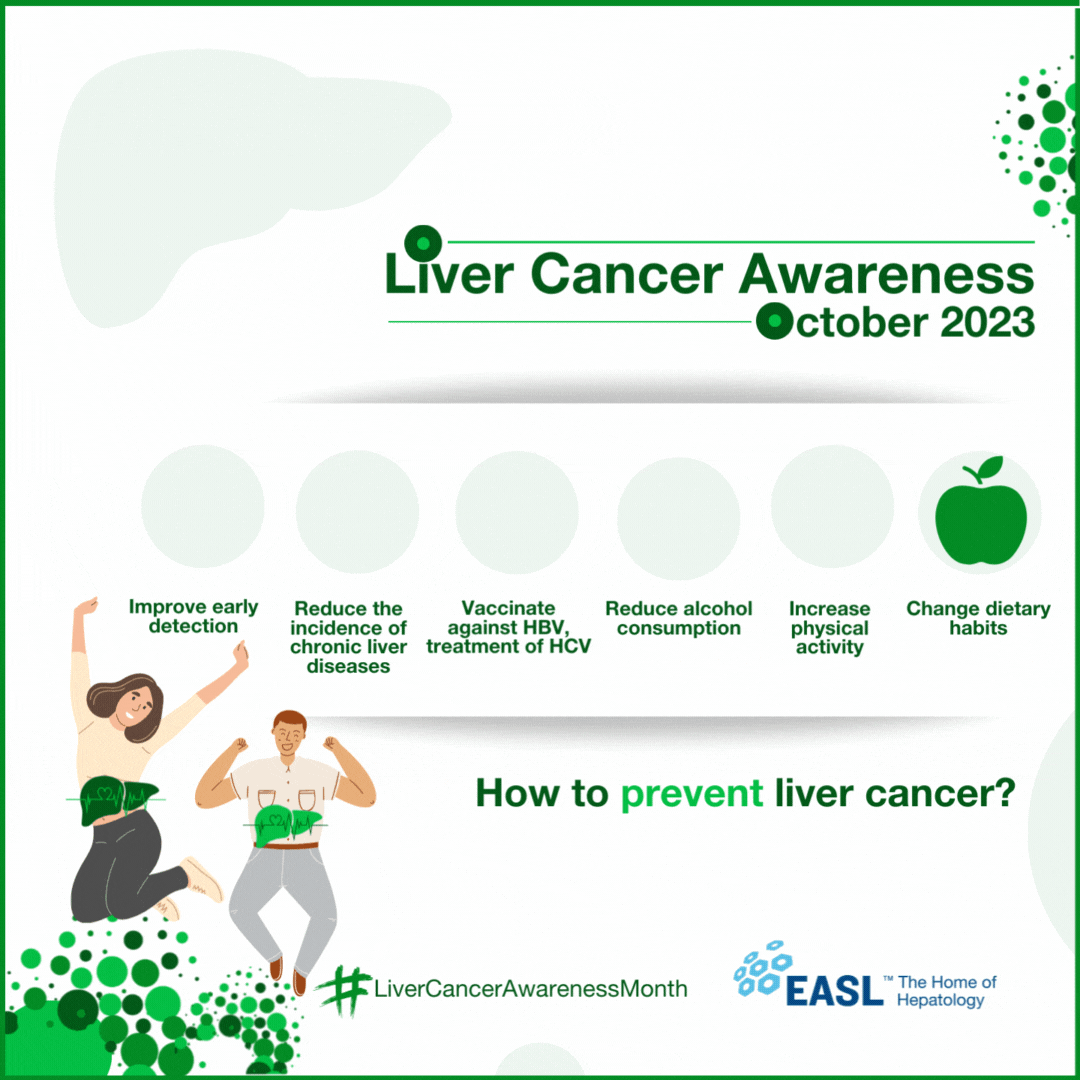 Prevention is the best protection
Early Detection: Regular check-ups can catch liver issues early.

Fighting Chronic Liver Diseases: Manage conditions like hepatitis and cirrhosis to reduce the risk.

HBV Vaccination: Protect yourself and your loved ones with the hepatitis B vaccine.

Treating HCV: Seek treatment if you have hepatitis C, a crucial step towards liver health.

Moderate Alcohol: Limit alcohol consumption to reduce liver strain.

Get Moving: Physical activity promotes a healthy liver.

Balanced Diet: Opt for a diet rich in fruits, vegetables, and whole grains for liver wellness.
Preventing liver cancer is within our reach. Share these tips and join the fight for a healthier tomorrow!
Explore the EASL educational resources on liver tumours