Meet our EASL Emerging Leader Awardees 2023!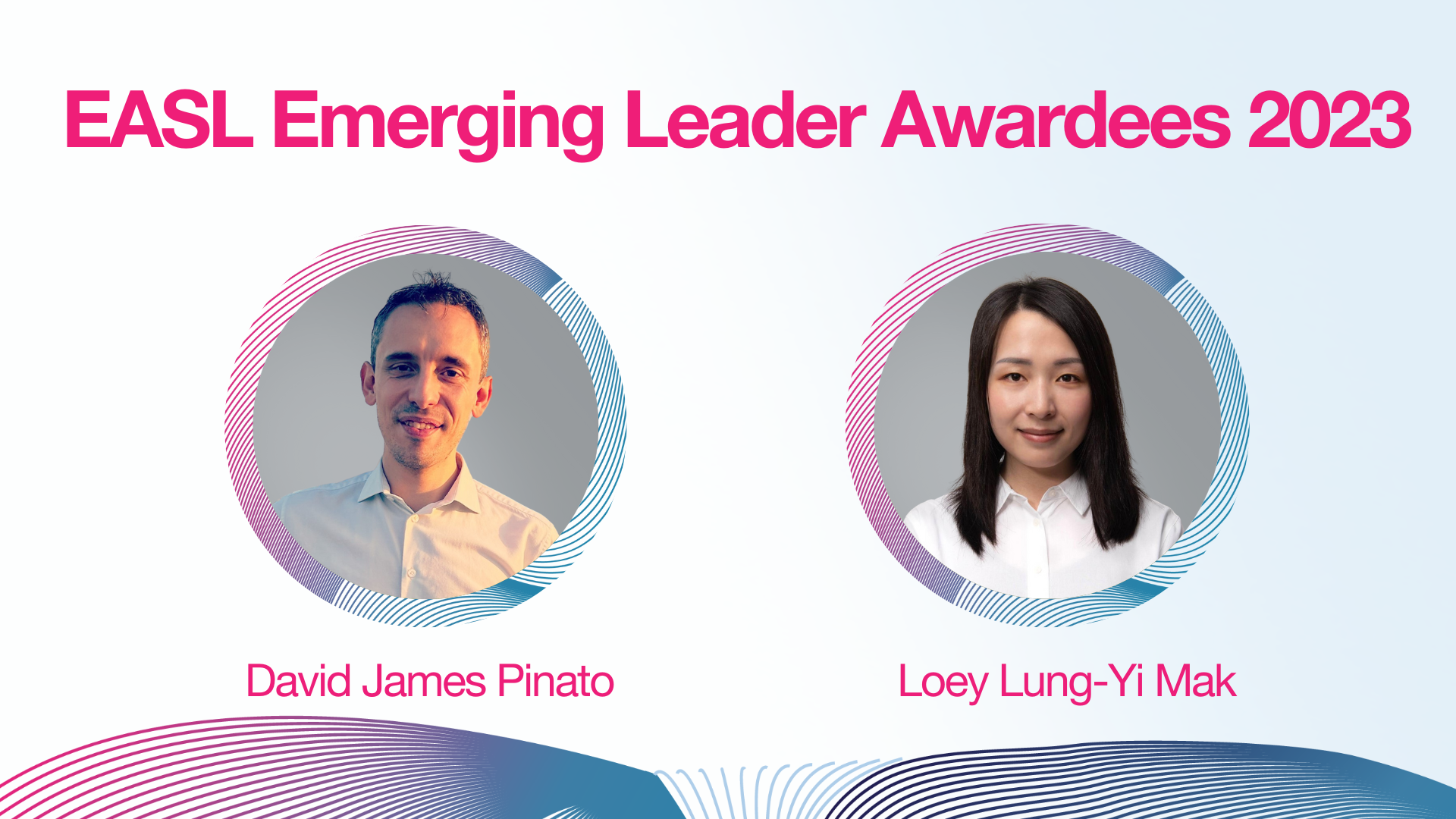 David Pinato and Lung Yi Mak have been awarded the prestigious EASL Emerging Leader Award, recognizing their outstanding contributions to liver research. The award, presented annually at the EASL Congress, is dedicated to young fellows who have made significant advancements in the field.
Lung Yi Mak, who leads the Conquering Hepatitis via Micro-Elimination program, has been actively working towards eliminating hepatitis C virus infection in Hong Kong. Through partnerships with Non-Governmental Organizations that run halfway houses and drug rehabilitation centers, she has been able to identify individuals who inject drugs for screening. Mak plans to extend the micro-elimination efforts to prisoners in Hong Kong, collaborating with the government to achieve the World Health Organization's goals for viral hepatitis elimination by 2030. Additionally, Mak is involved in investigator-initiated programs for patients with non-alcoholic fatty liver disease and is collaborating with other researchers on developing novel biomarkers for liver cancer detection. Her dedication to research and his commitment to improving liver health make him a deserving recipient of the EASL Emerging Leader Award.
During her post-doctoral fellowship at The Centre for Immunology and Infectious Diseases, Blizard Institute, Queen Mary University of London, Lung Yi Mak conducted research on HBV immunology. She focused on studying intrahepatic immune populations, which are crucial for paving the way to a cure for HBV. Mak plans to continue this project in Hong Kong in collaboration with Queen Mary University of London, aiming to identify immunopathologies in chronic hepatitis B through translational research. Her work has the potential to significantly advance our understanding of HBV and contribute to the development of new treatment strategies.
David Pinato, a medical hepatobiliary oncologist from Imperial College London, has dedicated his research and clinical career to understanding the mechanisms of liver cancer growth. He has focused on developing immunotherapy for the treatment of liver cancer, particularly in the early stages to prevent relapse. Pinato's group has been at the forefront of immunotherapy development in liver cancer and has made significant contributions to understanding how immunotherapy works in this context. His research aims to identify biomarkers and mechanisms that can predict patient response to immunotherapy, with a special interest in the gut microbiome's role in treatment responsiveness. Pinato's work has not only potential therapeutic implications but also highlights the multidisciplinary nature of liver cancer research, encouraging young oncologists to pursue careers in this field.
Both Mak and Pinato have valuable advice to offer to aspiring young researchers in the field of liver research. Mak emphasizes the importance of perseverance, acknowledging that academic research often requires repeated failures and re-attempts before seeing rewards. She encourages researchers to accept and learn from their mistakes and to maintain a work-life balance, with the support of family, friends, and colleagues. Pinato advises researchers to maintain enthusiasm for their area of interest and to be open to adapting their research plans. He highlights the significance of multidisciplinary collaboration in liver diseases, as the field requires expertise from various specialties to make significant progress.
The recognition of Mak and Pinato with the EASL Emerging Leader Award showcases their exceptional contributions to liver research and their potential to shape the future of the field. Their work on hepatitis C and liver cancer has the potential to improve the lives of countless individuals affected by these diseases. The EASL Congress 2023 will provide a platform for these emerging leaders to share their research and insights, inspiring fellow researchers and fostering collaboration across disciplines. It is through the dedication and innovation of young researchers like Mak and Pinato that we can envision a future with improved liver health and better treatment options for patients.