DECISION highlights at EASL Congress 2023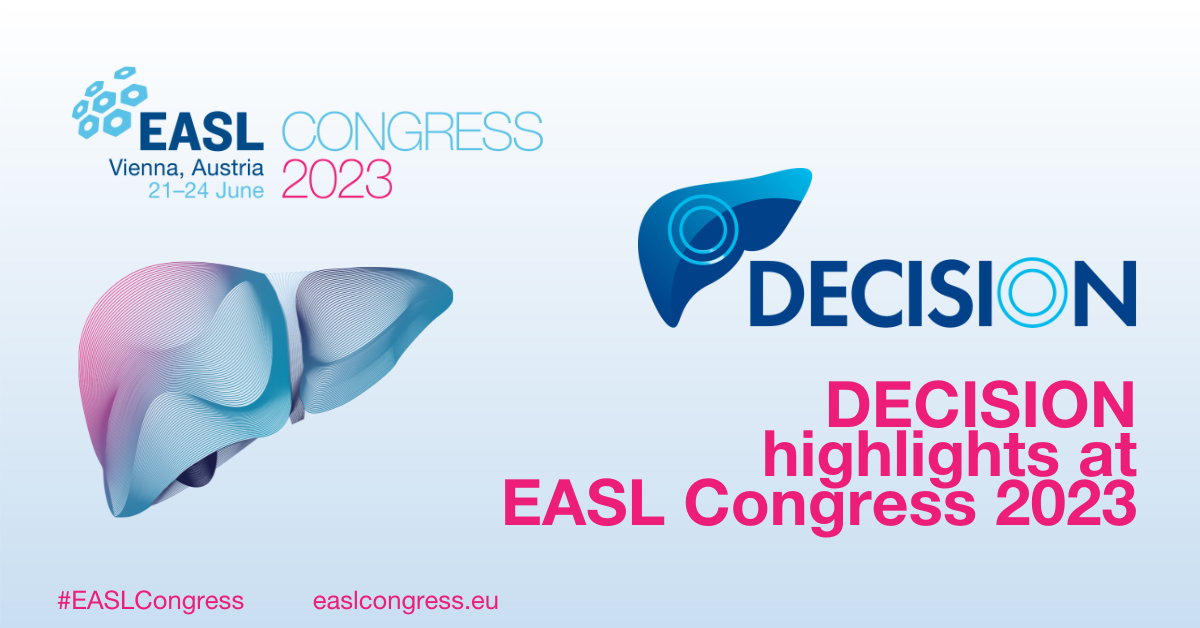 DECISION strives to better understand the pathophysiology of decompensated cirrhosis leading to acute-on-chronic liver failure (ACLF) at the systems level by taking advantage of already existing large and clinically well-characterized patient cohorts. The ultimate goal is to significantly reduce mortality through combinatorial therapies that are tailored to the specific needs of individual patients. Part of this endeavour is to develop (1) a reliable prognostic test to identify patients that are at risk for a poor outcome following standard therapy but who may benefit from a novel and personalised combinatorial therapy, and (2) a robust response test to predict the success of a novel combinatorial therapy as opposed to more aggressive solutions like a liver transplant.
The EASL Congress 2023, is set to showcase research and foster collaboration among experts in liver disease. Among the prominent contributors is EU-funded project DECISION, with its fantastic lineup of activities planned for the congress, including ePoster presentations, flash talks, informative talks, roundtable discussions, and more.
DECISION will present a series of ePosters at the EASL Congress 2023. These include studies on real-world insights into the long-term albumin treatment of a large cohort of patients with cirrhosis and ascites, the development of novel rodent models for Acute-on-Chronic-Liver Failure (ACLF); a systems medicine approach for the identification of potential prognostic biomarkers in patients with acute decompensation of cirrhosis; and machine learning-based models to predict ICU mortality in critically ill patients with ACLF.
In addition to ePosters, DECISION's Pierre-Emmanuel Rautou will participate in a networking session at the EASL Track Hub, enabling delegates to engage, forge collaborations, and promote knowledge exchange and potential breakthroughs in liver disease research. DECISION researchers Estefanía Huergo, Sara Palomino, and Frank Uschner will deliver flash talks, sharing insights into their respective research projects.
DECISION's Paolo Caraceni will deliver two informative talks. The first on the potential use of long-term albumin treatment as a strategy for preventing overt hepatic encephalopathy (HE). This presentation will explore the preventive benefits of albumin therapy, addressing a critical aspect of cirrhosis management and patient care. The second explores the use of systems medicine to identify novel therapeutic strategies and biomarkers in liver disease.
DECISION will also feature a talk by Javier Fernández, addressing a critical issue in the management of hospitalized decompensated cirrhosis patients. Fernández's talk will explore the dilemma faced by clinicians when deciding whether to initiate empirical antibiotics or await culture results in these high-risk individuals.
A roundtable discussion with Thomas Berg, Graciela Castro-Narro, Marko Korenjak, Shuichiro Shiina, and Norah Terrault will provide a platform for these esteemed experts to exchange insights and perspectives on liver disease research. Their collective expertise will fuel discussions on emerging therapeutic strategies, identification of biomarkers, and the future direction of liver disease research.
DECISION's participation at the EASL Congress 2023 promises to be a significant contribution to liver disease research. Through their ePoster presentations, flash talks, informative talks, and participation in networking sessions and roundtable discussions, DECISION researchers will showcase their latest findings, share valuable insights, and foster collaboration among the global liver disease research community.