2021 update on EASL Clinical Practice Guidelines on non-invasive techniques for the evaluation of liver disease and severity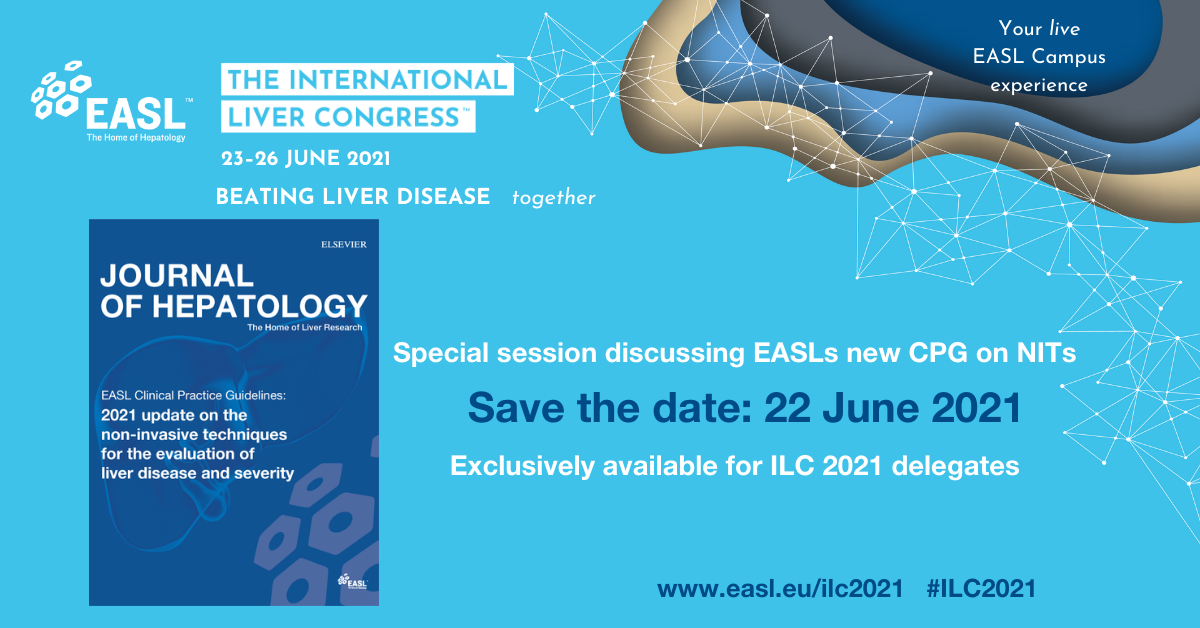 Mark your calendars!  
On 22 of June 2021, the European Association for the Study of Liver disease (EASL) will be releasing the much-anticipated updated guidelines on the use of non-invasive techniques (NITs). These new guidelines will be presented and discussed in a session available on the ILC 2021 platform, exclusively for registered delegates. Don't miss this important launch, so make sure you register now for the congress if you haven't done so already. 
Register now for ILC 2021!
The importance of non-invasive techniques
Regardless of the cause, the course of liver disease progression can be tracked by monitoring the presence and amount of liver fibrosis. To obtain this information, liver biopsy is still the gold standard. Although it is a key tool in hepatology, it has drawbacks [1].  
Not only, does the biopsy need to be of sufficient size to provide essential information to an experienced pathologist (amongst whom variation exists) but it is also invasive. Despite being well tolerated, internal bleeding and a collapsed lung are some of the side effects that can arise following liver biopsy. However, occurring in the majority of patients [2], pain is the most common. 
In addition to the invasiveness of the procedure, liver biopsy only provides information about the fibrotic state for one point in time. However, fibrosis is a dynamic process that can evolve [3]. So, the use of repeatable, more accessible and non-invasive techniques, in combination with liver biopsy, to assess to progression of all aspects of liver disease over time is important.  
Non-invasive techniques for the assessment of chronic liver disease include blood-based tests (used to measure levels of serums markers), methods for assessing the physical properties of liver tissue and, imaging methods to assess liver anatomy and surrounding organs.  
Blood-based tests looking at fibrosis serum markers and laboratory variables are simple, widely available and can be performed by non-specialists in a primary healthcare setting. Other validated and available non-invasive techniques include Transient Elastography (TE). Transient elastography is a quick method providing real-time information about liver stiffness in most patients (>95%) that are not morbidly obese. In addition, imaging of the liver and surrounding organs is currently routinely used to in chronic liver disease.   
Why the update?
Due to the growing number of reports on the accuracy of existing and novel non-invasive techniques, EASL, has decided to update the previous Clinical Practice Guidelines (CPGs) for the evaluation of liver disease and severity ([1]). These new guidelines are to provide the best available evidence on the use of NITs to assess chronic liver disease. 
What has changed?
The updated CPGs address issues for which special considerations are required and for which there is presently a general lack of guidance.  
With the massive global increase in NAFLD/NASH patients, it is important to be able to accurately identify this new patient population and evaluate the efficacy of novel treatments being developed. Additionally, guidelines for assessing liver disease prognosis and severity in patients suffering from chronic hepatitis and emerging diseases (Cholestatic and autoimmune liver diseases) were lacking and have thus been updated. Furthermore, the spectrum of severe fibrosis and cirrhosis is a continuum in asymptomatic patients and distinguishing between the two is often clinically impossible. Hence, compensated advanced liver disease (cACLD) has been proposed as an alternative term for patients with chronic liver disease at risk of developing clinically significant portal hypertension. 
Don't miss out
The new CPG will be released on the ILC 2021 platform during a special session on the 22nd of June. During this session, the panel members will present and discuss updates made to the guidelines. 
Title

 

Speaker

 

Introduction and methodology used, including panel members and Delphi panel members

 

Annalisa Berzigotti

 

General population

 

Emmanoil Tsochatzis

 

Alcohol related liver disease

 

Maja Thiele

 

Non-alcoholic fatty liver disease: diagnosis of steatosis and diagnosis of liver fibrosis

 

Laurent Castera

 

Non-alcoholic fatty liver disease: prognosis; patient selection and evaluation of treatment response in therapeutic trials

 

Jerôme Boursier

 

Chronic hepatitis C post sustained virological response

 

Salvatore Petta

 

Cholestatic and autoimmune liver disease

 

Nora Cazzagon

 

Compensated advanced chronic liver disease and portal hypertension

 

Annalisa Berzigotti

 
If you have not registered yet, go to easl.eu/event/the-international-liver-congress-2021/registration/ to secure your spot today.  
The updated CPG on NITs for the evaluation of liver disease and severity will be available, free of charge to everyone, on: easl.eu/publications/clinical-practice-guidelines/  
[1] European Association for Study of Liver; Asociacion Latinoamericana para el Estudio del Higado. EASL-ALEH Clinical Practice Guidelines: Non-invasive tests for evaluation of liver disease severity and prognosis. Journal of Hepatology 2015;63:237–64. https://doi.org/10.1016/j.jhep.2015.04.006. 
[2] Khalifa A, Rockey DC. The utility of liver biopsy in 2020. Current Opinion in Gastroenterology 2020;36:184–91. https://doi.org/10.1097/MOG.0000000000000621. 
[3] Hytiroglou P, Theise ND. Regression of human cirrhosis: an update, 18 years after the pioneering article by  Wanless et al. Virchows Archiv : An International Journal of Pathology 2018;473:15–22. https://doi.org/10.1007/s00428-018-2340-2.