Meet the organisers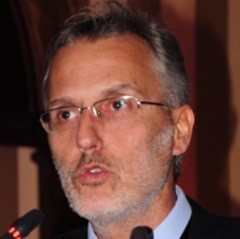 Professor Dalekos is Head of the Department of Medicine and the Research Laboratory of Internal Medicine, National Expertise Center of Greece in Autoimmune Liver Diseases, Full Member of the European Reference Network-Rare Liver, General University Hospital of Larissa, Greece.
Click to read more
He graduated the Medical School of National and Kapodistrian University of Athens in 1985 and he earned the specialty of Internal Medicine and his PhD in 1995. He was honorary Research Fellow in the Laboratory of Clinical Immunology, Department of Medicine, Ioannina University, Medical School, Greece in 1990-92 and Post Doc Research Fellow, Department of Gastroenterology/Hepatology, Hannover Medical School, Germany in 1997-98. He is currently official member of many respectful authorities such as, EASL, AASLD, EFIM, FDIME, International AIH, PSC and PBC Study Groups, etc. Prof. Dalekos was Elected Vice President of Internal Medicine Society of Greece (2012-2018) and Elected Vice President and President of the Hellenic Association for the Study of Liver (HASL, 2013-2015 and 2015-2017). Currently, he is on the Executive Committee of the Hellenic Society of Internal Medicine. He is an active Member of the Scientific Committee for the Prevention, Diagnosis, Management and Treatment of Viral Hepatitis (Hellenic Center for Disease Control and Prevention), Member of the Steering Committee for the Treatment Guidelines for HBV and HCV infections, Board Member of the Committee for the Development of National Strategies against Viral Hepatitis Viruses in Greece (Greek Ministry of Health), Member of the Scientific Committee for the Development and Update of the National Registry of Rare Disease (Greek Ministry of Health), and Member and Chair of the Clinical Practice Guideline committee for Autoimmune Hepatitis by EASL and HASL, respectively. His main specific areas of interest are AIH, PBC including their variant and specific forms, immunopathogenesis and management of viral hepatitis, and clinical immunology. Prof. Dalekos has acted as reviewer in >165 journals and has already published 320 manuscripts in highly ranking journals (>17.500 citations; h-index: 64). He is currently or has acted as Academic Editor or Editorial Board member in many journals including J Hepatol, Eur J Intern Med, Liver Int, Case Reports Infect Dis, Cancers, World J Gastroenterol, J Transl Intern Med, World J Hepatol, etc. and as Expert Reviewer for Research Projects in Internal Medicine and Hepatology (e.g. Medical Research Council or Wellcome Trust, England; Austrian Science Fund, Austria; FDIME Research Grant Scientific Committee, etc.)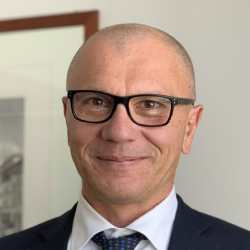 Pietro Invernizzi received his MD in July 1993 from the University of Milan, Italy. His clinical and scientific activities began in 1993 and in December 1996 he received his PhD in Gastroenterology from the University of Milan.
Click to read more
He spent most of his PhD program period as a research fellow at the Clinical Mass Spectrometry, Children's Hospital Medical Center, Cincinnati, OH, USA. In 2000 he completed his 4-years training in Gastroenterology at the University of Milan and was licensed as a gastroenterology specialist, and from 2000 to 2008 he had an appointment as Clinical Assistant at the Division of Internal Medicine and Liver Unit of the San Paolo Hospital School of Medicine of the University of Milan. From 2008 to 2015 Dr. Invernizzi is head of the Center for Autoimmune Liver Diseases, Humanitas Clinical and Research Center, Rozzano (Milan), Italy. From 2007 to 2016 he also had an appointment as Assistant Professor at the Department of Internal Medicine, Division of Rheumatology, Allergy, and Clinical Immunology, School of Medicine, University of California at Davis, CA, USA. From December 2015 Dr Invernizzi is Professor in Gastroenterology, University of Milano-Bicocca (Full Professor from September 2020).
Dr. Invernizzi has co-authored 361 original publications in peer-reviewed journals with a total citations of 16.741, H index 67 (Scopus). Dr. Invernizzi's articles have included publications in leading scientific journals such as New England Journal of Medicine, Nature Genetics, The Lancet, Ann Intern Med, Gastroenterology, Journal of Hepatology, Hepatology, and J Immunol. Dr. Invernizzi has authored 28 book's chapters. Dr. Invernizzi's areas of scientific expertise are on liver diseases, in particular on rare autoimmune liver diseases such as primary biliary cirrhosis (PBC), primary sclerosing cholangitis (PSC), autoimmune hepatitis (AIH), and their overlaps. More recently he extended his interests on the biliary and neuroendocrine tumours.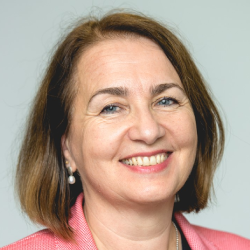 Dina Tiniakos is Professor of Pathology & Director, Dept of Pathology, Aretaieion Hospital, Medical School, National & Kapodistrian University of Athens (NKUoA), Greece and academic hepatopathologist at the Translational and Clinical Research Institute, Faculty of Medical Sciences, Newcastle University, UK.
Click to read more
Dina graduated from the Medical School, University of Patras, Greece and has received PhD degrees in Pathology from the NKUoA, Greece (1993) and Newcastle University, UK (1998). She specialized in liver pathology in UK (Royal Victoria Infirmary, Newcastle upon Tyne and Royal Free Hospital, London) and in USA (Saint Louis University Hospital, Saint Louis, MO). 
Dina's main research interests are fatty and autoimmune liver disease and hepatocarcinogenesis. She is co-leading several European consortia on liver pathology, including the International Autoimmune Hepatitis Pathology Group  and is central pathologist in major international clinical trials for non-alcoholic steatohepatitis. She is  an invited member of the prestigious International Liver Study Group "Gnomes" and the Laennec Liver Pathology Society.  
Dina has authored/co-authored ~190 peer-reviewed scientific articles and chapters in textbooks of liver pathology (H index 52, ~10,400 citations. She is Associate Editor of "Histopathology" and Editorial Board member of "Journal of Hepatology" and "Annals of Gastroenterology". She is Past President of the European Society of Pathology and Chair, Equality & Diversity Taskforce, United European Gastroenterology (2020-2023).  
Key Dates
21 Nov - 15 Jan, 2023

Application period

30 Jun - 01 Jul, 2023

School dates