Global Liver Institute's International NASH Day convenes 80 partner organizations and 30 speakers to declare urgency of combatting parallel epidemics of liver disease and covid-19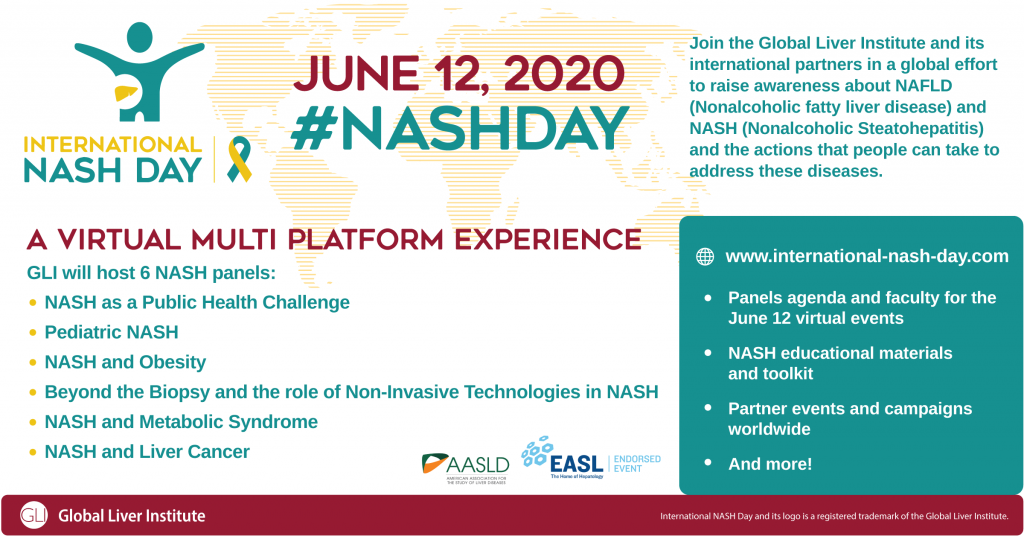 For the first time, International NASH Day (IND), a global awareness and action initiative of the Global Liver Institute (GLI) is endorsed by the major hepatology organizations: the American Association for the Study of Liver Diseases (AASLD) and the European Association for the Study of Liver. Held annually, on June 12, since 2018, IND in 2020 will convene more than 80 partners around the world to draw attention to the most pressing topics in the fight against nonalcoholic steatohepatitis (NASH), the advanced form of chronic, progressive fatty liver disease, affects more than 115 million people and expected to double by 2030.
On June 12, GLI hosts 6 cutting edge, multi-platform virtual panels featuring clinical, research, and patient experts in liver disease, immunology, nutrition, transplantation, oncology, and public health international experts to describe current challenges and collaborate on innovative cross-disciplinary solutions to prevent, identify, treat, and improve the lives of people living with NASH. In addition, partners are creating and amplifying messages on social media, conducting radio media tours and holding complementary panels, podcasts and educational workshops in the days surrounding June 12th.
The free virtual panels are scheduled to air starting at 7am EDT through 4:15pm EDT and will offer diverse perspectives from 30 speakers that will address:
• NASH and Metabolic Syndrome
• Beyond the Biopsy: The Role of Non-invasive Technologies (NITs) in NASH
• Pediatric NASH
• NASH and Obesity
• NASH as a Global Public Health Challenge Panel
• NASH and Liver Cancer
"With global prevalence of fatty liver disease at 25%, there is an urgent need to accelerate the adoption of the noninvasive technologies which are revolutionizing the field of NASH to more safely and effectively identify, stage, and determine treatment response in this growing number of patients," stated Zobair Younossi, MD, Chairman, Department of Medicine, Inova Fairfax. "The Global Liver Institute's International NASH Day plays a significant role in building awareness of screening, NASH education and advocacy, and taking actions that will significantly impact this global epidemic."
"International NASH Day unites, unifies, and inspires a collective call to action, which is never more urgent than in 2020, when we are set to yield the harvest of years of diligence and investment in drug and diagnostic technology development and momentum in awareness and policy," says Donna R. Cryer, JD, Founder and CEO of the Global Liver Institute. "We must make the most of this moment together."
Get Involved
For additional information, for patients' materials and to register for the 6 NASH virtual panels visit: the IND website: www.international-nash-day.com
Supporting the IND social media campaign using hashtag #NASHday and Twitter @GlobalLiver.
International NASH Day and its logo is a registered trademark of Global Liver Institute.
About GLI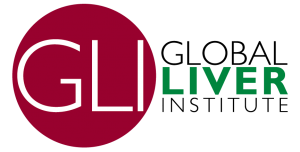 The Global Liver Institute is a 501(c)(3) tax-exempt not-for-profit organization, headquartered in Washington, D.C., United States. GLI, the only liver health non-for-profit to operate in the US and Europe, is advocating for liver health to take its place on the global public health agenda commensurate with its prevalence and impact. GLI's mission is to improve the impact of the liver community by promoting innovation and collaboration and scaling optimal approaches to eradicating liver diseases.
For more information on GLI visit www.GlobalLiver.org, follow us on Twitter @GlobalLiver, Facebook @GlobalLiver, and Instagram @globalliverinstitute.
VIRTUAL IND EDUCATIONAL PANELS
June 12, 2020
1. NASH and Metabolic Syndrome (Pre-record June 11 at 11am ET – 5pmCET)
(Will be "aired" on June 12 at 7am ET – 1pm CET)
Moderator
Dennis Cryer, MD, FAHA
Member, Board of Directors, Global Liver Institute; CEO, Cryer Health; Member, Board of Directors of the Society for Women's Health Research
Speakers
• Manal Abdelmalek, MD, MPH
Professor of Medicine, Duke University School of Medicine, Duke University Medical Center; NAFLD Clinical Research Program, Duke Liver Center, Durham, NC, USA
• Stephen Clement, MD (Invited)
Endocrinology, Diabetes and Metabolism, Internal Medicine, Inova Health, Falls Church, VA, USA
• Dr. Laz Ude Eze, MBBS, MPH, CPH, FAPH
Executive Director, Lafiya Wealth Initiative, Lagos, Nigeria
• Sven Francque, MD, PhD
Editor, JHEP Reports; Faculty of Medicine and Health Sciences, Department of Gastroenterology, Hepatology, & Translational Sciences in Inflammation and Immunology, University Hospital Antwerp, Edegem, Belgium
2. Beyond the Biopsy: The Role of NITs in NASH (LIVE 9am ET – 3pm CET)
Moderator
Donna Cryer, JD
President and CEO, Global Liver Institute
Speakers
• Hannes Hagström, MD
Consultant in Hepatology, Karolinska University Hospital, Stockholm, Sweden
• Vanessa Hebditch
Director of Communications and Policy, British Liver Trust, Bournemouth, United Kingdom
• Mary E. Rinella, MD, FAASLD
Professor of Medicine, Gastroenterology and Hepatology, Northwestern University, Chicago, USA; NASH Task Force Chair, AASLD
• Emmanouil Tsochatzis MD, MSc, FEBTM, FRCP, PhD
Associate Professor and Honorary Consultant in Hepatology, UCL Institute for Liver and Digestive Health, Royal Free Hospital, London, United Kingdom;
Member, EASL Scientific Committee
• Julia Wattacheril, MD, MPH
Associate Professor of Medicine, Center for Liver Disease and Transplantation; Director of the Nonalcoholic Fatty Liver Disease Program, Columbia University, New York, NY, USA
3. Pediatric NASH (LIVE at 10 am ET – 4 pm CET)
Moderator
Jeff McIntyre, MA
NASH Program Director, Global Liver Institute
Speakers
• Gina Madison
CEO, NASH kNOWledge
• Diana Mager, PhD, MSc, RD
Associate Professor, Clinical Nutrition, Department of Agricultural, Food, and Nutritional Science and the Department of Pediatrics, University of Alberta; Li Ka Shing Centre for Health Research Innovation, University of Alberta; Member, Board of Directors, Canadian Liver Foundation
• Jake Mann, MD
Pediatric Gastroenterologist, University of Cambridge, Cambridge, United Kingdom
• Jennifer Panganiban, MD
Pediatric Gastroenterologist, Children's Hospital of Philadelphia; Assistant Professor of Clinical Pediatrics, University of Pennsylvania, Philadelphia, PA, USA
4. NASH and Obesity (LIVE 11am – 5 pm CET)
Moderator
Donna Cryer, JD
President and CEO, Global Liver Institute
Speakers
• Elisabetta Bugianesi, MD, PhD
Member, Lancet-EASL Committee on Liver Disease in Europe; Associate Editor, Journal of Hepatology; Associate Professor Division of Gastroenterology, AOU Città della Salute e della Scienza, University of Torino, Torino, Italy
• Helena Cortez-Pinto MD, PhD
Vice President, UEG – United European Gastroenterology; Director of Clínica Universitária de Gastroenterologia, Universidade de Lisboa; Director, Laboratório de Nutrição da FML, Lisboa, Portugal
• George Kalamitis
President, Liver Patients International, Europe
• Joe Nadglowski, BS
CEO and President, Obesity Action Coalition, Tampa, FL, USA
• Jude Oben, MD, BMCh, FRCP, FRCPE
Associate Professor of Hepatology, Institute for Liver and Digestive Diseases, University College London; Consultant Gastroenterologist/Hepatologist, Guy's and St Thomas' Hospital, London; Obesity Action, London, United Kingdom
• Arun J Sanyal, MD, MBBS
Professor, Department of Internal Medicine, Gastroenterology, Hepatology and Nutrition, Virginia Commonwealth University, Richmond, VA, USA
5. NASH as a Global Public Health Challenge (LIVE – 2 pm ET – 8 pm CET)
Moderator
Donna Cryer, JD
President and CEO, Global Liver Institute
Speakers
• Pavel Bogomolov, MD, PhD
Head, Hepatology Department, Regional Hepatology Center, Moscow Regional Research and Clinical Institute, Moscow, Russian Federation
• Raymond T. Chung, MD, FAASLD
Director of Hepatology and Liver Center, Massachusetts General Hospital; Associate Professor of Medicine, Harvard Medical School, Harvard University, Boston, MA, USA; AASLD President-Elect
• Marko Korenjak, MA, PhD
President, European Liver Patients Association, Europe
• Zobair Younossi, MD, MPH, FACP, FACG, AGAF, FAASLD
Professor and Chairman of the Department of Medicine at Inova Fairfax Hospital, Falls Church, Virginia, USA
6. NASH and Liver Cancer (LIVE 3.15 pm ET – 9.15 pm CET)
Moderators
Donna Cryer, JD
President and CEO, Global Liver Institute
Scott Friedman, MD
Dean for Therapeutic Discovery and Chief of the Division of Liver Diseases, Icahn School of Medicine at Mount Sinai, New York, NY, USA
Speakers
• Antonella Cardone, MSc
Director, European Cancer Patient Coalition, Europe
• Noelle LoConte, MD
Associate Professor of Medicine, University of Wisconsin; Co-leader, Carbone Cancer Center Gastrointestinal Disease Oriented Group, Madison, Wi, USA; Member, American Society of Clinical Oncology (ASCO), USA
• Vlad Ratziu, MD, PhD
Professor of Hepatology, Sorbonne University; Hepatologist, Pitié-Salpêtrière Hospital, Paris, France; Co-Editor, Journal of Hepatology
• Maria Reig, MD, PhD
Head of the Liver Cancer Unit. BCLC group. Liver Unit. Hospital Clínic.
IDIBAPS, CIBEREHD. Barcelona, Spain; Member, EASL Scientific Committee