Description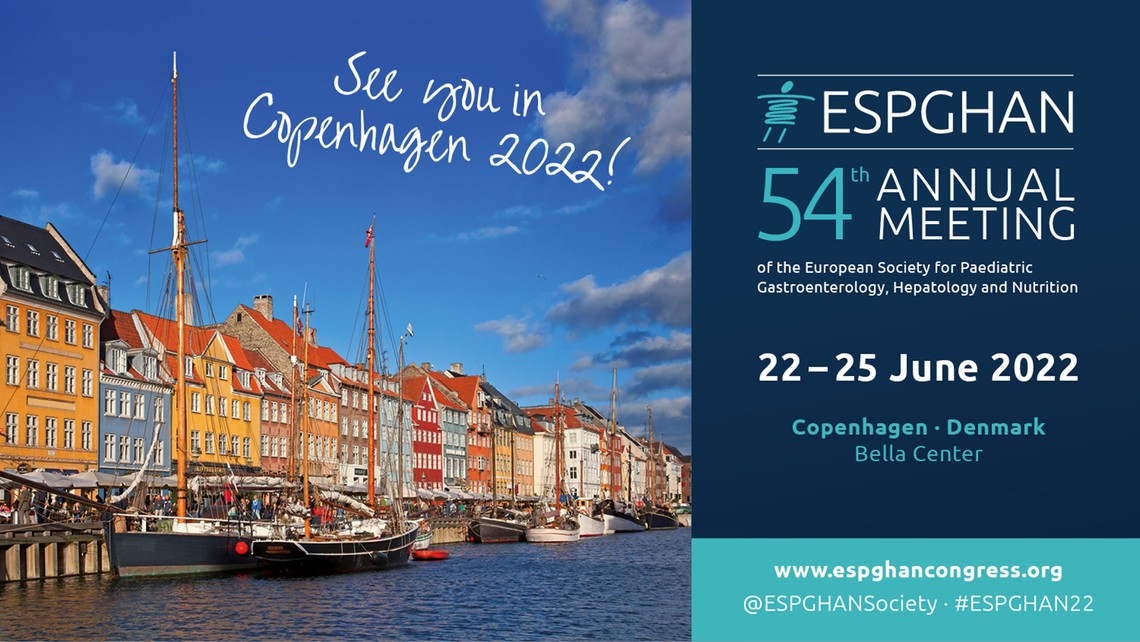 Dear Colleagues and Friends,
On behalf of ESPGHAN, we are delighted to invite you to the 54th Annual Meeting of ESPGHAN, which will be held in Copenhagen, Denmark, from Wednesday, 22 June to Saturday, 25 June 2022.
Every year the ESPGHAN Annual Meeting attracts the key opinion leaders in the field of Paediatric Gastroenterology, Hepatology and Nutrition from Europe and all around the world, making the congress the largest conference of its kind worldwide.
Attended by 4.600 participants from 100 countries, the 52nd Annual Meeting in 2019 in Glasgow was the last organized onsite, and offered more than 1000 abstract presenters a stage to publish their latest research results. Thus, the congress was a great opportunity to meet colleagues in our field from around the world and provided a unique platform to exchange new ideas and discuss the latest developments. Since then, COVID-19 has changed the world in an all-encompassing way. However, more than 4400 colleagues online, who submitted more than 1200 abstracts, attended the virtual World Congress organized by ESPGHAN in Vienna in June 2021.
In 2022, we plan a hybrid meeting, with the aim to welcome the majority of delegates onsite, but also offering the opportunity to attend online for those who may not be permitted to travel. All sessions will be streamed, including our postgraduate courses, making them available in real-time to all participants, both onsite and online. Furthermore, all lecturers and chairs will join us onsite to ensure the highest quality of presentations and interactions. The scientific programme will include a wide range of sessions and symposia, clinical tracks, postgraduate courses, meet the expert sessions, as well as the popular hands-on learning zones.
The upcoming 54th ESPGHAN Annual Meeting will take place in the Danish capital, the spectacular and vibrant city of Copenhagen. The city thus sets the ideal stage to revitalise ESPGHAN's journey and provides an inspiring atmosphere for the 54th ESPGHAN Annual Meeting.
We look forward to welcoming you in Copenhagen and trust that you will find your participation a rewarding and enjoyable experience!
Prof. Sanja Kolacek
ESPGHAN President
Prof. Steffen Husby
Chair Local Organizing Committee
More information: https://www.espghancongress.org/