Description
Dear colleagues,
On behalf of the European Association for the Study of the Liver, we are delighted to welcome you in Athens to attend the EASL monothematic conference "Translational research in viral hepatitis: Addressing the gaps for cure".
This event will focus on translational aspects of viral hepatitis research with the aim of bridging research at the bench with clinical investigation and applications. The program will focus on chronic HBV and HCV infections, but also on HDV and HEV infections, with special emphasis on new developments in the fields of viral replication, pathogenesis, immunology, cohort studies, and application to new therapeutic approaches to cure these infections.
Young scientists are particularly encouraged to participate and will have the opportunity to present their original results during a specific devoted session.
The format is intended to generate active interactions and discussions between basic scientists and clinicians, and to foster future collaborative efforts to better understand the pathogenesis of these viral infections, identify novel biomarkers and antiviral targets, and to improve patient management.
We sincerely hope that you will enjoy this conference and have a great time in Athens.
With warm regards,
Prof. Darius Moradpour
Prof. Robert Thimme
Prof. Fabien Zoulim
Why attend?
Meet the best international experts in viral hepatitis in workshop format that will foster discussions and interactions
State of the art lectures on the most recent advances in the rapidly evolving field of viral hepatitis
Who should attend?
Scientists and physicians from both the academic and industry sectors interested in viral hepatitis pathogenesis and cure
Young scientists interested in viral hepatitis
Topic to be covered
Molecular biology of hepatitis viruses
Immunobiology of hepatitis viruses
Virus-induced pathogenesi
Translational research in viral hepatitis
Novel discoveries to cure viral hepatitis
Scientific Organising Committee
Prof. Darius Moradpour, Switzerland
Prof. Robert Thimme, Germany
Prof. Fabien Zoulim, France
Abstract book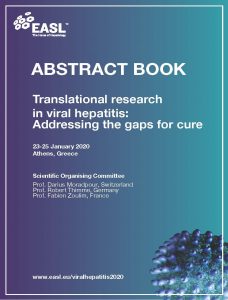 View the latest research in Viral Hepatitis.
Download the Abstract Book.
CME credits
The Translational research in viral hepatitis: Addressing the gaps for cure, Athens, Greece, 23/01/2020-25/01/2020 has been accredited by the European Accreditation Council for Continuing Medical Education (EACCME®) with 15 European CME credits (ECMEC®s). Each medical specialist should claim only those hours of credit that he/she actually spent in the educational activity.
Through an agreement between the Union Européenne des Médecins Spécialistes and the American Medical Association, physicians may convert EACCME® credits to an equivalent number of AMA PRA Category 1 CreditsTM. Information on the process to convert EACCME® credit to AMA credit can be found on this link.
Live educational activities, occurring outside of Canada, recognised by the UEMS-EACCME® for ECMEC®s are deemed to be Accredited Group Learning Activities (Section 1) as defined by the Maintenance of Certification Program of the Royal College of Physicians and Surgeons of Canada.
EACCME® credits
Each participant can only receive the number of credits he/she is entitled to according to his/her actual participation at the event once he/she has completed the feedback form. Cf. criteria 9 and 23 of UEMS 2016.20.
In order to help you issue individual certificates to each participants, please find below the breakdown of ECMEC®s per day:
23.01.2020 – 4.00
24.01.2020 – 8.00
25.01.2020 – 3.00
The EACCME® awards ECMEC®s on the basis of 1 ECMEC® for one hour of CME with a maximum of 8 ECMEC®s per day. Cf. Chapter X of UEMS 2016.20.