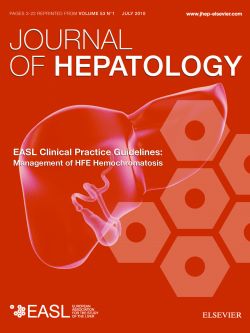 Management of HFE Hemochromatosis
EASL is pleased to announce the publication of its 3rd Clinical Practice Guidelines on the Management of HFE Hemochromatosis (HFE-HC).
1 in 200 people in northern Europe are affected by hemochromatosis, a highly prevalent but somewhat overlooked disease due to its lack of symptoms and difficult diagnosis, making it one of the most common inheritable genetic conditions. Mutations in the HFE gene cause the body to absorb too much iron and toxic by-products accumulate in tissues and organs. In the liver, excess iron leads to scarring and cirrhosis. Without appropriate treatment, one third of patients will develop hepatocellular carcinoma, a primary liver cancer which may be fatal within months.
The EASL Clinical Practice Guidelines can be downloaded and aim to assist physicians and other healthcare providers, as well as patients and interested individuals, in the clinical decision making process for HFE-HC. New and updated best practice for the screening, diagnosis and management of this condition are offered, with particular emphasis on:
The prevalence and penetrance of the most common HFE mutation
Genetic tests and tools for assessing body iron stores
Diagnostic strategies for patients with suspected HFE-HC
The management of HFE-HC iron overload and subsequent tissue/organ damage
The use of blood from phlebotomy and reimbursement policies
Commenting on the new guidelines, lead author Dr. Rifaat Safadi of the Hadassah Medical Center, Israel said, "HFE hemochromatosis is the most frequent inherited cause of iron overload and without appropriate intervention, tissue and organ damage are likely outcomes. With a range of possible clinical manifestations, and often no overt signs of disease, the diagnosis of hemochromatosis can be difficult to pinpoint. We hope these new guidelines provide clinicians with the most up-to-date, evidence based methods for the management of patients affected by this complex condition."