A-TANGO highlights at EASL Congress 2023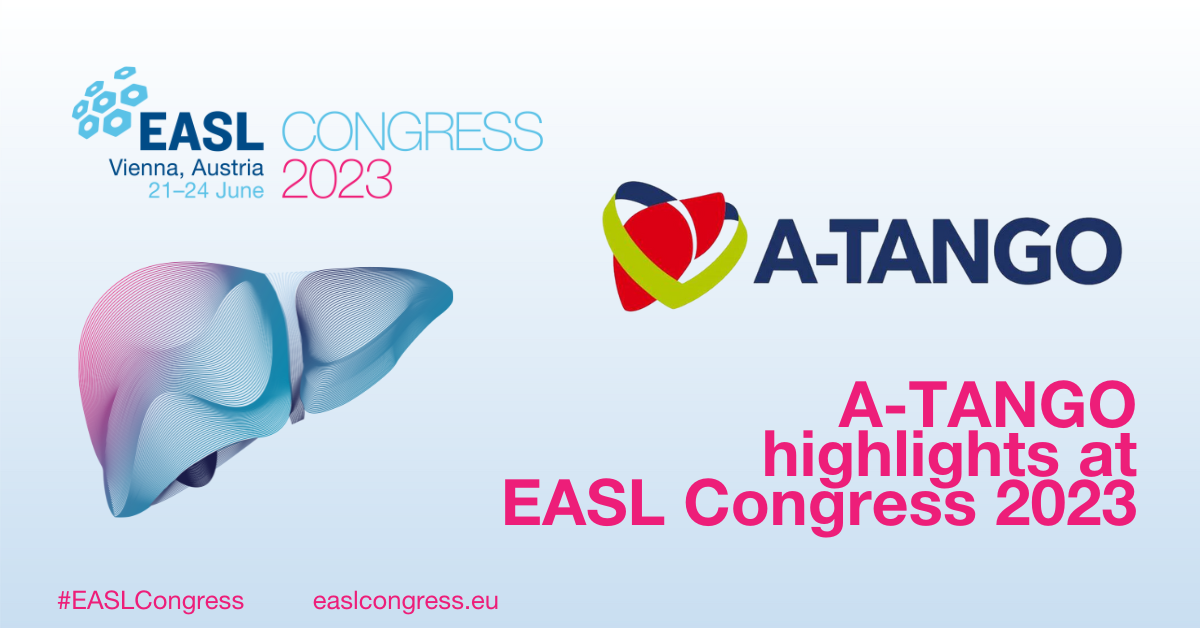 The A-TANGO consortium performs Phase 2 clinical studies of an innovative therapeutic strategy that targets inflammation and improves hepatocyte proliferation. This novel combinatorial therapy is called G-TAK. In addition, A-TANGO strives to identify reliable biomarkers for better patient stratification and an increased survival rate.
The EASL Congress 2023 is set to be a hub of ground-breaking research and knowledge exchange in the field of liver disease. Among the prominent contributors at this highly anticipated event is the EU-funded project A-TANGO, withan exciting lineup of activities planned for the congress.
On 24 June, the session on novelties in the therapeutic landscape for acute decompensation of cirrhosis will kickstart with an introduction by Rajiv Jalan from London, United Kingdom. This session aims to explore innovative strategies and advancements in the treatment of acute decompensation, shedding light on the latest research and therapeutic interventions.
Maria Papp from Debrecen, Hungary, will present on the topic of microbiome-host interaction and biomarker-based therapy, providing valuable insights derived from the MICROB-PREDICT project. This presentation will focus on the potential of microbiome-based biomarkers for guiding personalised therapeutic interventions in patients with acute decompensation of cirrhosis.
Minneke Coenraad from Leiden, Netherlands, will discuss patient stratification for daily management and clinical studies. This presentation will highlight the importance of tailoring treatment strategies based on patient characteristics, enabling optimised patient care and enhancing the design and outcomes of clinical studies.
Maja Thiele from Odense, Denmark, will delve into the topic of identifying and managing patients with alcoholic liver disease (ALD) before liver decompensation. This presentation will shed light on early detection strategies and interventions to prevent or delay disease progression, improving outcomes for ALD patients.
In addition to the session, A-TANGO will also feature Rajiv Jalan and Susana G. Rodrigues for the roasting of posters. This interactive activity will offer an engaging platform for researchers to present and discuss their posters, fostering collaboration and knowledge exchange among participants.
The participation of A-TANGO in the EASL Congress 2023 is poised to make significant contributions to the field of liver disease research, particularly in the realm of acute decompensation of cirrhosis.