In 2022, EASL launched its first impact projects to coincide with the International Liver Congress™ (ILC) hosted in London, UK.
Value creation at EASL does not stop at its members, partners, and delegates. EASL is committed to providing a lasting, positive impact on the lives of those who are connected to our events, as well as all the people living and working in the communities who host them. EASL Impact projects are designed to leave a lasting impression of sustainable action and healthy change.
Activities took place locally in London, on the congress premises, in the community & in medical schools while leveraging lay media to raise awareness nationally and even internationally.
At ILC London 2022, our impact events were focused on providing early education on liver health, attracting key talent in the field, and supporting efforts to improve preventive screening of liver diseases.
Media Coverage
The projects have been covered by various national press media. Discover below a selection of articles.
Project "Be Nice to Your Liver":
Project "Love Your Liver":
Be Nice to Your Liver
To enhance awareness of liver health in the young population and local communities to encourage prevention and reduce barriers to early detection and care.
This project brought local elementary school students to the forefront of prevention and education via an interactive discussion with a hepatologist.
Younger people are at the core stage of habit forming, and positive messaging makes a massive difference on the habits of exercise and healthy diets
– Dr. Kosh Agarwal, Hepatologist
At Calverton Primary, a local London school, students aged 10-11 were encouraged to take care of their livers to lead healthy and happy lives.  They illustrated their newly found understanding of common risk factors in posters that were then presented, during the opening ceremony of ILC 2022 at which they had front row seats.
Look after your liver.
Ingest healthy food.
Violent attacks of sugar,
Leave her in a bad mood.
Everyone knows
She's like an engine.
Boring into chemicals
In the blood system

– Calverton Primary student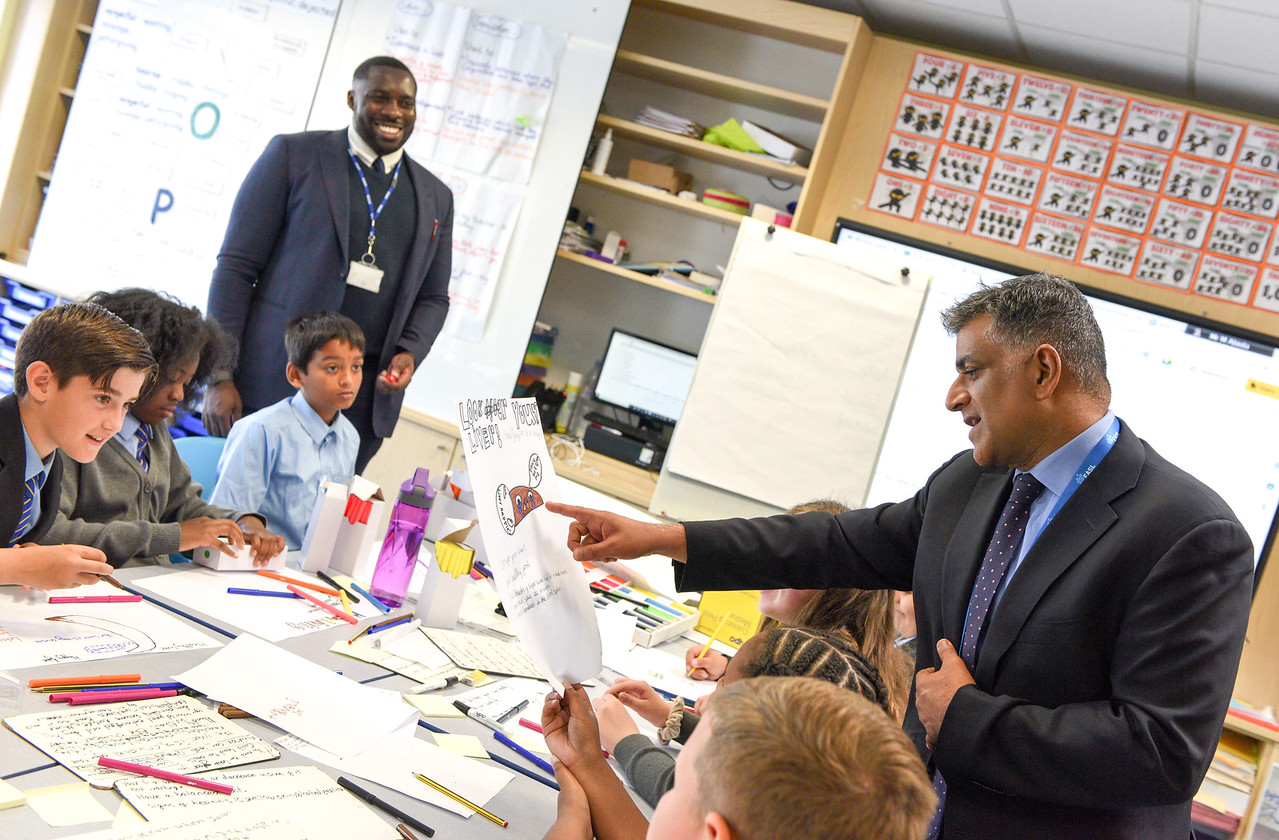 We are quite lucky today. We've never had workshops such as this, especially to touch on something as important as the liver, something that, I think, we've all underestimated

– Mr. Abiola, Calverton Teacher
Read more
Short Term Meeting Outcomes & Goals
Raise awareness among teachers and pupils about the impact of lifestyle on liver health
Reduce stigma and build empathy for people engaging in risky lifestyle behaviours
Acknowledge role of socioeconomic barriers on risk factors
Raise public awareness through media coverage
Communication about ILC in the public space
Encourage other associations and hepatologists around Europe to undertake similar projects
Long Term Meeting Outcomes & Goals
Reduce liver disease
Improve understanding, advocacy, and implementation of liver health policies (reduce harmful alcohol consumption, ban of advertisements and marketing of unhealthy food, beverage and alcohol to children, food labelling reformulation, health warning labels)
Reduce stigma related to liver disease risk factors (obesity, alcohol use disorder, people who inject drugs, viral hepatitis, etc.)
Enhance EASL brand and name, and strengthen global visibility
Outreach Activities
Lesson given to primary school students (ages 10-11) about liver health and healthy lifestyle behaviours. Students turned this information into artwork then presented at ILC.
Press interviews with local ambassadors, teachers, local government, etc., about local health issues
Project presentation during opening ceremony with all the students invited to attend
Create dedicated page (hyperlink here)
Create online educational resource for youth to access digitally.
Encourage EASL community to give a lesson at their own local primary school; create information leaflet for interested parties
Hepatology is Hot
To promote excellence in liver health care and research by attracting the best young minds to hepatology as a medical specialty  
I am honoured to be part of EASL – this forward-looking organisation trying to engage and inspire the next generation of hepatologists. It was a pleasure being able to transfer my knowledge and passion for liver health to the incredible emerging doctors in the field
– Prof. Emmanuel Tsochatzis, Hepatologist and former EASL Scientific Committee Chair 
'Hepatology is Hot' focused on creating an interactive presentation on the opportunities and advantages that a career in hepatology can offer. Medical students in their 4th and 5th year at UCL Medical School were invited to participate and learn about the burden of liver disease, the latest advances in hepatology care and research. They were given special access passes to the Congress and introduced to how a medical society like EASL can accompany health professionals throughout their careers. These students were shown the benefits of choosing hepatology in their upcoming specialisation and were given the chance to network with EASL ambassadors – hepatologists working and teaching in their university.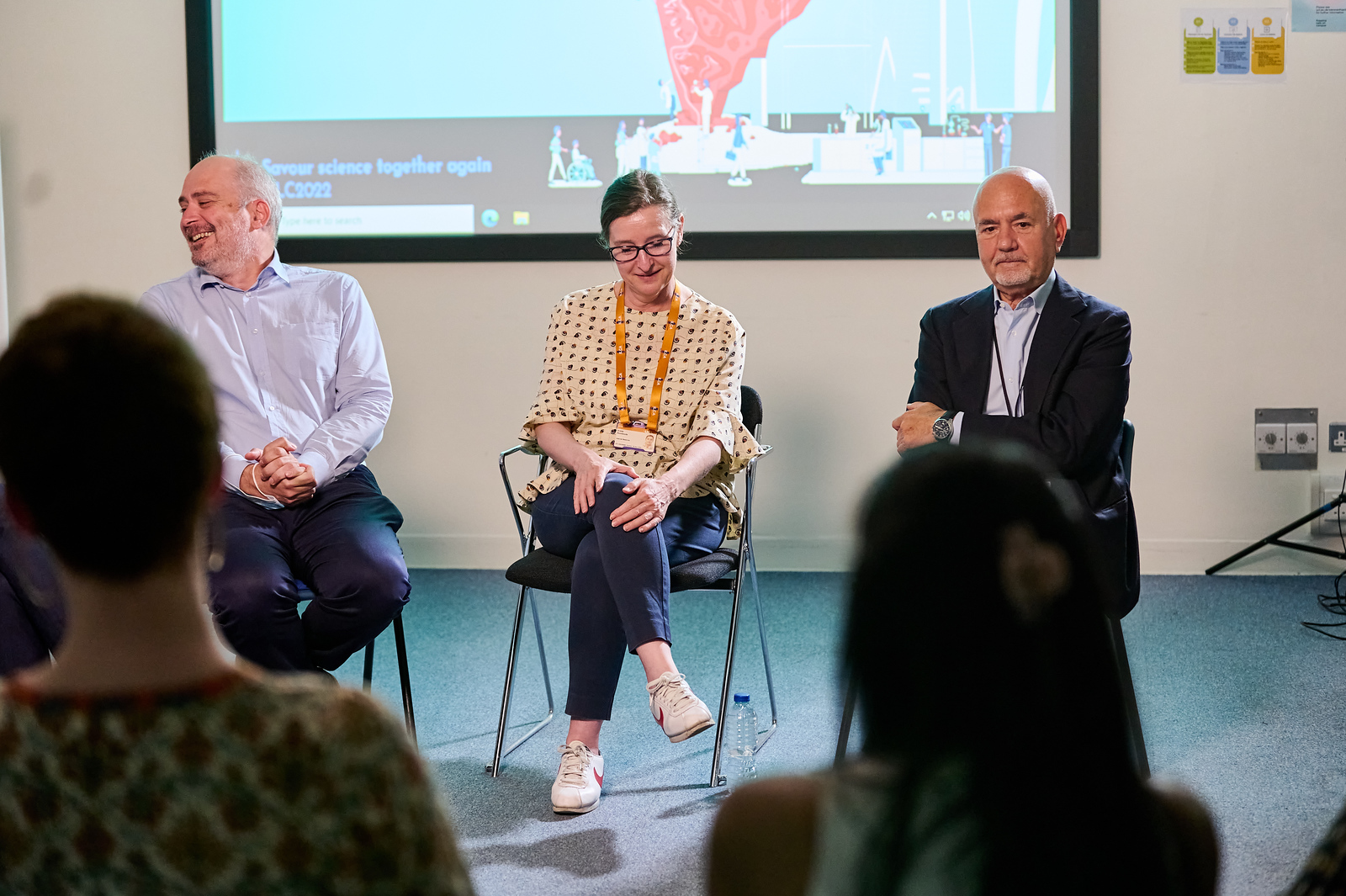 I have a daughter who is a student and I know how important it is for young professionals to have open conversations and respectful exchanges of ideas between generations. This can be a major contributing factor for their future career, and I can only continue to encourage this initiative in the future

– Prof. Rajeshwar Mookerjee, Hepatologist
Read more
Short Term Meeting Outcomes & Goals
Increase number of medical students specialising in hepatology
Inspire delegates to promote hepatology in their local medical schools
Promote EASL as the Home of Hepatology
Improve understanding of factors that influence medical students' specialisation choices
Gather data of current numbers of hepatology specialists, funding sources for studies in hepatology, and location clusters (research and practice)
Long Term Meeting Outcomes & Goals
Increase number of high-level students in hepatology specialisations
Promote funding of hepatology specialisations at national level
Promote liver research
Reduce liver diseases related stigma among health professionals
Increase specialised healthcare capacity
Increase EASL and National Association members, and enhance relationships
Strengthen relationships with medical institutions
Outreach Activities
Hepatology presentation to medical students (UCL Medical School) in their 4th/5th year (before they choose their specialisation)
Offer special access day pass to ILC 2022 to interested students
Create a legacy cohort with a dedicated mentor to follow group (future cohort expansion)
Provide one dedicated day during conference for medical students led by a mentor
Create dedicated page for students (hyperlink here)
Send out post-event email with survey
Feature the initiative in the media and post-congress communications
Be Nice to Your Liver
To be the catalyst of knowledge dissemination around the importance of preventive liver screening and the positive impacts it can have through early diagnosis of liver diseases, treatment and quality of life.
In partnership with the British Liver Trust, a mobile unit outfitted with a Fibroscan screening device was set up in the venue of the congress and offered participants and venue staff free liver screenings and consultations. 'Love Your Liver' promoted the value of preventive screening while discussing risk factors and lifestyle habits in a safe and comfortable space. EASL organised this event to give back to the local community that worked with EASL to make the Congress a success.
Going to the doctor and having tests done can be daunting. The mobile unit is a much less formal environment, so you feel more relaxed going for a test and talking about the health of your liver. The whole experience made me reflect on the importance of pro-actively monitoring your general health and well-being

– Claire Sellick, Senior Marketing Manager at ExCel London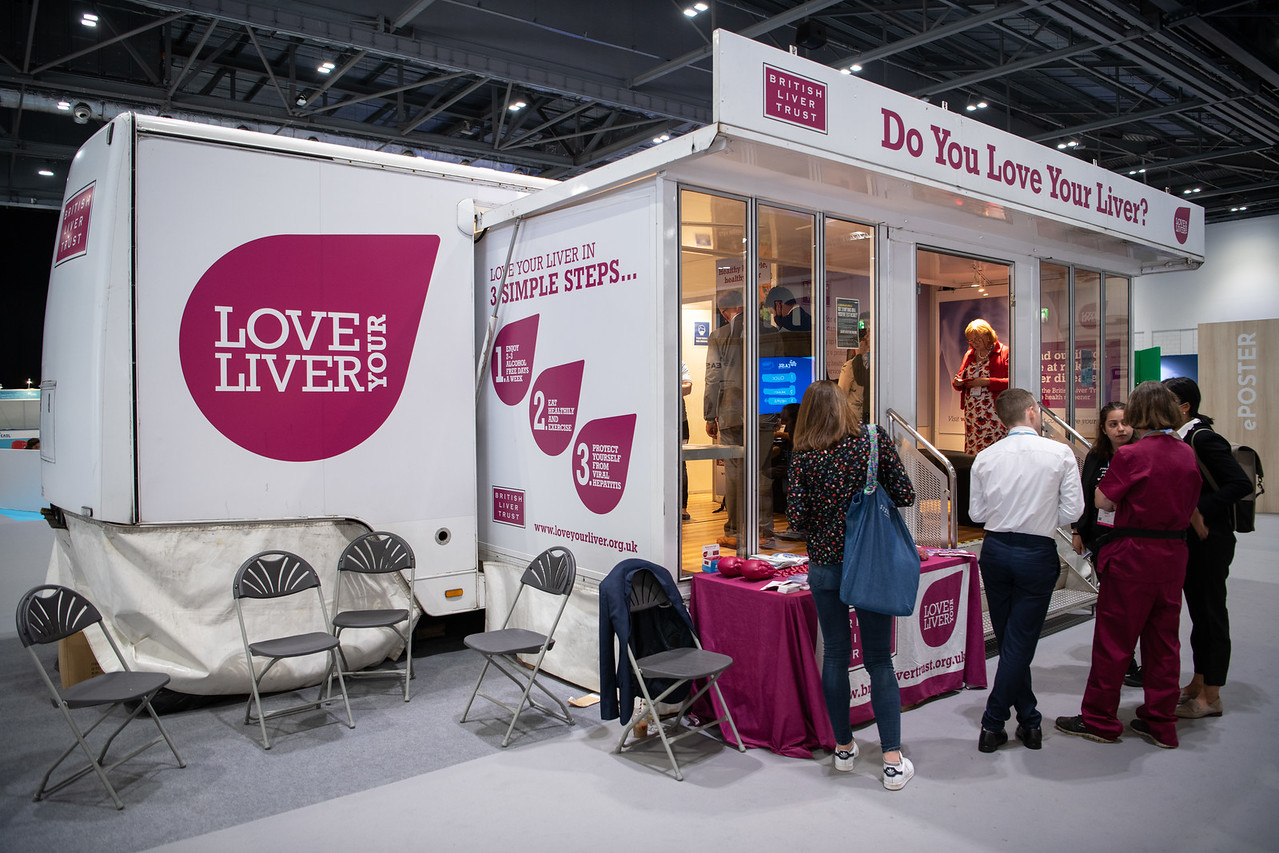 By being fully engaged partners in the EASL impact project, we managed to showcase the potential of community involvement. By inviting local school pupils to learn about liver health at the Congress and offering free liver health checks to ExCel staff, we made the London community a true part of the event and left an enduring and positive legacy

– ExCel London
Read more
Short Term Meeting Outcomes & Goals
Raise awareness for the inclusion of preventive liver screening, particularly among moderate and high-risk individuals (special attention paid to clinicians working with patients belonging to these risk-groups).
Reduce care avoidance and anxiety through the non-invasive procedure in a comfortable environment
Communication about liver screening and liver health in public space
Raise awareness among local Londoners about the British Liver Trust and their work
Long Term Meeting Outcomes & Goals
Reduce liver disease through improved early screening and treatment
Educate primary care practitioners working with at-risk patients the value of liver screening and raise awareness about when screening should be done
Identify country-specific barriers to implementing liver cancer screening.
Support health recommendations proposed to European Commission to include liver cancer screening as secondary preventive measure
Outreach Activities
Partner with British Liver Trust to provide on-site liver screening through their mobile unit. Screening offered to participants of the Congress as well as employees working on-site at the Congress venue.
Provide consultations and education on risk factors for liver disease, and optimal lifestyle habits for liver health
Media coverage of mobile screening unit and disseminations of the liver health awareness