Discover the Scientific Programme
Explore the three day summit and its 11 sessions addressing current knowledge and future directions on the study and management of the two most frequent primary liver tumours, hepatocellular and cholangiocellular carcinoma.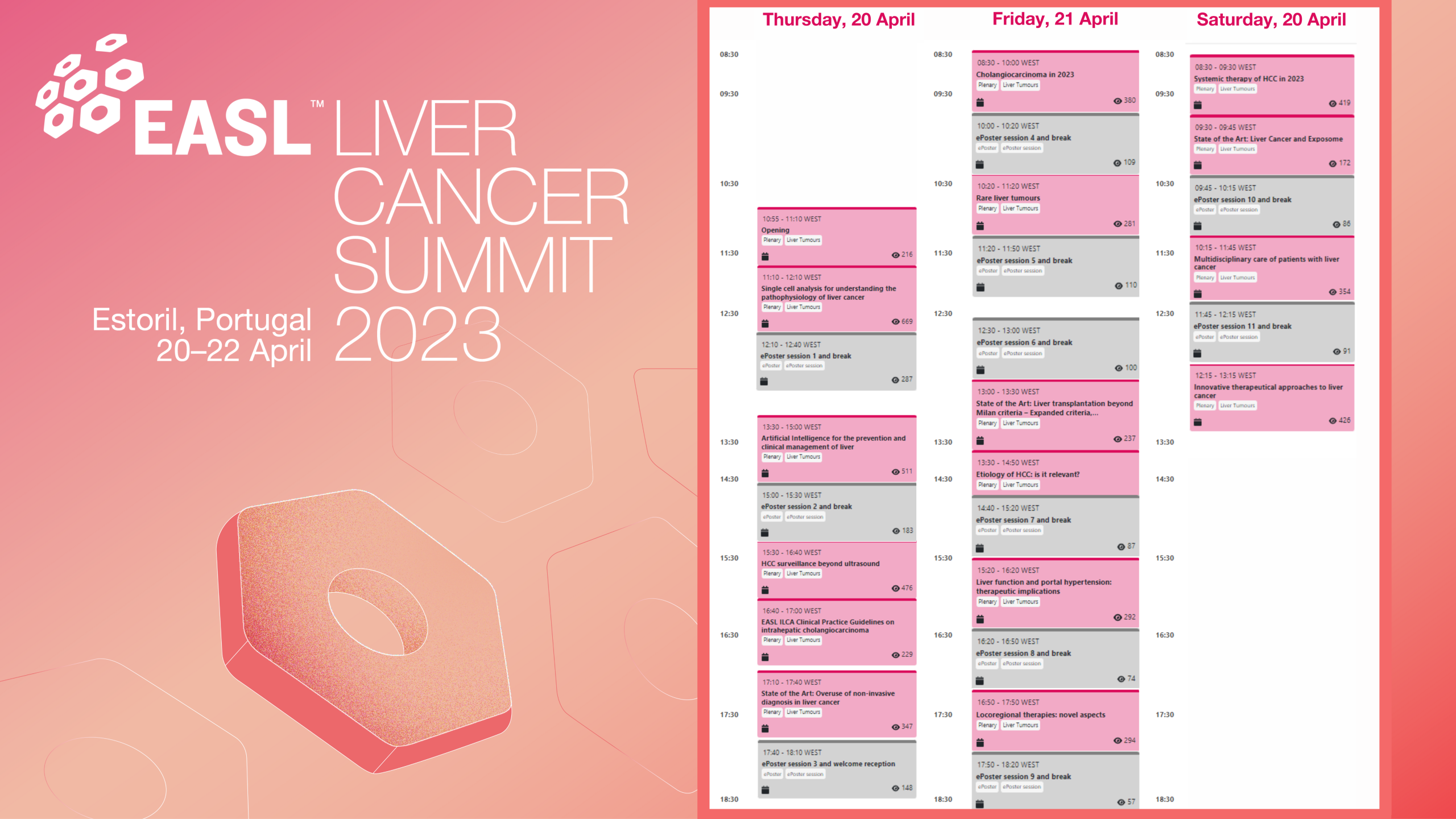 Session 1: Single cell analysis for understanding the pathophysiology of liver cancer 
Recent developments in single cell analysis provide cutting-edge technology to understand the heterogeneity of hepatocellular carcinoma. This session will particularly focus on spatial transcriptiomics, single-cell metabolomics and metagenomic analysis and their applications in the characterisation of the pathogenesis of liver cancer. 
Session 2: Artificial Intelligence for the prevention and clinical management of liver 
AI approaches such as computational search algorithms, machine learning (ML) and deep learning (DL) models can be applied to the diagnosis of HCC to improve the accuracy of risk prediction, detection, and prediction of treatment response. AI can potentially change the way in which care is provided to patients with or at risk of HCC. This session will review the current status and potential applications of AI in the clinic management of the liver. 
Session 3: HCC surveillance beyond ultrasound 
Abdominal ultrasound is still the primary test for HCC surveillance. However, limitations in sensitivity and in the quality of the ultrasound have prompt the search of alternatives. This session will focus on alternative diagnostic tools such as radiological tools and biomarkers. The role of nurses in the surveillance programme will also be discussed and as well as the optimisation of resources for a correct staging of HCC. 
Session 4: Cholangiocarcinoma in 2023 
Cholangiocarcinoma is the second most common type of liver cancer. This session will give a comprehensive overview of CCA: from the metabolic changes occurring during liver carcinogenesis of CCA to different testing methods. It will also discuss the many challenges that surgical resection of intrahepatic cholangiocarcinoma faces as well as the current status of systemic therapies. 
Session 5: Rare liver tumours 
This session will focus on less frequent tumours such as the fibrolamellar carcinoma and mixed tumours (hepato-cholangiocarcinoma) among others. The session will also cover the mechanism of tumorigenesis of paediatric liver tumours and the learnings that can be applied to liver carcinogenesis. 
Session 6: Etiology of HCC: is it relevant? 
Understanding the mechanisms of HCC development and progression could potentially be key in the development of effective targeted therapies. This session will focus on different the most common etiological agents of HCC:  Fatty-liver disease-HCC and viral HCC, and will analyse the available evidence suggesting the presence or absence of an effect in tumor pathogenesis, naturaly history and response to therapy. Furthermore animal models of viral and non-viral induced HCC will be discussed. 
Session 7: Liver function and portal hypertension: therapeutic implications 
Cirrhosis underlies liver cancer in most patients. Increased portal pressure and reduced liver function are hallmarks of cirrhosis that may influence the applicability and efficacy of cancer treatment. This session will focus on the therapeutic implications of portal hypertension and reduced liver function for the surgical and non-surgical therapy of liver cancer. 
Session 8: Locoregional therapies: novel aspects 
Locoregional therapies are the mainstay of the treatment of most patients with HCC when they are free from distant metastasis or macroscopic vascular invasion. This session will adress the different options that can be used to achieve complete tumor ablation and will also present the opportunities for increasing the antitumor effect by combining locoregional and systemic therapies in different combinations and schedules. 
Session 9: Systemic therapy of HCC in 2023 
Systemic therapy of HCC is rapidly evolving and new therapies are tested in clinical trials. This session will provided update information and treatment recommendations about when and how to start systemic therapy, when and how to switch to second line therapies, and how to manage the most frequent adverse effects to maximise patient benefit. 
Session 10: Multidisciplinary care of patients with liver cancer 
Liver cancer poses significant challenges to clinical management and the contribution of different specialists is essential for optimising patient care. This session co-hosted with the International Liver Cancer Association will focus on the challenges and opportunities of a multidisciplinary team (MDT) approach, as well as in aspects that are usually not or inadequately addressed by MDTs such as psycho-oncology and functional rehabilitation. 
Session 11: Innovative therapeutical approaches to liver cancer 
Despite the important therapeutic advances achieved in the last decade, there is still a clearly unmet need since many patients are or become refractory to any given therapy. New approaches for HCC and CCA will be discussed in this session, from immunotherapy to targeted agents or adoptive cell therapy. 
Key Dates
21 Oct, 2022

Registration & Abstract Submission open

14 Feb, 2023

Abstract submission deadline

07 Mar, 2023

Abstract notification deadline

14 Mar, 2023

Early fee registration deadline

20 - 22 Apr, 2023

Event dates