Updated: 14 January 2022
All face-to-face EASL events follow the latest in health and safety measures. Your safety is our priority. We are merging the very best of face-to-face events with cutting-edge developments in meeting technology. With more time for reflection, more space for comfort.  
All session rooms, catering points, exhibition areas, and corridors will be arranged to keep delegates at a safe, yet friendly distance. You can once again enjoy mingling again with your peers, connecting nationally and internationally, across the full liver community. 
EASL will take all possible measures to provide a health and safe environment. All visitors are expected to excercise their civil and professional responsibility towards the health of their peers, hosts, venue, patients, and family. Staff will be available onsite to address your questions or concerns.
We look forward to meeting again with you in a stimulating and secure setting.  
Measures in force may be reviewed in accordance with the evolution of the pandemic.
Health & safety measures at the venue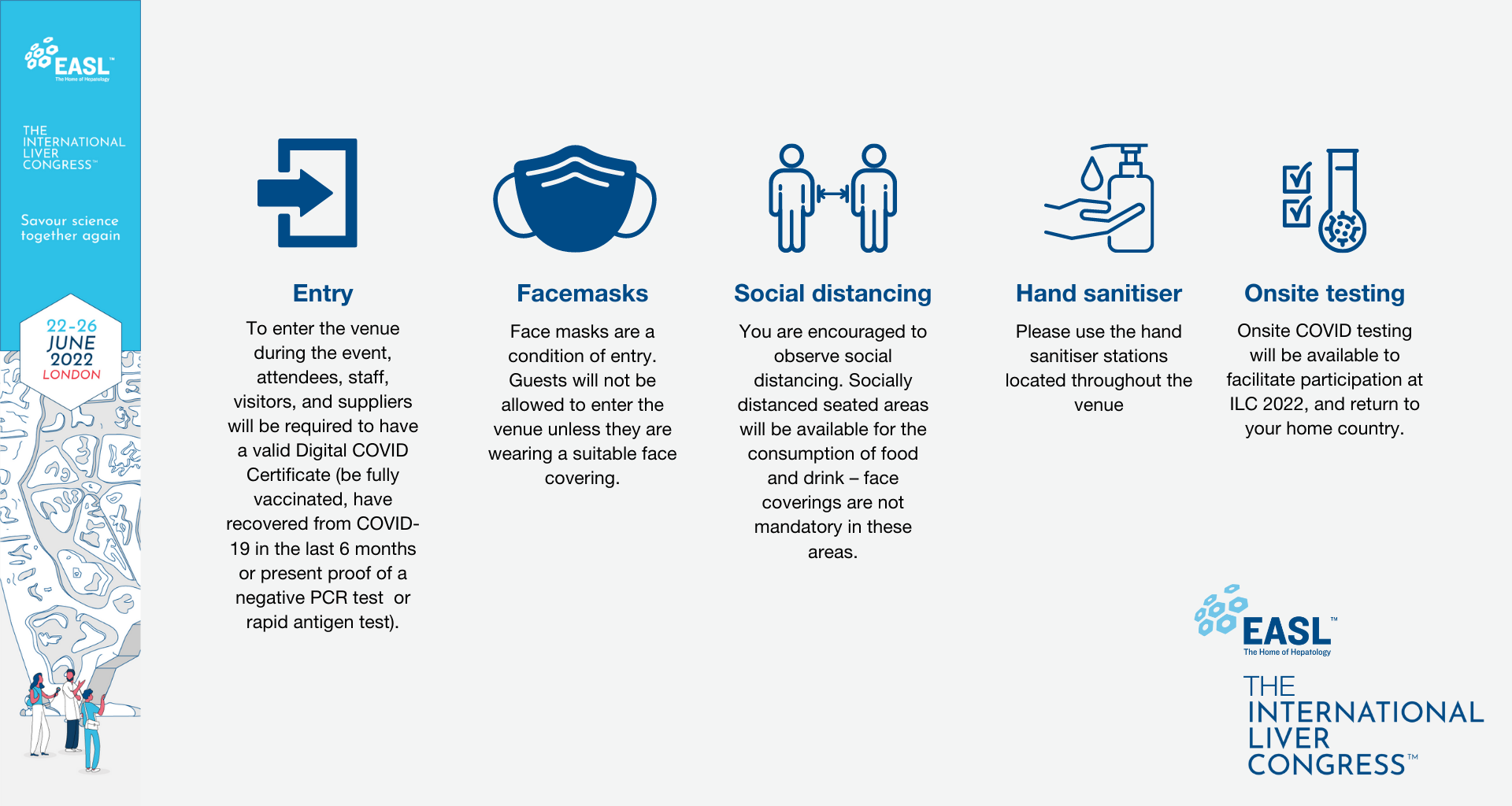 We are working very closely with the venue regarding health and safety measures. Please consult the dedicated FAQ below. If you have any other questions, please email us at ilc.information@easloffice.eu.
Access the FAQ
Access to the venue:
What COVID related documents to I need to have in order to enter the venue?
To enter the venue during the event, attendees, staff, visitors, and suppliers will be required to have a valid Digital COVID Certificate (be fully vaccinated, have recovered from COVID-19 in the last 6 months or present proof of a negative PCR test (not older than 72 hours) or rapid antigen test (not older than 48 hours).
I am an attendee from USA. What COVID pass do I need to show?
You need to show a CDC card showing you've had a full course of an FDA-approved vaccine in the USA.  You'll also need to show proof of residency, such as a USA passport, visa or Green Card.
I am an international participant, how do I show my proof of COVID-19 status?
International participants can show their equivalent of the NHS COVID Pass from their country of origin. Proof of vaccination status and test results can also be demonstrated via the EU Digital COVID Certificate will be accepted at the COVID-19 Status checks.
I am attending ILC 2022 on multiple days. Do I need to show proof of COVID-19 status every day?
Yes, checks will be carried out every day. If you are attending ILC 2022 on proof of a negative PCR or lateral flow test and it exceeds the 48-hour limit then you will need to provide additional test results.
If I have been in a meeting with someone who subsequently tests positive, what will I have to do?
Please contact the EASL staff who will help you to inform the local health authorities and communicate next steps.
What happens if I test positive?
Positive results will be confirmed with an additional PCR test and managed according to the public health authorities' protocol at the time of the event.
Inside the venue:
Are face masks mandatory?
Face masks are a condition of entry. Guests will not be allowed to enter the venue unless they are wearing a suitable face covering. Socially distanced seated areas will be available for the consumption of food and drink – face coverings are not mandatory in these areas. In line with government guidance, children under the age of 11 or guests with certain medical conditions will be exempt from wearing face coverings.
What is the cleaning regime?
The Cleaning Team has new cleaning procedures that include ensuring all touch points, as well as seating in conference and meeting areas, are regularly wiped with chlorine-based cleaning fluid. All bathrooms will be allocated to a specific event and checked and maintained by a dedicated team of cleaners. Part of their role will be to manage queuing to use the bathroom facilities. Specific waste management procedures, in line with guidance from Public Health England, will be in place to manage the safe disposal of PPE.
How will catering operate?
Hospitality, stand catering and retail services will be provided in line with latest government guidance, working closely with ExCeL London Hospitality and the boulevard retailers. To help maintain social distancing, additional retail units will be open across the venue. Suitable queuing systems will also be in place. Menus have been reviewed and no open products will be served. All transactions for food and beverage will be cashless. Food preparation areas will be regularly inspected and a new 'COVID-19 safe to trade audit' has been introduced.
Will there be sanitiser stations?
Hand sanitisers will be provided throughout the public areas of the venue.
What cloakroom facilities will be available?
You are advised to limit what you bring in terms of bags and luggage, as cloakroom facilities may be limited.
Read more about the safety measures taken at London ExCeL
COVID-19 measures implemented in the UK
Please check first of all if you if you have been in a country or territory on the red list in the 10 days before you arrive in the UK. Dedicated rules applies, even if you have been fully vaccinated. Click here for more info.
Travel to the UK if you are fully vaccinated
Travel to the UK if you are not fully vaccinated
Travel from red list countries
Click to read more
If you have been in a country or territory on the red list in the last 10 days, you will only be allowed to enter the UK if you are a British or Irish national or you have residence rights in the UK.
You must follow these rules even if you have been fully vaccinated.
Before you travel to England, you must:
take a COVID-19 test – you must take the test in the 2 days before you travel to England
complete your passenger locator form
When you arrive in England, you must quarantine in a managed hotel, and take 2 COVID-19 tests.
The red list will be reviewed every 3 weeks and whenever concerning evidence means we may need to act faster to protect public health.
If you make a transit stop in a red list country on your way to England you may need to follow the red list rules when you arrive.
A transit stop is a stop where passengers can get on or off the transport in which you are travelling. It can apply to ships, trains or aeroplanes. Your ticket should show if a stop is a transit stop.
The risk posed by individual countries and territories is monitored continuously and the red list is reviewed every 3 weeks. Countries and territories can be added to the list or taken off it more frequently if conditions change.
Please refer to the official website for more information